Supporting Liberia to advance their NAP Process
Introduction
Status of assistance to Liberia for their NAP process:
The Environmental Protection Agency (EPA) of the Government of Liberia (GoL) organized a four-day multi-stakeholder meeting from May 13-15 2015 in Buchanan, held in French. NAP-GSP facilitated the meeting to identify with entry points for the GoL to institutionalize Liberia's National Adaptation Plan (NAP) process.

Based on the discussions at the meeting as well as a comprehensive review of ongoing relevant activities in Liberia, NAP-GSP provided a stocktaking of Liberia's activities relevant to the NAP process and recommended next steps. 
Present at the opening event were the Executive Director of the Environmental Protection Agency (EPA), the Grand Bassa's County Superintendent, the Mayor of Buchanan City, UNDP's Deputy Country Director, and nearly 50 participants from various Ministries and Government Agencies of Liberia.

During the workshop, the main aspects of the medium term NAP process were discussed, reflecting on lessons learnt from the ongoing climate change initiatives under the National Adaptation Programme of Action (NAPA). 
A Liberian Government delegation attended the 

NAP-GSP Africa Regional Training Workshop (Anglophone) in Addis Ababa, Ethiopia in April 2014.
Liberia's climate change adaptation experiences - overview:
Presented by the Liberia delegation at the NAP-GSP Africa Regional Training Workshop (Anglophone) in Addis Ababa, Ethiopia in April 2014
> More on the NAP process in Liberia
> More NAP-GSP countries
News
> 15 May 2015: Liberia holds its first National Adaptation Plan Training Workshop
---
An official request for support from the NAP-GSP to Liberia was made in a side meeting at COP19 with the NAP-GSP team and the UNFCCC Focal Point Mr. Benjamin Karmorh.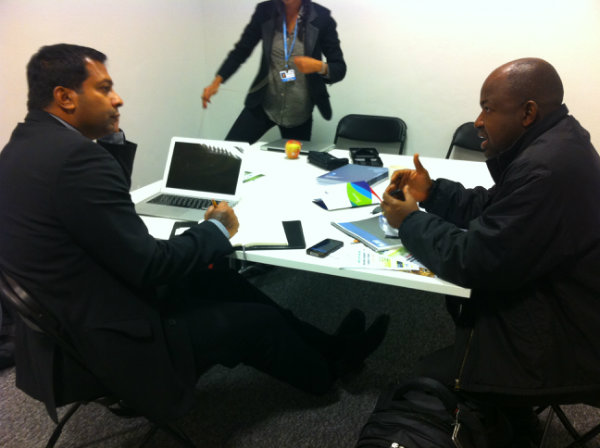 Liberia is seeking to build capacity to conduct adaptation assessments to inform their NAP process. 
The Government of Liberia plans to utilise existing institutional structures to conduct assessments to help identify the countries' vulnerabilities to various climate change pressures.
These assessments will also determine which sectors are likely bear the brunt of impacts and how existing national capacities can support medium-term and long-term adaptation planning.
Currently Liberia does not have specific national climate change adaptation policies in place. Liberia seeks to utilise the NAP process to mainstream climate change into their current development policies, and influence various government departments to drive the process.
Liberia aims to integrate climate change concerns into their national development planning, from the perspectives of finance and planning. They also require a system for updating medium- to long-term plans, and processing adaptation information.
NAP-GSP can potentially facilitate consultations at the country level to support stakeholders from key line ministries to determine what the NAP process means to them. Through this consultation process, aspects will be identified to advance the NAP process.
A key priority is the  formulation of a roadmap to advance the NAP, including the necessary financing.
The next steps for NAP-GSP in Liberia is to draft a Terms of Reference for NAP support.
This TOR will be shared with the Government of Liberia, who will undertake internal consultations and inform the NAP-GSP when they require additional support to commense.
Liberia has noted that they have sufficient resources to undertake ongoing/planned LDCF projects. 
There will also be bilaterals in Liberia who may wish to provide support for adaptation activies - which will be explored fully during upcoming national consultations.
Reports and Publications
Multimedia