"We never give up now": drought training empowers local communities in Cambodia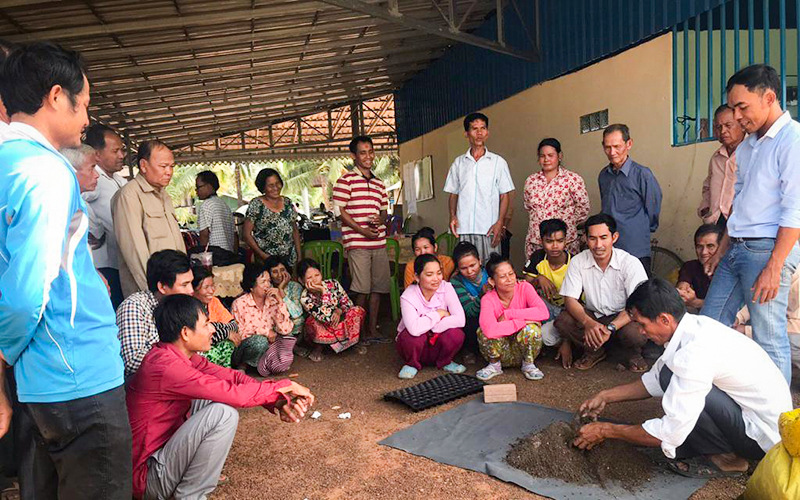 Agricultural Cooperative Members participate in Drought Resistant Agricultural Techniques training in Takeo. Photo credit: DanChurchAid Cambodia
Phnom Penh, May 2019. Training of agricultural cooperative members and leaders has provided new opportunities for a stronger future in the Cambodian provinces of Takeo and Kampot. With limited rainfall predicted leading to an expected delay of the rainy season, 2019 presents a number of challenges to the many that rely on the agriculture sector.
In March 2019, 53 agricultural cooperative leaders participated in Drought Resistant Agricultural Techniques (DRAT) training-of-trainers (ToT) workshops. The trainings were supported as part of a partnership between the United Nations Development Programme and NGO DanChurchAid, under the project 'Strengthening Climate Information and Early Warning Systems in Cambodia'.
Training included techniques for home gardening such as composting, soil improvement and seedling preparation; chicken-raising, including feed production and vaccinations; and water-saving techniques such as drip irrigation. Information was provided in the context of learning about drought and weather systems, which allows farmers and leaders to predict and plan for upcoming seasons – a skill which has only existed previously using limited conventional methods.
"As a result of the training, we have better knowledge and understanding to share on the ground (at provincial level)," stated Mr. Sem Bunly, Stengslakou Agricultural Cooperative chief. "We are better prepared due to awareness of weather patterns so we can adapt the conventional techniques. We now know the relationship between climate change and flooding – we still have the traditional warning system, but the training for the management tops up our knowledge. We have started to be more observant."

Dry riverbeds make water access a challenge for the many Cambodians dependent on the agricultural sector. Photo credit: UNDP Cambodia/Kelsea Clingeleffer
After having completed ToT training, agricultural cooperative leaders passed on their new knowledge to their cooperative members using a localised training approach adapted to each community. For the Stengslakou Agricultural Cooperative, 36 relevant members and local authorities, including the village chief, learned about chicken feed productive, soil preparation/improvement and garden bed preparation. Each agricultural cooperative was also provided with a rick husk charcoal kiln, which allows members to produce charcoal to support seedling growth.
While still early days, the community is hopeful for the future. One agricultural cooperative member who completed the training said, "In the dry spell I can still plant – last time if we had no water we had to stop but now we can continue. We never give up now." Members also describe a decrease in chicken deaths during drought seasons. Such sentiments are supported by Mr. Sem, "People will know water saving techniques, increases in quality of chickens and crops and have more links to market. We have more awareness about PH of soil so we know which crops to put into which soil."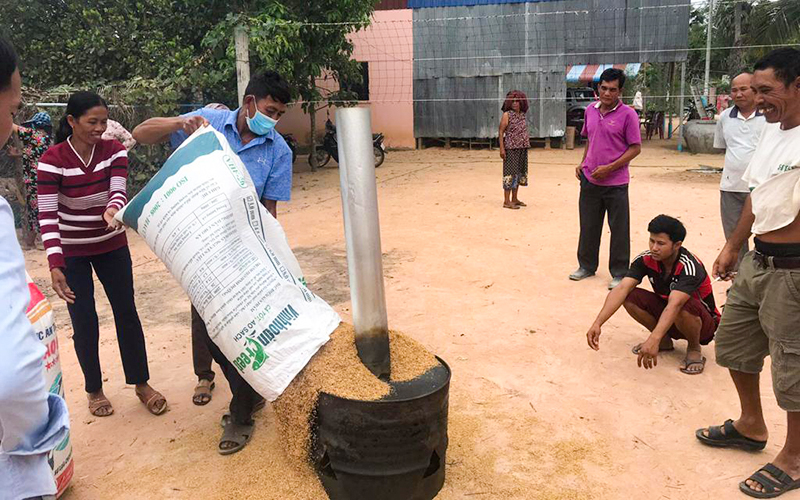 Training in action: learning to use the rice husk kiln to promote growth during drought. Photo credit: DanChurchAid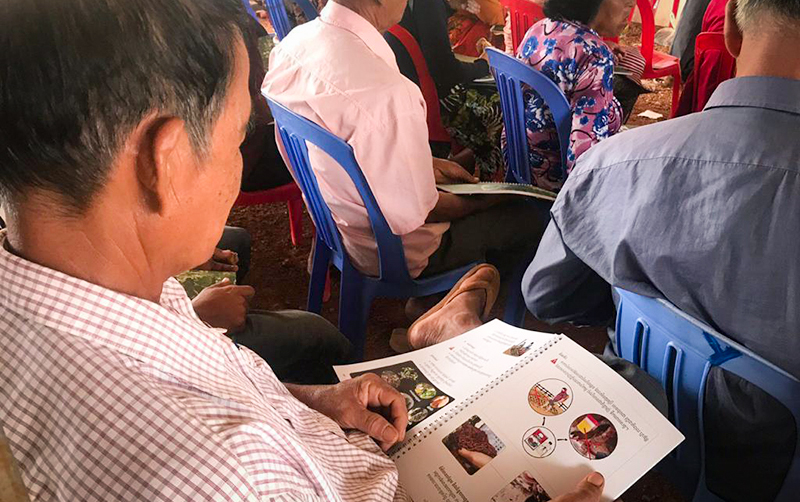 Participants of the training reading the provided training book. Photo credit: DanChurchAid
The training was supported by provision of materials such as training books to all participants, which are informally shared among other community members who did not attend. Agricultural cooperative leaders also gained access to a provincial agricultural cooperative group online, which provides opportunities to share lessons learned and relevant materials.
The training provoked an excitement for further learning among the community. "We would be very interested in learning more about water drip irrigation – we also need to work on our capacity for this from other agricultural cooperatives. If we can, we would like to develop a home garden demonstration farm that we can learn from and use to help other agricultural cooperatives as well". Other topics of interest included short term/drought resistant crops, further information on vaccinations, entrepreneurship opportunities, crop scheduling and contract farming.
DanChurchAid have previously supported Drought Resistant Agricultural Techniques training in Kampong Speu under a separate funding scheme. "Kampong Speu is prone to drought, so this is how we want to provide technical support (mainly water saving techniques) for farmers", said Mr. Nop Polin, Senior Programme Advisor for DanChurchAid.
Future planned activities within the project include exchange visits to other successful agricultural cooperatives utilising DRAT and a launch event for the Drought Monitoring InfoHubs in Takeo and Kampot provinces. The project is expected to be completed at the end of May 2019.