7th Asia-Pacific Adaptation Forum
| Sun | Mon | Tue | Wed | Thu | Fri | Sat |
| --- | --- | --- | --- | --- | --- | --- |
| | | 1 | 2 | 3 | 4 | 5 |
| 6 | 7 | 8 | 9 | 10 | 11 | 12 |
| 13 | 14 | 15 | 16 | 17 | 18 | 19 |
| 20 | 21 | 22 | 23 | 24 | 25 | 26 |
| 27 | 28 | 29 | 30 | | | |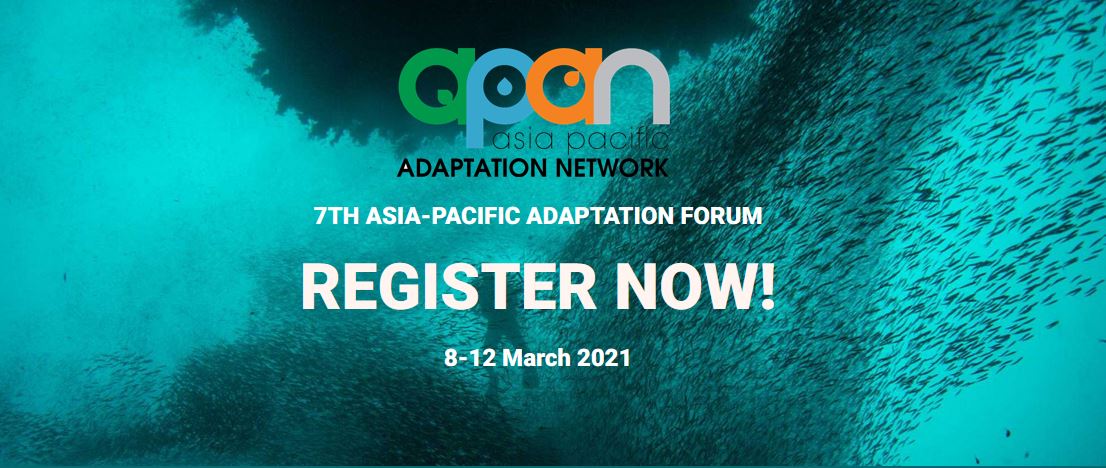 The Asia Pacific Adaptation Network (APAN), developed and launched by the United Nations Environment Programme (UN Environment) in 2009 under the Global Adaptation Network (GAN), is the first regional adaptation network.
APAN is an open network that strives to equip adaptation actors in the region with knowledge for designing and implementing adaptation measures, building capacity to access technologies and finance, and integrating climate change adaptation into policies, strategies, and plans towards building climate change resilient and sustainable human systems, ecosystems, and economies. APAN has established close partnerships with key sub-regional organizations and has become an important adaptation knowledge mobilizer in Asia and the Pacific region.
Virtual Dialogue Series for Enabling Resilience and Scaling-up Action on Climate Change Adaptation
In preparation to the main Forum, the APAN Secretariat and Partners will organise a series of five dialogues designed as a precursor to the major event, covering the four streams on: a) inclusive resilience; b) nature-based resilience; c) economic sector resilience; d) communities and local resilience. Conducted over four weeks, from 19 October to 12 November 2020, the dialogue series will to bring perspectives from stakeholders from different sectors across the Asia-Pacific region in support to climate change adaptation and resilience.
The virtual dialogue series will be held from mid-October to mid-November 2020.