COP23 Side Event: 'Building partnerships for climate-resilient community development in Least Developed Countries (Lao PDR and Timor-Leste)
| Sun | Mon | Tue | Wed | Thu | Fri | Sat |
| --- | --- | --- | --- | --- | --- | --- |
| | | | | | | 1 |
| 2 | 3 | 4 | 5 | 6 | 7 | 8 |
| 9 | 10 | 11 | 12 | 13 | 14 | 15 |
| 16 | 17 | 18 | 19 | 20 | 21 | 22 |
| 23 | 24 | 25 | 26 | 27 | 28 | 29 |
| 30 | 31 | | | | | |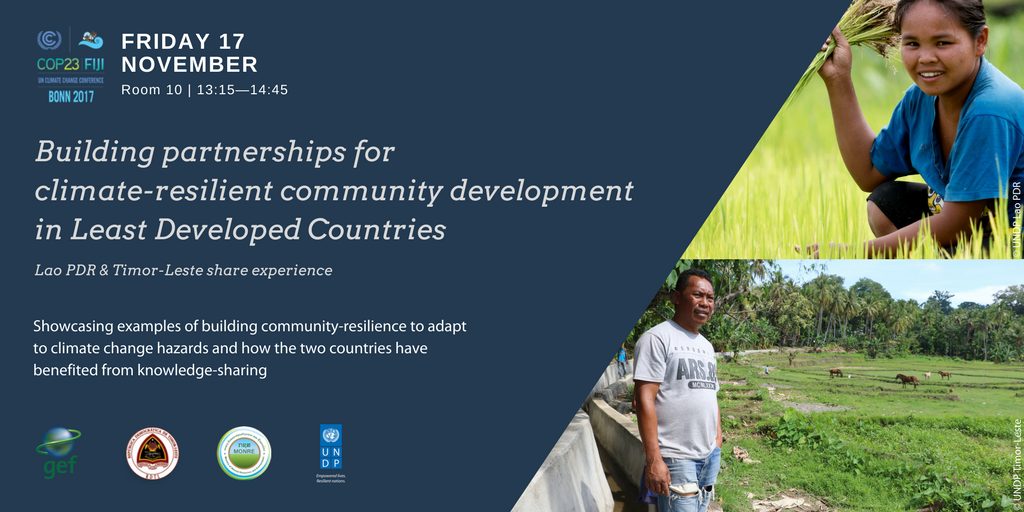 Date: Friday, November 17 2017
Time: 13:15—14:45
Room: 10
Lao PDR and Timor-Leste are facing similar environmental challenges in different environments. Communities in both countries are preparing for increasing risk from climate-driven events such as drought, landslides, floods and erosion.
To tackle the issues, the two countries have been working together, exchanging ideas and experiences on increasing the resilience of essential small-scale rural infrastructure.
A side event at
COP23
in Bonn showcased how the two countries benefited from knowledge-sharing, and how a combination of engineering and ecosystems-based solutions can best support climate change adaptation.
About the projects
Responding actively to the challenges of climate change, in 2009 the Government of Lao PDR finalized a
National Adaptation Plan of Action (NAPA),
identifying actions under four priority sectors: agriculture, forestry, water, public health. The UNDP-supported project 'Effective Governance for Small-Scale Rural Infrastructure and Disaster Preparedness in a Changing Climate' (GIDCC) is Lao PDR's second NAPA project, focused on water with strong links to the other sectors.
Led by the Ministry of Natural Resources and Environment, Department of Disaster Management and Climate Change, and underpinned by a Climate Risk and Vulnerability Assessment that targets vulnerabilities at three levels – including rural water infrastructure sites, the communities around the sites, as well as larger-scale watershed assessments – the project supports the planning and implementation of climate-resilient rural infrastructure in Sekong and Saravan provinces in the south of Lao PDR.
Key insights for sharing
*Insights into combining engineered "grey" adaptation measures and "green" ecosystem-based measures to optimize the resilience of infrastructure, communities and ecosystems
*The introduction of locally-based climate risk and vulnerability assessment processes and tools into local planning for climate-resilient infrastructure
'Strengthening the Resilience of Small Scale Rural Infrastructure (SSRI) and Local Government Systems to Climatic Variability and Risk', 2013-2017, Timor-Leste
Recognizing the development challenges associated with climate change, the Government of Timor-Leste is also proactively addressing the impacts. The establishment of a Center of Climate Change and Biodiversity (2015), the drafting a National Climate Change Policy (2016), a
National Adaptation Plan of Action (2010),
and the embedding of adaptation objectives into the
National Strategic Development Plan, 2011-2030
, reflect the commitment to action.
Coming to a close in December 2017, the UNDP-supported project 'Strengthening the Resilience of Small Scale Rural Infrastructure (SSRI) and Local Government Systems to Climatic Variability and Risk' is supporting the Ministry of State Administration and Ministry of Commerce, Industry and Environment to implement climate-resilient infrastructure projects in the municipalities of Baucau, Ermera and Liquiça.
The project places an emphasis on participatory approaches and strengthened local governance systems and focuses on building evidence for national policy-making; support for the development and uptake of climate variability risk and vulnerability assessment tools; and the implementation of climate-resilient small-scale infrastructure projects and ecosystem services.
Key insights for sharing
*How soil bio-engineering interventions helped increase the climate resilience of infrastructure (including water supply systems, roads and bridges, irrigation schemes, and flood protection)
*How micro-capital grants to local NGOs helped protect ecosystem functions in the immediate vicinity of infrastructure
*How support to Suco (village) Development Councils to identify, prioritize and propose future community development projects is contributing to addressing the impacts of climate change hazards on rural infrastructure
*How key partnerships established (civil society, local authorities and development partners) helped to promote sustainability and resilience of rural infrastructure and communities (SDG 17)
*How support to strengthen the development and implementation processes of the annual municipality investment plans is safeguarding capital investments and enhancing the benefits of rural infrastructure
 
Side event agenda
1 Sustainable Development Goals presentation/film
2 Timor-Leste presentation   
3 Lao PDR presentation   
4 Questions & answers  
Contacts

Links for more information
Click here to download the presentation.
Lao PDR & Timor-Leste cooperate on climate-resilient development