Communities helping communities: the role of agricultural cooperatives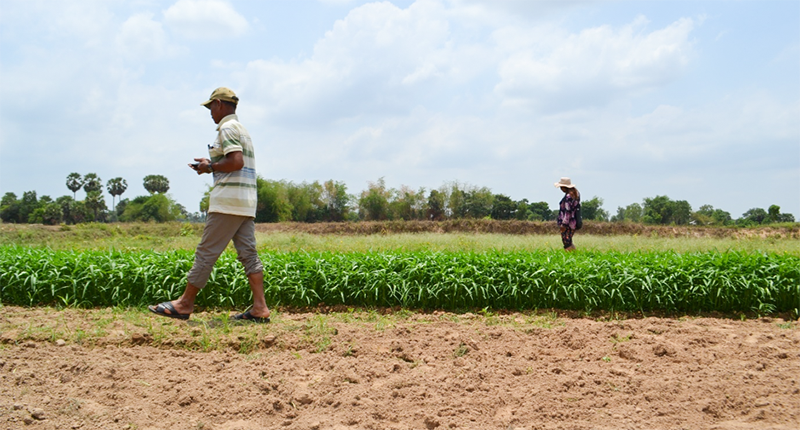 Agricultural cooperative members inspecting a field in Takeo province. Photo credit: UNDP Cambodia/Kelsea Clingeleffer
Agricultural Cooperatives, also known as AC's, are a localised approach to providing financial, practical and technical support within agricultural communities. Due to the challenges presented by climate change, particularly for the agricultural sector in Cambodia, it is important to consider the role that such entities may play in reducing vulnerability and promoting local economies. 
According to the Royal Government of Cambodia's
Law on Agricultural Cooperatives
, agricultural cooperatives provide an opportunity to enhance the social, cultural and economic positions of their members. These organizations, while autonomous, are supported under the Ministry of Agriculture, Forestry and Fisheries.
One successful example is seen in the Stengslakou Agricultural Cooperative located in Dokpor, Takeo.
Established in 2012 as an expansion of a community-based savings group, at the end of 2018 Stengslakou Agricultural Cooperative had 79 members, including 35 females.
Each agricultural cooperative can accumulate capital through shares and/or the two or more services they must provide – Stengslakou Agricultural Cooperative's three services include a savings scheme, in which members can invest and borrow at affordable rates, fertilizer trading at Phnom Penh markets, and chicken raising/trading.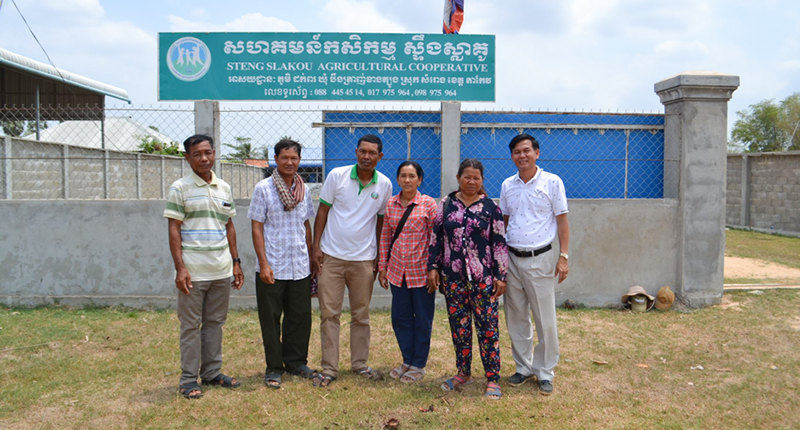 Members of the Stengslakou Agricultural Cooperative with a DanChurchAid representative in front of land recently purchased used Agricultural Cooperative funds. Photo credit: UNDP Cambodia/Kelsea Clingeleffer
When asked why they had chosen to become agricultural cooperative members, one Stengslakou member stated: "we want to save money to get interest and borrow money close to home. We also want to buy fertiliser closer to home – it's much easier now." Another member backed up this statement, suggesting, "it helps me find the market for chickens, because I raise chickens. At rice season I can get fertiliser by instalment." 
Community members become part of the Stengslakou Agricultural Cooperative by applying to the annual general meeting and paying an initial one-off fee of 10,000 riel (USD $2.50). At this meeting – which all ACs are required to host at least annually – members approve new memberships and acknowledge anyone leaving the cooperative. Members can become shareholders for 100,000 riel (~USD $24.50) - an investment that has historically led to an increase for the shareholder should they ever choose to withdraw their shares. The cooperative is managed by a board which includes both managerial positions and monitoring/evaluation positions. Management positions are elected by members on four-year terms, with unlimited ongoing eligibility. 
Money from Stengslakou Agricultural Cooperative can be used for supporting local members in various ways – recently it was used to purchase (in partnership with a local NGO) a block of land and build a small structure used by members for meetings or other activities. The money stays within the local economy and enables members to access training, loans and equipment. "I want to use local resources as much as possible to boost the local economy. This means that people can share, invest and borrow close to home and with easy access. Like that, we can have a selling group so have more bargaining power – quality and price ensured," states Mr. Sem Bunly, Stengslakou Agricultural Cooperative Chief. 
Responsibility for these collaborations primarily falls to Stengslakou Agricultural Cooperative's chief, Mr. Sem, who says "As part of the agricultural cooperative I can communicate outside and improve support with external stakeholders". Mr. Sem also acknowledges the importance of the agricultural cooperative in other spheres of life. "Since I joined the agricultural cooperative, I have better knowledge, communication and confidence that can be used in my family."
The success of the Stengslakou Agricultural Cooperative, and Mr. Sem's leadership, has been demonstrated as Mr. Sem has been selected as the provincial AC representative. 
***
Written by Kelsea Clingeleffer. For more information, please contact Muhibuddin Usamah (Project Manager) at
muhibuddin.usamah@undp.org
For updates on this project and UNDP Cambodia's broader work, follow @UNDPCambodia on Facebook, Twitter and LinkedIn
Related articles