A drum, metal pipe and rice byproduct: simple innovation is revolutionising drought preparedness in Cambodia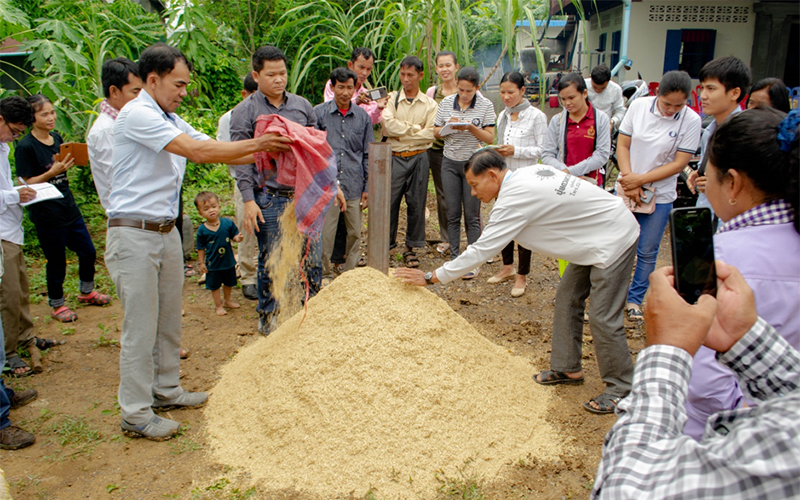 Using rice husk to create charcoal for sustainable drought agricultural practice. Photo credit: UNDP Cambodia/Kelsea Clingeleffer
Cambodia, September 2019. Despite the rain falling outside, a group of Agricultural Cooperative leaders and partners spent the day thinking about drier times as 34 men and women took part in Drought Resistant Agricultural Techniques training under a partnership between United Nations Development Programme (UNDP) and DanChurchAid. By completing the training, the leaders are hoping to go back and teach their communities simple techniques which can bring dramatic change during the times of drought.
The training was conducted under the UNDP-supported 'Strengthening Climate Information and Early Warning Systems in Cambodia' project funded by GEF-Least Developed Countries Fund.
Mr. Polin Nop, senior programme advisor of DanChurchAid, emphasised the importance of the learnings by reminding participants to "use the training in your communities, especially because your communities are very active in chicken raising and growing vegetables. If we use this training in Cambodia, we can be prepared for the droughts and floods because we will be financially strong."
The training was simple in both structure and materials. Experts who are farmers themselves work directly with Agricultural Cooperative leaders, who then take the most relevant training and spread it within each of their respective communities. Approximately 4,500 farmers are expected to directly benefit from the training.
The materials themselves are even more simple, allowing any individual or group to easily apply the learnings provided. First, a 50x50cm rice husk charcoal kiln was presented, which consisted of a simple design – a half aluminium drum with a metal pipe welded through the top. The group lit a fire underneath the barrel then poured rice husk around the top and sides of the drum; 3 to 4 hours later, layers of charcoal could be seen. Bigger kilns have been developed in other communities which produce larger amounts of charcoal in one burning, however these take longer to process.
In Battambang, rice husk is an easily accessible and therefore cheap by-product due to the many rice paddies in the area. Rice husk charcoal can be used (one mixed with compost and top-soil) in both seedling planting and home gardens as the burning process kills diseases and bacteria and the charcoal itself absorbs water and distributes nutrients over longer term than regular soil. As a result, crops grow faster and stronger – an incredible result in a time when growth should be limited by environmental factors such as a lack of rain. While each Agriculture Cooperative involved in the training was supplied a rice husk kiln, they can also be easily built using commonly sourced materials.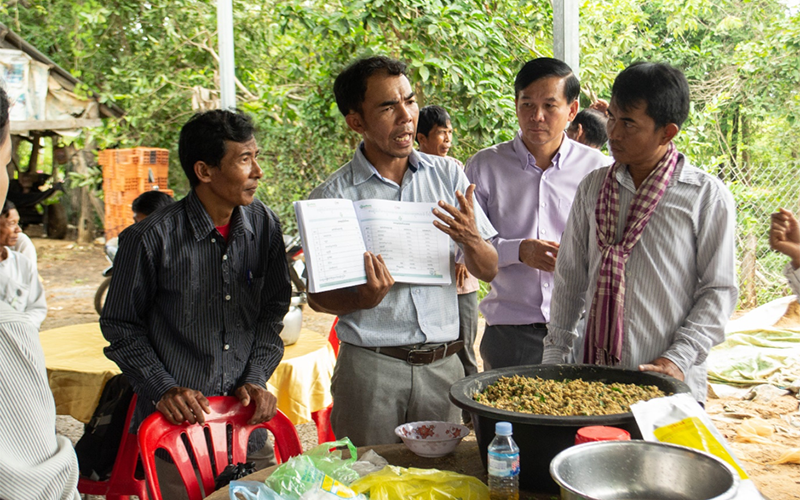 Mr. Vuthy Mot explaining the process of mixing chicken feed to Agricultural Cooperative leaders. Photo credit: UNDP Cambodia/Kelsea Clingeleffer
Chicken care was also a focus of the training – chicken feed mixing enables farmers to increase the health of their chickens and reduce costs associated with buying feed at local markets. Trainer Mr. Vuthy Mut listed the ingredients that could be added to the premix formula, as well as benefits of this approach including increased resistance to disease, resiliency overall, and faster growth periods. A discussion and demonstration of the importance of vaccinating chickens against disease followed.  Mr. Suy Vandy, one of the participants of the training, suggested that "this will be very important for our communities, there are many things we didn't know before such as chicken food mixing".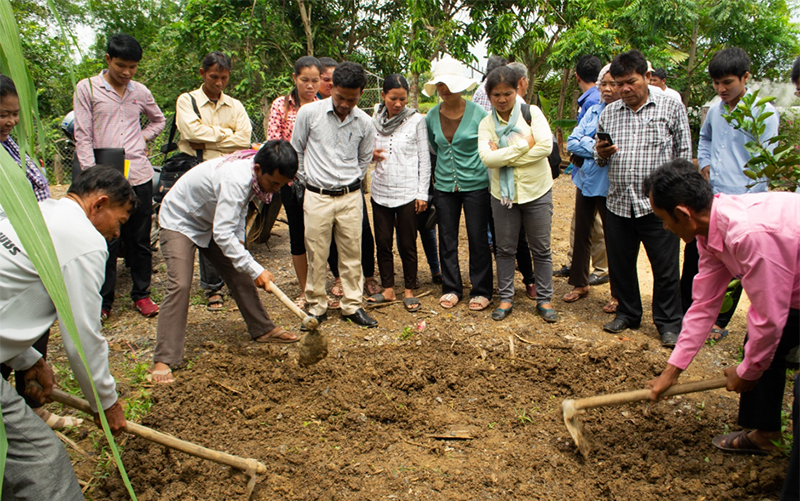 Circle gardens are a simple technique which allows families to remain self-sufficient during drought times. Photo credit: UNDP Cambodia/Kelsea Clingeleffer
Finally, once cooled the rice husk charcoal was used to demonstrate seedling planting and development of a circle garden. Use of a circle garden will allow families to access fresh vegetables without purchasing them from the market during times when unable to grow full crops. Participants dug a circular shape into the group using traditional manual labour tools, and then filled it with a mixture of compost, dirt and rice husk charcoal before placing plants in a ring around the outside. This approach allows the roots of the plant to grow inwards towards the centre of the circle, and the farmer needs only sufficient water and nutrients for the centre of the circle rather than spreading these valuable resources across big areas as done in traditional farming. 
Such simple methodologies reflect a need for sustainable approaches on farming in the changing climate. Communities must be able to access learnings and replicate them in a way that is relevant for their own context as well as be able to pass this knowledge onto others. By using a drum, metal pipe and rice by-product, it is hoped that upcoming drought seasons will be less of a threat to the farmers of Cambodia.