Enabling Small Business To Adapt To Climate Change
Since the majority of the population in the developing world relies on micro, small and medium-sized enterprises (MSMEs) for their livelihoods, it is imperative that this segment of the economy becomes more resilient to future climate impacts. At the same time, these businesses are well positioned to develop and sell products and services that strengthen the resilience of vulnerable communities. UNDP has supported more than 40 countries around the world in enabling small businesses to adapt to climate change.
UNDP promotes small business resilience by engaging with stakeholders to design investment programs that address the underlying barriers to resilience.  These barriers may be technical, financial, socio-cultural, and/or institutional.  We use participatory approaches to identify these barriers and develop sustainable solutions.
Our Projects
UNDP's projects to promote climate resilience among MSMEs include:
Through GCF-funded investments as well as the GEF-funded Integrated Approach Program for Food Security and Resilience, UNDP is working directly with value chain actors, including the private sector, to increase the resilience of key agricultural value chains, focusing on increasing access to markets for smallholder farmers, particularly women.
Through our Climate Information for Resilient Development in Africa (CIRDA) project, UNDP is working to address one of the key barriers to climate resilient business: access to climate information, such as early warnings and seasonal forecasts. UNDP is working with weather agencies, mobile phone operators, and mobile app developers to increase availability of and access to information.
UNDP provides technical support for National Adaptation Plans to mainstream climate risk management into planning and budgeting. One project, Integrating Agriculture into National Adaptation Planning, funded by BMUB and jointly implemented with FAO, is working with countries to integrate gender and climate change adaptation into national agricultural development plans and investment strategies.
Our Research
Co-written by the World Resources Institute and UNDP, the report Adapting from the Ground Up: Enabling Small Businesses to Adapt to Climate Change explains the reasons why building a resilient private sector is vital to building resilient communities.
The report proposes a step by step framework for addressing the needs of small businesses in adapting to climate change. The report explains the breadth of barriers facing these businesses, including access to information and finance, technical capacity, and policy. The public sector can play a significant role in enabling this sector of the economy to adapt to climate change, using creative and thoughtful interventions that are low-cost and sustainable. The report proposes a number of interventions that policymakers can use to address the barriers and actionably support vulnerable business enterprises.
As highlighted in the report, the private sector is a key actor for climate change adaptation, in particular MSMEs, which represent ~60% of employment in developing countries. These MSMEs include many individual farmers struggling to adapt to a changing climate. This is why UNDP is providing support to vulnerable farmers in 38 countries in Africa, Asia-Pacific, Central Europe and Latin America. The following infographic illustrates the amount of money received by the benefitting countries over the past eight years as part of the 44 projects targeting farmers included in UNDP's adaptation portfolio. The infographic also details the different types of assistance we provided within these 44 projects, showing an integrated and comprehensive approach of UNDP through the implementation of more than one intervention per project.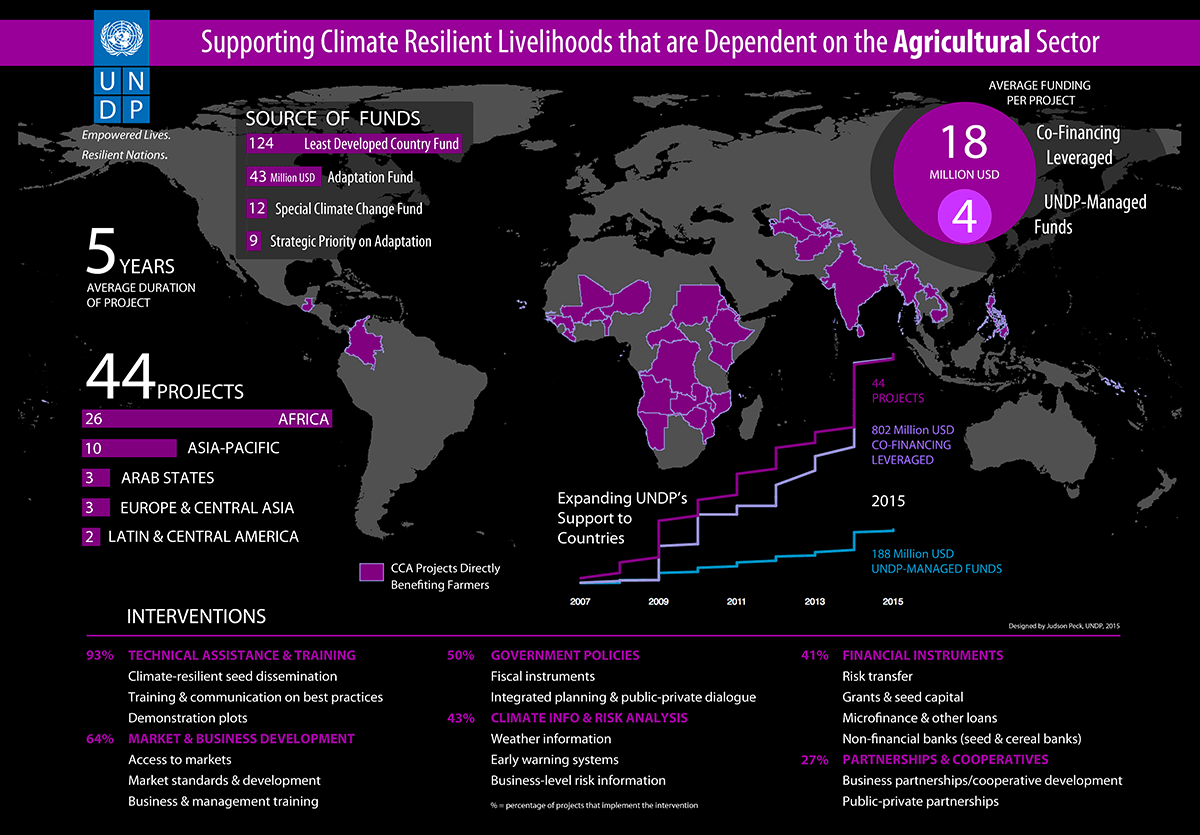 Events
Launch of the report Adapting from the ground up
December 8 2015
The event was held during CoP21 in Paris on 8 December 2015 to mark the launch of the flagship publication "Adapting From the Ground Up", which presents a new perspective on engaging the private sector to adapt to climate change. During the event, stories were shared to highlight how the private sector can be an enabling resource to build resilient communities around the world.
CBA10 Conference in Bangladesh
April 2016
Our April 2016 session at CBA10 in Dhaka, Bangladesh highlighted how MSMEs can be engaged in and contribute to climate resilience both for ecosystems and people. The interactive session alternated between case studies and small group discussions illustrating how a focus on MSMEs can lead to strengthened community resilience, potential areas for engagement, and what not to do. Our speakers joined us from academia, civil society, and the private sector
For more information, please refer to pubs.iied.org/G04061 and Download the presentation (4.8Mb)