Food for the future: Nonouti island develops plan for food security as climate change impacts deepen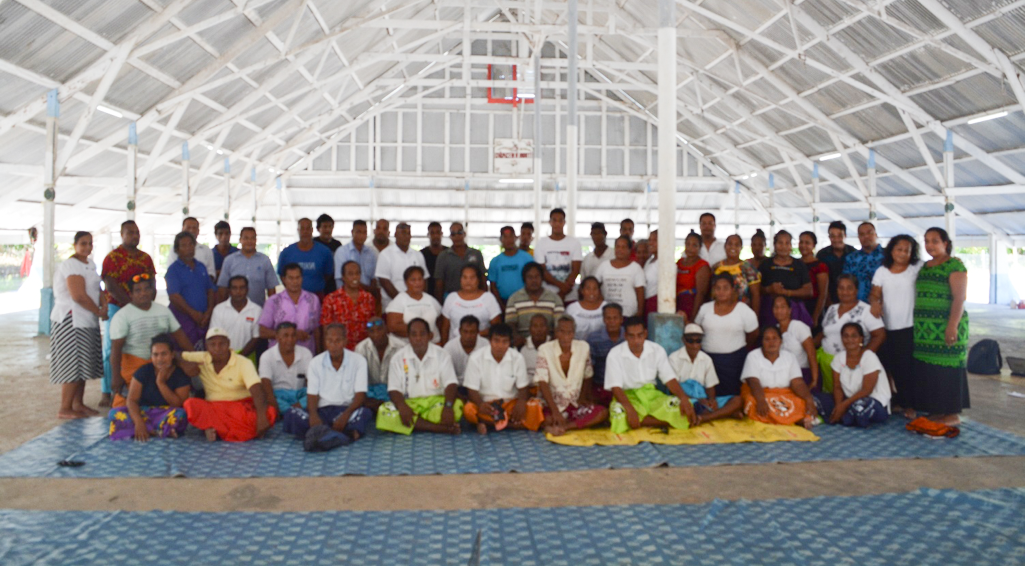 Kiribati, 30 July 2019. A team of government officers has visited Nonouti island to develop an Island Strategic Plan ensuring food security in the context of climate change.
Forty participants – including the island Mayor, Clerk and Councillors from all 10 wards from Temotu to Teuabu village, as well as representatives from communities, schools, churches and businesses and tour guides – were invited to attend the week-long workshop, 22 to 29 July, coordinated by the Ministry of Internal Affairs (MIA) through the Local Government Division (LGD) and supported by 10 government ministries including the Ministry of Education, Fisheries Division, Environment and Conservation Division, Agriculture and Livestock Division, Culture and Museum Division, Kiribati National Tourism Office, Ministry of Commerce, Business and Cooperatives.
The formulation of island strategic plans has three parts: identification of issues on the island in regards to Kiribati's long-term development blueprint 'KV20'; village consultation on the issues identified;  and finalization and endorsement of the issues for the plan by the island full council members.
Among the issues identified on Nonouti were the need to conserve the island's marine biodiversity and the need to improve infrastructure such as the road, the airfield and seaport.
Island Strategic Plans have now been formulated for Abemama, Maiana and Nonouti under the project 'Enhancing National Food Security in the Context of Climate Change' (known locally as LDCF-I), funded by the Global Environment Facility and implemented under the Environment and Conservation Division with the support of the United Nations Development Programme.
With the formulation of the plan for Nonouti, the project has hit a milestone. The LGD-MIA is now working on the finalization of the documents before launching their implementation.
About the project 'Enhancing National Food Security in the Context of Global Climate Change' in Kiribati
Kiribati is a nation comprised of atolls spread across a vast Pacific Ocean territory. People are largely reliant upon a limited land base and coastal zone fisheries for both nutrition and livelihood. As the population grows and climate change advances, the security of island resources will be challenged - already, the ecosystem integrity upon which islanders depend for resilience is being eroded. Climate change will exacerbate an already very high level of vulnerability. With support from the Least Developed Countries Fund, this project (2016 - 2020) will build the adaptive capacity of vulnerable Kiribati communities to ensure food security under conditions of climate change.
For further information, please contact Ms. Bweneata Kaoti | Project Advocacy Officer - PAO; Project Management Unit | Environment and Conservation Division, Ministry of Environment, Lands & Agriculture Development (MELAD) | Ph. 75228211, 75228000 | E. bweneatak@environment.gov.ki