Global
Taxonomy Term List
Argentina is considered a high-income economy with a GDP of US$600 billion in 2016 and a population of over 44 million. In the last decades, the country has experienced marked growth in its agriculture and food sectors, accounting to 54 percent of its land use, and playing a strategic role in the socio-economic development of the country, with 54 percent of employment. Agriculture and animal husbandry and fragile ecosystems are also especially vulnerable to the intensification of extreme climate events, affecting the production and supply of food on a national and global scale. The country is considered a top emitter for agriculture, forestry and other land use sectors, contributing to 2.1 percent of the global emissions, and with domestic emissions made up of livestock (21.6 percent); agriculture (5.8 percent) and land-use change and forestry (9.8 percent). 
English
Coordinates:
POINT (-65.039062495536 -36.796089507293)
Project Details:
Argentina's agriculture is highly innovative and has much to offer in terms of win-win climate actions. It has great potential to scale up actions and production processes that will simultaneously cut mitigate emissions and enhance resilience to improve productivity. Argentina is one of the 100 countries being supported by UNDP's Climate Promise to enhance their NDCs. The country is also part of FAO's Sub-Regional Project on "Low Emission Livestock, a contribution to the Sustainable Development of the Sector in South America", and many other projects related to climate management.
The government of Argentina considers the SCALA programme as strong support for the revision of its NAP in the agricultural sector, and to carry out actions that allow the implementation and achievement of the commitments established in the country's NDC. The programme will leverage participatory methods to address Argentina's institutional and financial barriers, which allow for a transformative shift in the agriculture and land use sectors. Moreover, to engage and mobilize the private sector to increase its investments in climate action. With the SCALA programme supporting Argentina over the next five years, UNDP and FAO will strive to foster a more inclusive multi-stakeholder process that eventually meets the needs of smallholder farmers, rural communities, women, and youth, who are the most vulnerable to climate change.
Display Photo:
Barriers:
Argentina faces different types of barriers in achieving its adaptation and mitigation goals. There is a lack of planning for sustainable management of native forests `and agri-food systems. There are gaps in the articulation between managing bodies/ministries, as well as inefficient bureaucratic financing channels and there are difficulties for producers to access financing. The objective of the NAP in Argentina is to carry out the process in a participatory manner across managing bodies and ministries. The process requires economic efforts to ensure the full participation of all representatives and to support them in parallel processes for formulating provincial plans.   
Country Climate Plans:
In 2016, Argentina submitted its nationally determined contribution (NDC) that identified several agriculture-related priorities. Argentina has prioritized the development of adaptative capacities and the promotion of agriculture's strategic role as a solution to climate change. In 2020, the country signed the new United Nations Strategic Cooperation Framework (2021-2025) and confirmed its interest to push forward the agenda that seeks to enhance ambition and catalyze action for land-use and agriculture. Argentina submitted its second NDC in December 2020, ratifying a more ambitious commitment to the Paris Agreement and providing a specific and broader role to adaptation, with the national goal of decreasing 19 percent of its total GHG emissions by 2030. The country has committed to elaborate its Long-Term Climate Strategy by the end of 2021.
The key priorities communicated for the agriculture and land-use sector focus mainly on prioritization of adaptation, strengthening the role of agribusiness as a source of solutions to climate change, integrating agro-industrial production and encouraging the development of process and product technologies. To support the National Adaptation Plan (NAP) process, Argentina is implementing the Readiness Project for the NAP Process, financed by the Green Climate Fund and implemented by UNDP.
Along with these actions, the country aims to strengths the implementation of Minimum Budgets for the Environmental Protection of Native Forests, as well as achieve a substantial reduction in the deforestation rate. To support this goal the country implements the National Forest Management Plan with Integrated Livestock (MBGI), the Forest Watershed Plans and Comprehensive Community Plans (PIC), and the national forest extension system and the Deforestation Early Warning System (SAT). By 2030, the country also expects to deepen the development of fire, flood, and drought prevention measures - of great importance for the agricultural, livestock and forestry sectors.
Scaling up Climate Ambition on Land Use and Agriculture (SCALA)
SCALA programme
English
Reports and Publications of relevance to Country Teams
Project Brief / Fact Sheet
Knowledge Products
Reports
Reports and Publications by country teams
ProDocs
Display Photo:
The Kingdom of Cambodia is situated in mainland Southeast Asia with a population of over 14 million people, and with approximately 80 percent of this population living in rural areas. In Cambodia – which is ranked the 12th most vulnerable country in the world to climate change by the Global Climate Risk Index 2020 – increases in the frequency of floods, droughts, and windstorms in recent years cost 10 percent of the country's Gross Domestic Product (GDP) in 2015 from loss and damages. The agriculture sector makes up a third of GDP and employs 57 percent of the country's labor force. Approximately 80 percent of the country's population lives along the Mekong River and Tonle Sap Lake, where flooding occurs due to increased water levels between early July and early October. Disruptions to logistical corridors caused by floods have a profound impact on agricultural supply chains, both domestically and for international trade. At the same time, 39 percent of the country's total GHG emissions come from the agriculture and land use sectors. 
English
Coordinates:
POINT (104.58023067979 12.935564448741)
Project Brief / Fact Sheet
Project Details:
Cambodia aims to increase adaptive capacity for sectors and communities vulnerable to the impacts of climate change in the medium-to-long term of its sustainable development. The SCALA programme in Cambodia is being designed to help address several of these barriers through, for example, capacity building and strengthening the evidence base for the implementation of adaptation and mitigation activities. In addition, with support from the SCALA programme, climate change considerations will be integrated into sectoral planning, budgeting and coordination, and linkages with key stakeholders such as the private sector and community-based organizations will be developed. Cambodia will be supported by the SCALA programme until 2025 to strengthen coordination on climate action between ministries, the private sector and community-based organizations to support transformative change in the agriculture and land use sectors in alignment with adaptation and mitigation priorities outlined in the NDC and NAP.
News and Updates:
11 November 2021 - The SCALA programme sat down with Dr. Prum Somany, Director at the Department of International Cooperation (DIC) and Assistant to Minister of Agriculture, Forestry and Fisheries to learn about how Cambodia plans to accelerate its adaptation and mitigation goals in the agriculture and land use sector.
Display Photo:
Barriers:
A key barrier for climate actions in Cambodia is limited resources: human, technical and financial resources, which could be enhanced with support from development partners and private sector financing.  There is also a need to enhance capacity and technical skills in data and information collection and management, particularly for Measuring, Reporting and Verification (MRV). In Cambodia, some of the other barriers include limited staff capacity at the sub-national levels for the implementation of adaptation and mitigation actions, as well as coordination with line ministries and other stakeholders (civil society, community-based organizations, NGOs, and the private sector) to ensure that efforts and resources are concerted, and synergies are leveraged.
Country Climate Plans:
Cambodia initiated its National Adaptation Plan (NAP) Financing Framework and Implementation Plan in 2017. Cambodia's developing agri-business environment also needs assistance for enhancing sustainability, and the Cambodia Partnership for Sustainable Agriculture (CPSA) is paving the path for the sector, for targeted interventions in its value chains, such as rice, sugar cane, and cassava. Cambodia submitted its updated nationally determined contribution (NDC) to the UNFCCC in December 2020, which outlined adaptation and mitigation goals in the agriculture and land use sectors. The NDC has 17 prioritized adaptation actions under agriculture, focusing on agribusiness, the development of rice and other cash crops, horticulture, livestock aquaculture production. The NDC adaptation component outlined the need for agriculture support services, capacity building, enhanced institutional arrangements, the development of new technologies and increased research. Cambodia prioritized mitigation actions under the forestry and other land use (FOLU) sectors intending to reduce 50 percent of emissions by 2030 via the REDD+ programme. The Ministry of Agriculture, Forestry and Fisheries (MAFF) and other relevant ministries will also undertake a bio-digester programme as part of the mitigation actions outlined in the updated NDC.
Colombia is the third most populous country in Latin America and preserves a natural wealth, close to 10 percent of the planet's biodiversity. Climate change impacts are expected to pose significant and long-term effects on fragile and unique ecosystems and accelerate the pace of land degradation, impact water quality and agricultural production. As of 2019, 15.8 percent of the population is employed by the agriculture sectors, being especially threatened by climate induced weather events, such as La Niña, whose characteristics are strong periods of drought followed by intense rain. Agriculture in Colombia is indeed vulnerable to soil aridity, erosion, and desertification, all of which already pose serious threats and are expected to increase with climate change, according to the World Bank Knowledge Portal. According to its updated nationally determined contribution (NDC) in 2020, Colombia represents only 0.4 percent of global emissions with 71.3 percent of domestic greenhouse gas emissions coming from agriculture and land use.
English
Coordinates:
POINT (-73.124999994088 3.2666614182019)
Project Details:
The SCALA programme will also focus on the department of Cundinamarca, which is hosted in the capital city of Bogota. The programme seeks to develop a model that allows internalizing national guidelines at the territorial level. In turn, this will enable the methodologies and processes used under the NAP_Ag programme to be scaled up in other departments of the country, moving beyond national planning and towards strengthening and planning at the territorial level. The community climate action labs are designed to upscale local adaptation models that prioritize a biodiverse productive landscape. Other programme activities in Colombia will include conducting an analysis of climate information available in the government of Cundinamarca and strengthening agroclimatic roundtables in the department.
Furthermore, SCALA will focus on enhancing private sector engagement with the design of a strategy to strengthen tools, mechanisms and incentives for climate finance in the agricultural sector. This will be supported by the design of 'guidelines for certification' in climate-adapted agriculture for rural microentrepreneurs, small producers and medium-sized emerging producers, as an incentive to access institutional programs, social protection mechanisms, services and financial relief.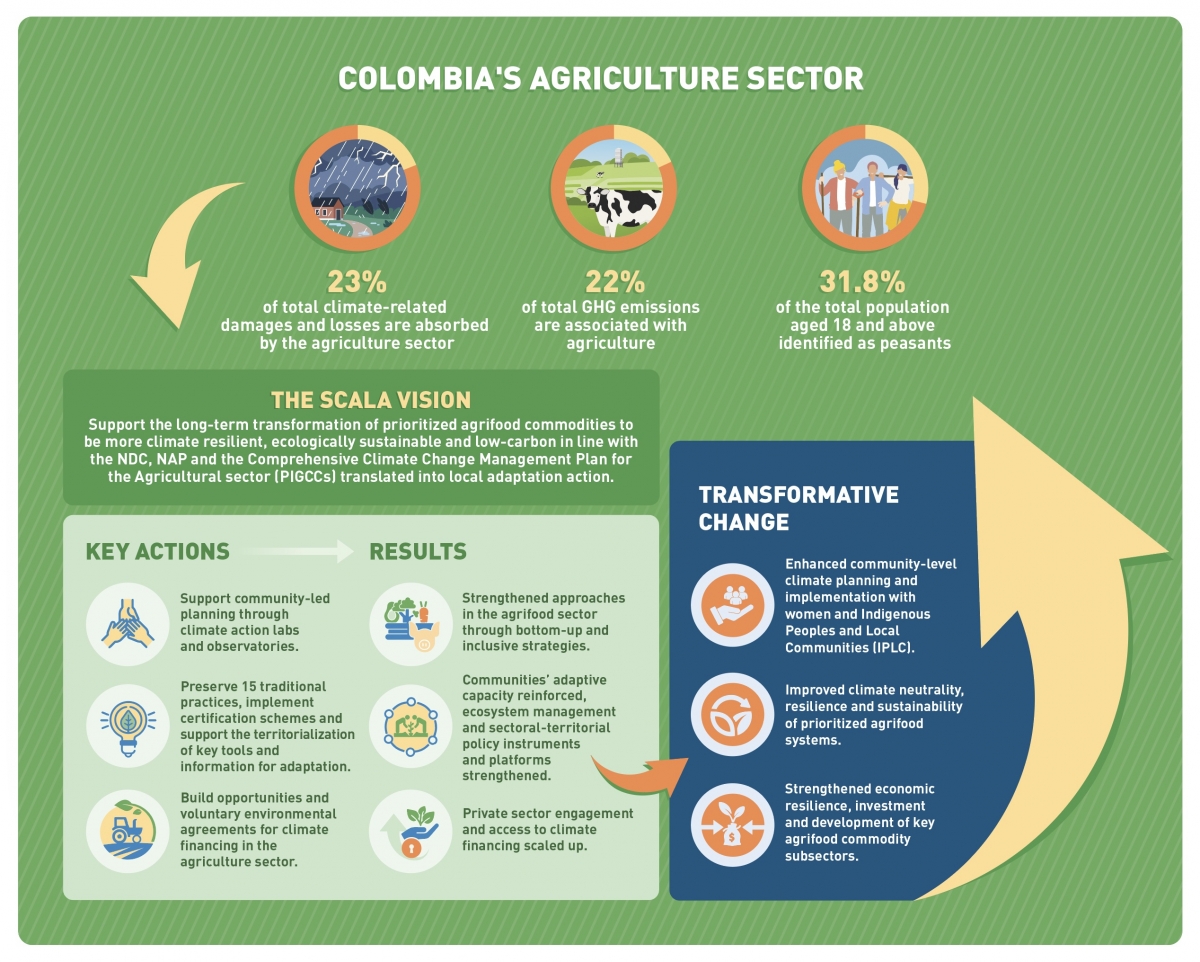 Display Photo:
Barriers:
Colombia has encountered a few notable barriers while implementing its climate plans, such as a lack of local capabilities, limited access to climate information and low involvement of the private sector. To overcome these challenges and to bridge the divide between national and local levels, the SCALA programme offers a range of supports articulated around the primary goal to accelerate the implementation of the NAP, NDCs and the Integral Management Plan for Climate Change (Plan Integral de Gestión del Cambio Climático PIGCCs).  The SCALA programme will also build on the achievements made under the NAP-Ag programme and the NDC Partnership Climate Action Enhancement Package (CAEP).
In line with the NDC priorities, the SCALA programme and Cololowmbia will prepare for the implementation of adaptation actions in five agricultural sub-sectors: rice, corn, meat and milk, sugar cane and cocoa. This includes field and practical work with communities, unions, institutions, and territorial entities in the three regions of the country with the most significant agricultural potential. Specific activities include capacity-building for institutional actors of the Andina Centre, participatory characterization of climate change impacts on sustainable agro-food systems, cost-benefit analysis (CBA) and Evaluation of Damage and Loss tools.
Country Climate Plans:
Colombia submitted its first NDC in 2018, which outlined both mitigation and adaptation goals, as well as means of implementation. In December 2020, Colombia submitted a revised NDC with more ambitious adaptation priorities to increase capacities on private sector and producers in 10 sub-sectors (rice, maize, potato, beef cattle, dairy, sugar cane, cocoa, banana, coffee and sugar cane). Energy and Agriculture, Forestry, and Other Land Use (AFOLU) are considered the most important sector for mitigation. The revised NDCs state that Colombia is committed to emit a maximum of 169.44 million tonnes of CO2 eq by 2030 (equivalent to a 51% reduction in emissions compared to projected emissions in the 2030 scenario of reference). In the agriculture and land use sector, this will be achieved with strategies reducing greenhouse gas emissions in key areas, namely the production of cocoa, rice, coffee, plantation forestry and cattle. Other commitments focus on improving the participation of three regions (Andina, Caribe and Orinoquía) in national agriculture roundtables and facilitating access to agroclimatic information for 1 million producers by 2030. 
Colombia was part of the IKI-funded NAP-Ag programme from 2015 to 2020, which facilitated the design of the Integral Management Plan of Climate Change for the Agricultural Sectors (PIGCCS), and its Action Plan (2019), which represents the national landmark for sectoral climate change planning. It addresses adaptation and mitigation articulately and converges with the broader national and territorial commitments on the stabilization and consolidation of affected areas by the armed conflict and the progress towards the Sustainable Development Goals. Beforehand, the country adopted its NAP in 2012, "Plan Nacional de Adaptación al Cambio Climático (PNACC)", and a roadmap for its elaboration in 2013, "Hoja de ruta para la elaboración de los planes de adaptación dentro del PNACC". In 2020, under the adaptation planning funded by Green Climate Fund, the country elaborated a series of Strategies to strengthen the business sector in climate risk management to maintain competitiveness. 
Costa Rica is in Central America and has a varied topography that includes coastal plains separated by rugged mountains, including over 100 volcanic cones and inhabits around 5 percent of the planet's biodiversity. Costa Rica is among global leaders in responding to climate change, with a long history of environmental protection, sustainable development, and action on climate change mitigation. Costa Rica's vulnerability to extreme climate events and natural hazards is a result of the presence of populations in areas prone to volcanic eruptions and unstable lands, degraded by wide-spread cattle ranching, or in poorly planned settlements prone to landslides and flooding. A total of 36 percent of Costa Rica's land use is attributed to agriculture, and it accounts for 14 percent of the country's employment. 
English
Project Details:
The SCALA programme can contribute to strengthening market access for products developed through low-carbon value chains to help increase the capital flow to communities (at the farm level) that adopt technologies and help contribute to scaling up climate action. The SCALA programme will support Costa Rica in transforming how the agriculture and land use sectors operate and incorporating adaptation and mitigation measures. In addition to the support on soil management practices, SCALA in Cosa Rica will support the resilience of family farmers to cope with pathogens, so they have the resources to invest in sustainable low-carbon practices. The country is currently developing a road map for its National Adaptation Plan and aims to strengthen conservation initiatives and expand its environmental services payments program to include ecosystem-based adaptation. Costa Rica continues to promote renewable energies, stronger environmental management practices through agroforestry systems and watershed management, as well as tools for municipal-level land use planning to reduce the long-term vulnerabilities of its population and enhance its food security.
Disponible en Español.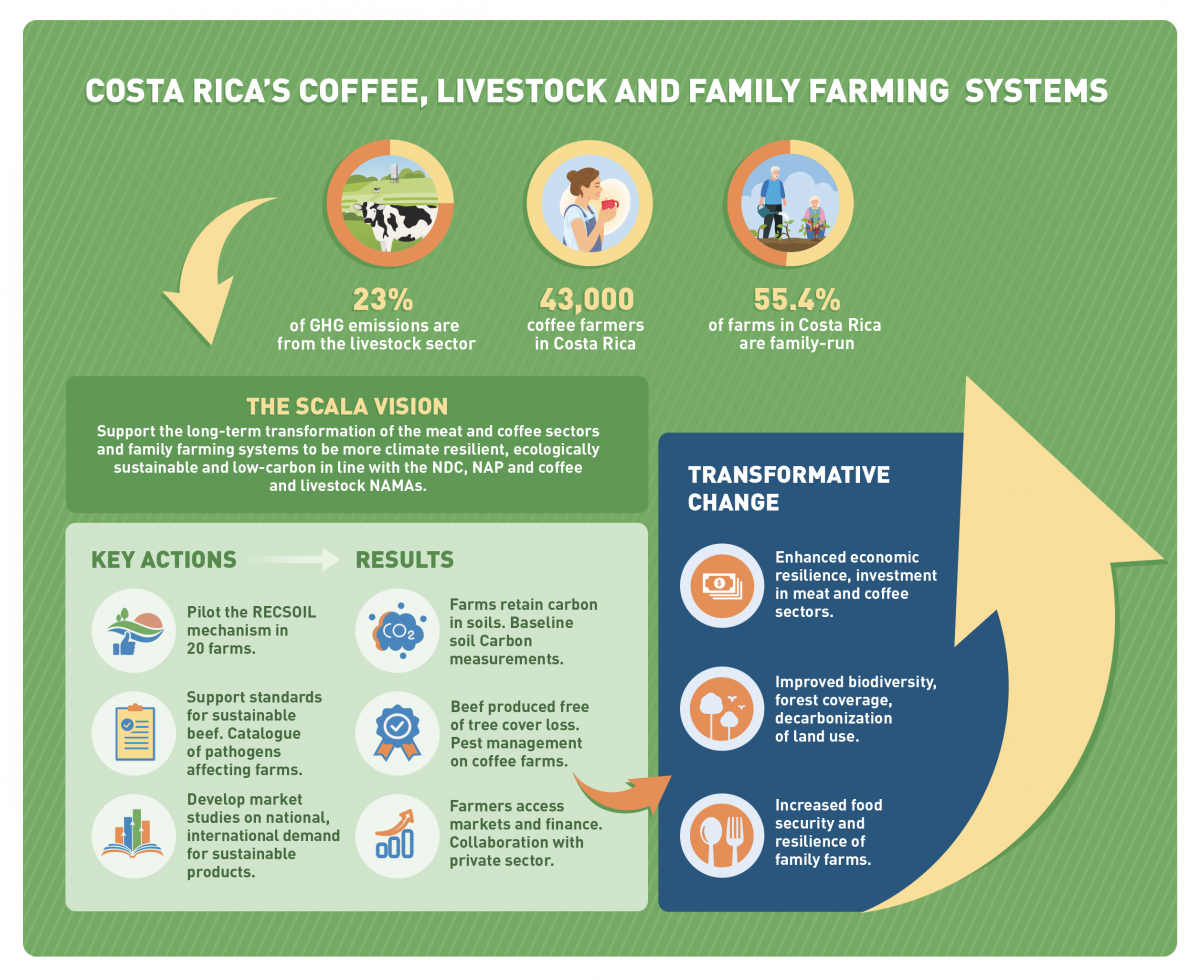 News and Updates:
22 October 2021 - To learn more about how Costa Rica is scaling up its climate ambition in land use and agriculture to meet the targets of its NDC and related climate strategies, the SCALA programme sat down with the Minister of Agriculture and Livestock, Mr. Renato Alvarado to unpack the opportunities and challenges in this process as part of a new interview series.
Display Photo:
Barriers:
Costa Rica has developed policies and prioritized implementing transformative action in value chains, however, knowledge remains a key barrier because transformative change requires the adoption of new technologies. A second barrier experienced in Costa Rica is the availability of financing mechanisms that reduce risks for different actors, including investors, in the value chain. Lastly, there is a need to strengthen the institutional frameworks that oversee these processes, mainly at the early stages. The COVID-19 pandemic was a huge challenge – like for many countries, but Costa Rica managed to keep the value chains in operation and reported growth in agricultural exports, while still maintaining adequate levels of supply to the national market during these challenging times. The pandemic exposed how valuable the agriculture sectors are and demonstrated the resilience of agricultural producers.
Country Climate Plans:
Costa Rica's National Climate Change Adaptation Policy (2018-2030), states the priorities with respect to agricultural sustainable production, namely the 1) promotion of adaptation based on ecosystems outside the State's natural heritage, through the conservation of biodiversity in biological corridors, private reserves and farms under forest regime 2) promotion of water security in the face of climate change, through the protection and monitoring of sources and proper management of hydrological basins. The National Development Plan (2019-2022) reaffirmed the ambitious goal to promote a carbon neutral economy by 2021 and laid out strategies to promote renewable energy, reduce GHG emissions, and consider adaptation initiatives.  
In 2016, Costa Rica submitted its first NDC. Costa Rica's National Climate Change Adaptation Policy (2018-2030), as well as the National Decarbonization Plan (2018-2050) and the NAMA coffee, NAMA livestock, NAMA sugarcane and NAMA Musaceae (banana), reflect some of the country's key agri-food chains, which are livestock, coffee, rice, Musaceae and cane sugar. The country's NDC aims to consolidate an agricultural model that is based on sound approaches in existing policies and strategies. To date, the country has developed a National Low Carbon Livestock Strategy, a National Low-emission Coffee Strategy, and the Low Carbon Banana Strategy, which focus on reducing risks and vulnerabilities in these value chains.
Côte d'Ivoire is located in West Africa along the Gulf of Guinea with the Atlantic running along its southern coast. As one of the world's top exporters of cocoa, palm oil, banana and cashews and with two-third of the actively working population is percent employed by the agriculture sectors, Côte d'Ivoire is vulnerable to variations in weather and climate, as well as external shocks in its export trade. Côte d'Ivoire has the second largest economy in West Africa. High rainfall in the south fuels a fertile agricultural industry, which contributes to 27 percent of country's GDP. A heavy economic reliance on agriculture, in addition to continued environmental degradation, rising temperature, prolonged dry season and deforestation all contribute to the country's vulnerability to climate change. In addition, agriculture contributes 12 percent of total GHG emissions with livestock contributing the largest proportion (63 percent). 
English
Coordinates:
POINT (-5.3118896546725 8.0592309607409)
Project Details:
To support the country in implementing these plans, the SCALA programme partnered with Côte d'Ivoire for the next four years. The SCALA programme will help Côte d'Ivoire accelerate the implementation of its NAP and pursue action to achieve the commitments outlined in its forthcoming NDC. The programme will work with government stakeholders to overcome barriers at the institutional, technical, and financial levels to support a transformative shift in the agriculture and land use sectors. Through the SCALA programme, FAO and UNDP will strive to create an inclusive multi-stakeholder process between institutions and partners in Côte d'Ivoire that will help fill gaps, improve capacities and reach the country's climate targets.
Display Photo:
Barriers:
Côte d'Ivoire has made considerable efforts to mainstream adaptation and mitigation priorities into its national development plans. However, there are different barriers at the institutional level impeding the achievement of adaptation goals, such as the absence of regulations governing the coordination of actions to combat climate change, and the lack of cooperation between the national and sub- national levels. As for mitigation goals, the absence of an intersectoral coordination mechanisms for the NDCs and the lack of a measurement, reporting and verification (MRV) framework are considered the main barriers. Regarding technical resources and knowledge, the limited availability of adequate and evidence-based information, inconsistency of existing data and insufficient research conducted on emission factors are considered as important constraints. Moreover, financial barriers are also viewed as considerable obstacles to achieve climate targets. For instance, the unavailability of specific resource mobilization strategy for climate change adaptation, the insufficient level of financial resources mobilized for mitigation, both internally and externally, and difficulties in accessing climate finance from external mechanisms. Lastly, there is low awareness of the private sector in climate risk assessments and investments in adaptation measures.
Country Climate Plans:
Côte d'Ivoire ratified the Paris Agreement in 2016 and submitted their first NDC the same year. The NDC intends to reconcile development and reduction of GHG emissions. Due to the country's vulnerability to climate change impacts, especially in the key agricultural exports sector, adaptation is also a priority.
The revision of the NDC is ongoing, and the NAP process has been underway in Côte d'Ivoire since 2015. The adaptation planning is crucial in 11 identified priority sectors that are most vulnerable to climate change, including agriculture, fisheries, forestry, land use and gender as a cross-cutting theme. The second generation National Agricultural Investment Program 2017-2025 aims to increase added value of agricultural products; strengthen agricultural production systems that are respectful of the environment; and promote inclusive growth.
Along with the ongoing NDC submission, Côte d'Ivoire has several climate plans and policies in place, such as the National Strategy for Climate-Smart Agriculture 2018-25, National Strategic Plan for the Development of Livestock, Fisheries and Aquaculture 2014-20 and National Strategy for Forest Conservation, Rehabilitation and Extension, to build resilience and reduce GHG across key sectors.
The Arab Republic of Egypt is a developing country in Northern Africa. This terrain consists of a vast desert plateau that has a fresh water renewable resource - the River Nile and its Nile Valley and Delta. Most of Egypt's population and infrastructure are concentrated in the Nile Delta and along the Mediterranean coast, which makes the country vulnerable to the impacts of sea level rise, particularly inundation and saltwater intrusion. About 15 percent of the most fertile arable land in the Nile Delta is already negatively affected by sea level rise and saltwater intrusion. With this negative impact, climate change studies predict a reduction in productivity of two major crops in Egypt - wheat and maize – by 15 percent and 19 percent, respectively, by 2050. Nevertheless, agriculture is the biggest employer involving over 31.2 percent of the total population.  The agriculture sector contributed 14 percent to the GDP in 2009 and contributes 10 percent of the country's total GHG emissions. 
English
Coordinates:
POINT (29.102783190725 26.326248946066)
Project Details:
The Ministry of Environment and the Egyptian Environmental Affairs Agency has officially approved and cleared the implementation the SCALA programme in Egypt. A background desk review of relevant climate change plans and documents has been undertaken, as well as a baseline report has been produced. This will be further informed by the stocktaking and climate action review exercise for the identification and validation of climate actions with transformative potential in the AFOLU sectors.
Through initial consultations with the Ministry of Environment and Ministry of Agriculture & Land Reclamation, it has been recommended that the SCALA programme supports the NAP development process under the recently launched GCF-NAP Readiness project. SCALA deliverables therefore will be designed to serve as inputs to the NAP project through which Egypt's overall NAP will be developed. Contributions will mostly be towards evidence generation through climate risk and vulnerability assessments, innovative climate research on water management and irrigation adaption measures, capacity needs assessment reports on disaster risk reduction and early warning mechanisms in AFOLU sectors, and environmental impact assessments of land use plans.
By supporting the preparation of National Adaption Plan Framework, which will target to address the mitigation and adaptation barriers, the SCALA programme in Egypt will contribute to the country's long-term goal of decreasing climate vulnerability and building climate resilience of AFOLU sectors. By establishing a framework for improving institutional and technical capacity for climate change adaptation planning it will help the country enhance climate action needed by 2030. The programme will support assessments of climate risks and vulnerabilities, determining climate change mitigation and adaptation priorities, and integrating climate change mitigation and adaptation into national and sectoral planning and budgeting.
Display Photo:
Barriers:
The main barriers towards implementation of mitigation and adaptation measures and progress in the agriculture, forests, and other land use (AFOLU) sectors are in institutional and technical capacity to undertake evidence generation through climate risk vulnerability assessments. Most policymakers and technical experts in the Ministries still require enhanced understanding of climate change impacts and the technical skills necessary to craft and implement appropriate CCA integration and interventions. There are institutional barriers related to the functioning of the Measuring, Reporting, and Verifying (MRV) systems on mitigation and adaptation measures and progress in the AFOLU sectors. Egypt plans to build institutional coordination and capacity on climate risks management and to undertake climate adaptation planning, as well as overcome the barrier of insufficient financial resources and budget allocations dedicated to adaptation actions.
Already, the government of Egypt has embarked on preparing a NAP framework; a process that involves assessing and addressing institutional and technical capacity gaps for adaptation planning and management of adaptation actions, national level climate risks and vulnerability assessments and identification of sectoral adaptation priorities, and mapping of mid- and long-term climate change adaptation financing options. 
Country Climate Plans:
In 2011, a National Strategy for Adaptation to Climate Change and Disaster Risk Reduction was released. This strategy lays out the path to overcome the challenges raised by climate change and estimates the investment required to reach its strategic goals. Egypt ratified the Paris Agreement in June 2017 and submitted their nationally determined contribution (NDC), which focuses on the sustainability of agriculture, the environment, water resources, energy, and land management as priority areas.  
Egypt's NDC pledges to reduce its GHG emissions; particularly reducing CO2 emissions by 20 percent from the baseline emissions level of 250MtCO2 emissions by 2030. Each sector of the economy has set mitigation targets; particularly for the agriculture, forest, and other land-use sectors, the mitigation targets include recycling agricultural waste and manure and the implementation of a national MRV system. Additionally, the NDC outlines Adaptation Action Packages with specific adaptation goals for the most vulnerable sectors, including agriculture. Such adaptation actions include building an effective institutional system to manage climate change associated crises and disasters at the national level.
UNDP office in Egypt is implementing a Green Climate Fund (GCF)-financed National Adaptation Plan (NAP) Readiness project aiming to formulate and advance Egypt's National Adaptation Plans Process. This NAP process targets to build/enhance climate resilience in all the sectors of the economy by improving institutional and technical capacity for climate change adaptation (CCA) planning, examining climate risks, determining CCA priorities, integrating CCA into national and sectoral planning and budgeting, and increasing investment in adaptation actions. This NAP process also targets to identify private sector actors with potential to invest in climate change actions. Already there is a large and fast-growing small and medium-sized enterprises (SME) sector and a large domestic market.
Ethiopia is a landlocked country in Northeast Africa and has a population of over 112 million people. Its agriculture sector plays a major role in the national economy, contributing to 34.5 percent of GDP in 2020. Smallholder farming accounts for approximately 95 percent of agricultural production and 85 percent of total employment. In Ethiopia, agriculture and land-use are high GHG emitting sectors with around 80 percent of domestic emissions. Ethiopia's agriculture sector is extremely vulnerable to climate change due to its high dependence on natural resources, and relatively low adaptive capacity – especially in rural areas – to deal with frequently experienced extreme events and longer-term variability, including droughts and floods, rainfall variability and pest invasions.
English
Coordinates:
POINT (39.649658188836 8.0205605250015)
Reports and Publications by country teams
Project Details:
The Government of Ethiopia aims to proactively pursue further integration of climate change adaptation in its development policies and strategies, including macroeconomic and sectoral policies at regional and local levels. In support of this target, the SCALA programme will leverage participatory methods to address Ethiopia's institutional and financial barriers to mainstream climate change at all administrative levels, to allow for a transformative shift in their agriculture and land use sectors. Building on the capacity gaps identified in scoping exercises, the programme will seek to enhance institutional capacities of the country to support the management of climate budget tagging systems, to undertake climate finance and resource mobilization, and to engage and mobilize the private sector to increase its investments in climate action. It also intends to develop stronger knowledge and information sharing platforms for bridging the gap between national, regional and woreda level governance mechanisms. Additionally, the implementation of SCALA programme will support the establishment of enabling environment and de-risking instruments to engage and incentivize private sector investments in climate actions.
The expectation of undertaking such activities is that they will help the country accelerate its NDC and NAP implementation. With the SCALA programme supporting Ethiopia over the next five years, UNDP and FAO will strive to foster a more inclusive, multi-stakeholder process that meets the needs of smallholder farmers, rural communities, women, and youth, who are the most vulnerable to climate change.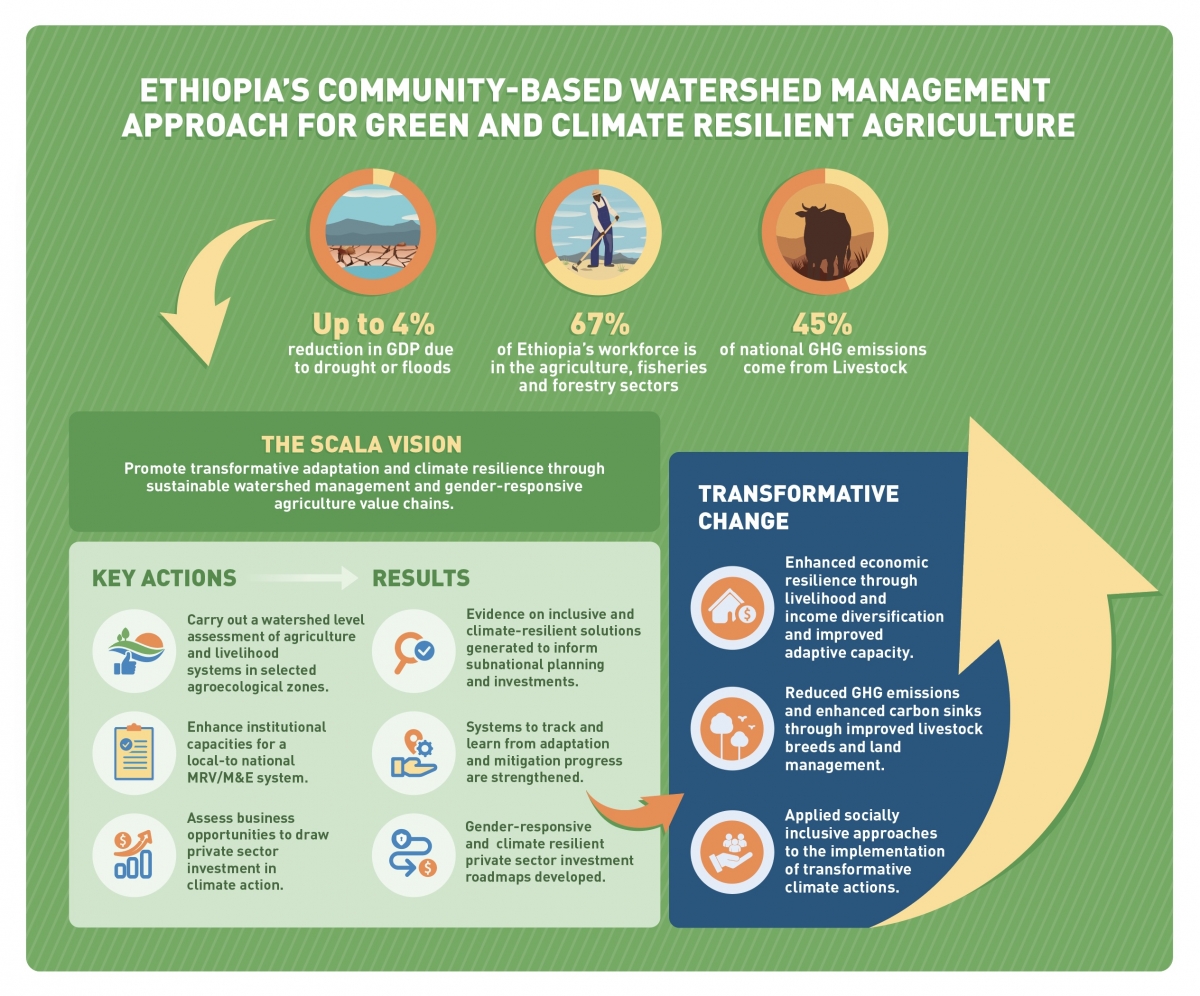 Display Photo:
Barriers:
Whilst Ethiopia has made strides in mainstreaming adaptation and mitigation priorities into its national agriculture development plans and projects, one of the main barriers to achieving adaptation and mitigation goals remains the limited understanding and technical capacity for implementing them at the local level.  It was identified in the CRGE Strategy progress report that there is limited capacity at the local level to carry out climate risk and vulnerability assessments, gender analysis and assessments, and cost benefit analyses for prioritising adaptation and mitigation options.
Given SCALA's programme objectives to achieve systems-level transformative change, the programme in consultation with Ethiopia's Ministry of Agriculture, the Ministry of Finance, and its Environment, Forest and Climate Change Commission (EFCCC), has identified livelihood-centred agro-ecological transitions as a priority. Preliminary work under SCALA has also identified entry points for catalysing transformative climate action in the agriculture and land use sector within selected agro-ecological zones (AEZ). For example, with the need for more gender-responsive climate risk analyses, the SCALA programme plans to carry out a gender analysis of selected value chains in vulnerable AEZs. This will include an appraisal of the cost and benefits of value chain-based interventions to spur inclusive climate action. Establishing a strong evidence base that is also rooted in local contexts would then set the foundation for designing a transformative climate action implementation plan at local levels, with a gender and social inclusion lens.
Country Climate Plans:
The Government of Ethiopia submitted its nationally determined contribution (NDC) to the United Nations Framework on Climate Change (UNFCCC) in 2016, and formally submitted an updated NDC in July 2021. The updated NDC builds on, and is in line with, the country's development goals as laid out in its Growth and Transformation Plan II, its Climate Resilient Green Economy (CRGE) Strategy, the emerging Long-Term Low Emission Development Strategy, the Green Legacy Initiative, and Ethiopia's 10-year Development Plan. The bulk of Ethiopia's NDC adaptation commitments are focused on the agriculture and land use sectors, with priority areas including livestock diversification, drought-resistant animal breeding, rangeland management, crop, and livestock insurance. Ethiopia formulated its National Adaptation Plan (NAP) in 2017, along with a NAP Implementation Roadmap that further categorized the short-term adaptation priorities (such as capacity building, strengthening the enabling environment and promoting research), as well as long-term sector-specific priorities.
In its final National Adaptation Plan (NAP-ETH, 2019), Ethiopia prioritized adaptation in the sectors considered most vulnerable to climate change, namely: agriculture, forestry, health, transport, energy, industry, water and urban. Within these sectors, 18 adaptation options are identified for implementation at all administrative levels, recognizing the considerable diversity in context and vulnerability across Ethiopia's regions and social groups. Ethiopia is working to integrate climate information into planning and decision-making for development interventions, and prioritizing climate resilience across policies to improve the adaptive capacity at national/federal, regional and Woreda levels. The plan is guided by the principles of participation, coherent interventions, stakeholder empowerment, gender sensitivity, equitable implementation, and partnership, especially with the private sector.
Mongolia is a landlocked country with vast mountainous plateaus sloping from west to east in the country.  Mongolia has a very low population density and many of its rural communities are traditionally nomadic pastoralists. The livestock and animal husbandry sector contributes to 80 percent of its agricultural production through a range of food and other products, such as sheep wool, goat cashmere, large animal hair, camel wool and milk. One-third of the country's labor force is employed in agricultural work, and it accounts for 8.4 percent of the country's exports and 10.6 percent of its GDP. The agriculture sector, however, is highly vulnerable to the impacts of climate change. Increased upper heat thresholds are projected to change annual precipitation patterns and increase the number of "dry days", which will lead to significant volatility in agricultural productivity and livelihoods. In addition, the higher frequency and intensity of major climate-related hazards including storms (dust storms, windstorms, thunderstorms, and snowstorms), droughts, and extended harsh winters are expected to exacerbate conditions. 
English
Coordinates:
POINT (102.22778317763 46.58571420069)
Reports and Publications of relevance to Country Teams
Project Details:
The SCALA programme will support the development of relevant tools and methodologies to enhance the evidence base for the fulfilment of Mongolia's NDC and National Adaptation Plan (NAP) goals. Private sector engagement in adaptation and mitigation for the agriculture sector is also insufficient and there is a lack of good practices to adopt and scale up. Therefore, as one of the SCALA programme partner countries, Mongolia aims to learn from experiences and opportunities in other countries and regions to strengthen private sector engagement in Mongolia.
Mongolia's NDC mentions an ongoing process to formulate a NAP, which was initiated in 2018 and is currently being drafted, as the primary means to identify specific adaptation priorities, adaptation and mitigation co-benefits as well as nature-based solutions to help guide its national climate change response. Priorities identified in the NAP informed the targets outlined in the updated NDC and activities undertaken through the SCALA programme are designed to be in alignment with both documents.  Improving pastureland management and maintaining appropriate livestock herd sizes is expected to contribute to the fulfilment of Mongolia's adaptation and mitigation goals, as well as the preservation of its traditional nomadic heritage.
News and Updates:
12 November 2021 - The SCALA programme sat down with Mr. Ts. Bolorchuluun, Head of the Department of Policy Implementation and Planning at the Ministry of Food, Agriculture and Light Industry (MOFALI) in Mongolia to learn about the opportunities to enhance the country's climate ambition outlined in its NDCs and other national policies. Mongolia's NDC prioritizes improving climate change policies, institutional frameworks and governance, access to climate finance, transparency of climate monitoring and reporting, and capacities for NDC implementation. The country has prioritized several sectors including agriculture as nomadic herders and crop farmers are the most vulnerable groups.
Display Photo:
SDGs:
SDG 2 - Zero Hunger
SDG 13 - Climate Action
Barriers:
The Government of Mongolia approved the NDC Action Plan in 2021 but continues to face certain challenges in implementing the NDC Action Plan, such as access to finance, inadequate institutional arrangements, and lack of human and technical capacities. To overcome these challenges, specifically on access to finance, Mongolia has to rely on international funding from developed countries. On strengthening institutional arrangements and technical capacity building, Mongolia will be supported by the SCALA programme over the next few years.
Country Climate Plans:
The Government of Mongolia has key national policy documents, such as a National Action Plan on Climate Change (2011-2021) and the Green Development Policy (2014-2030). Mongolia's first nationally determined contribution (NDC) was submitted in 2016 and was updated in 2020. Mongolia's NDC mitigation target is articulated as a 22.7 percent reduction in total national GHG emissions by 2030 compared to the projected emissions under a business-as-usual scenario for 2010, focusing on the transport, industry, agriculture and waste sectors, among others. Additional key mitigation priorities include limiting and reducing the number of livestock while enhancing livestock quality and herd structures, improving the management of livestock manure, protecting pastureland soil and establishing forest strips around arable lands to preserve soil moisture and reduce wind and water erosion.
The NDC includes a distinct adaptation component with goals and targets for priority areas, such as animal husbandry and pastureland, arable farming, water resources, forest resources, and biodiversity. Under animal husbandry and pastureland management, adaptation priorities focus on maintaining balance in ecosystems and strengthening legal frameworks. The NDC also highlights the need for sustainable use of pasturelands by increasing forage cultivation and water supplies for livestock, as well as the enhancement of disaster management systems against drought. On arable farming, the NDC outlines plans to improve legal frameworks to overcome climate change adaptation challenges and aims to introduce advanced water and labor efficient technologies in the production of potatoes, vegetables, fruits and berries to enhance productivity. Additional adaptation measures include fencing and planting strips (forests, fodder plants and technical plants) around arable crop lands and introducing soil-conserving zero tillage methods with straw mulch to retain soil moisture.
The NDC mentions Mongolia's National Adaptation Plan (NAP) process, initiated in 2018, as the primary means through which specific adaptation actions will be identified. These include improving pasture management, regulation of livestock numbers and herds' composition by matching with pastures carrying capacities, improving animal breeds, and regional development of intensified animal farming. 
Nepal is a mountainous, landlocked country in South Asia with a population of approximately 29.14 million. It is located between India and China and contains eight of the 10 highest peaks in the world, including Mount Everest – which is the highest point on earth above sea level – and the Kanchenjunga. Across the country, altitudes range from 70 meters above sea level to 8848 meters above sea level leading to considerable diversity in topography, climate and livelihoods.
Nepal is a least developed country and approximately one fourth of its population lives below the poverty line. Remittances account for nearly 30 percent of the country's GDP, followed closely by agriculture, forestry and fisheries at 23 percent. The agriculture sector employs more than two-thirds of the population and agricultural livelihoods include subsistence farming, commercial crop production (e.g., rice, wheat, maize, tea, sugarcane and tobacco), livestock rearing and forest-based activities – all of which rely on climate-sensitive resources, such as land and water.
According to the global climate risk index, Nepal was one of the top 10 countries most affected by climate change between 2000 and 2019. Nepal's vulnerability to climate change is shaped by its agrarian economy, diverse topography, fragile geological structures and sensitive ecosystems. Socioeconomic conditions such as poverty, low levels of literacy, inequality and a strong dependence on natural resources for livelihoods contribute to this vulnerability. Recent estimates suggest that annual maximum temperature has been increasing by 0.056°C per year between 1971 and 2014 and could rise by 1.3–1.8°C by the 2050s while precipitation levels could increase b by 2–6 percent by 2030 and by up to 12 percent by 2050. These trends are adversely impacting Nepal's Himayalan ranges and glaciers, as well as the ecosystems and livelihoods dependent upon them. Climate hazards that include floods, glacial lake outbursts, landslides and droughts are already causing crop failure, soil erosion and loss of lives and property.
English
Coordinates:
POINT (84.122314416497 28.132282595411)
Project Details:
SCALA will build on the lessons learned of the FAO-UNDP Integrating Agriculture in National Adaptation Plans (NAP-Ag) programme that was implemented between 2015 and 2020 in eleven countries across Asia, Africa and Latin America, including Nepal. As a partner country for both programmes, Nepal aims to leverage key achievements made under the NAP-Ag programme through support received from SCALA. These include (i) reviewing and updating a capacity development package for rollout in provinces based on NDC and/or NAP priorities, (ii) reviewing an M&E framework on tracking adaptation in agriculture by incorporating MRV and M&E for ETF reporting and strengthening the capacity of stakeholders on MRV and M&E for ETF reporting and (iii) conducting cost-benefit and financial analyses of priority climate actions identified in NDCs and/or NAPs building on methodology and tools piloted under NAP-Ag.
Display Photo:
SDGs:
SDG 2 - Zero Hunger
SDG 13 - Climate Action
Country Climate Plans:
Nepal's 2019 National Climate Change Policy provides the overarching policy guidelines on climate change for the country. Its aim is to create a climate resilient society by reducing the risks associated with climate change by mainstreaming climate change into all levels of government and within thematic policy areas, strategies, development plans and programmes. The Policy notably mentions that the implementation of all policies, strategies and plans related to climate change will be at the local level.
The Local Adaptation Plans for Action (LAPA) initially developed in 2011 were updated to adjust to the new federal structure and the climate change policy. The LAPA is a bottom-up approach to adaptation planning aimed towards mainstreaming adaptation and disaster risk reduction development into local development planning process. LAPA aims to capacitate local governments to better manage and address climate change impacts and assists them in identifying, prioritising, planning, implementing and monitoring community-based adaptation actions and plans as per the mandate of the Environmental Protection Act. The LAPA also provides ample opportunities to integrate adaptation options into local to national planning processes. In 2013, the Government of Nepal introduced a dedicated climate change budget code to channel funding for climate change activities from the centre to the local levels.
Building on existing policies, NAPA experiences and on the LAPA, Nepal successfully launched its National Adaptation Plan (NAP) process in September 2015. It also became one of the first countries to receive approval for NAP Readiness funding from the Green Climate Fund (GCF) through UN Environment Programme's (UNEP) support. Working groups were established for the NAP process and some are under process of formulation, focusing on eight themes and four cross-cutting areas identified in the National Climate Change Policy.
Nepal's first nationally determined contribution (NDC) was submitted in 2016 and its second NDC, submitted in December 2020, outlines emissions reductions targets for selected sectors such as energy, transport, agriculture, forestry and waste. The NDC's mitigation strategy foresees to maintain 45 percent of total area of the country under forest cover. For adaptation, it articulates Nepal's intention to submit an adaptation communication through the development of a NAP.  The NAP will include priorities, plans, actions and implementation mechanisms related to adaptation and be aligned with thematic and cross-cutting adaptation priorities identified in the National Climate Change Policy.