Life on land, life below water: Monitoring climate adaptation in Guatemala's marine coastal zones – for the benefit of people and planet
To view the original of this story on Exposure, published November 2020, please click here. 
To view the story in Spanish, please click here.
With around one-third of Guatemala cloaked in tropical rainforest, and dozens of volcanoes and UNESCO World Heritage sites, the "land of many trees" is rightly famous for its life on land.
Yet this picture reveals only part of Guatemala's riches. Below the ocean surface is a world of immense abundance and importance.
The oceans on either side of the country are national and international treasures. Home to thousands of species, they play a crucial role in regulating the Earth's climate system, while also providing essential goods and services for sustaining human health and wellbeing: food, air and water, and livelihoods.
Guatemala is among 20 "megadiverse" countries listed under the Convention on Biological Diversity, which together cover around 10 percent of the Earth's surface but hold about 70 percent of the planet's biodiversity. Photo credit: Paola Foncea/UNDP
THE IMPACTS OF CLIMATE CHANGE ON GUATEMALA'S COASTS
According to Germanwatch's Global Climate Risk Index, Guatemala ranked 16th in the world for countries most affected by extreme weather events in the 20-year period 1999 to 2018.
Particularly vulnerable are the Pacific and Caribbean marine coastal zones, which straddle either side of the country (represented on the national flag by two blue stripes).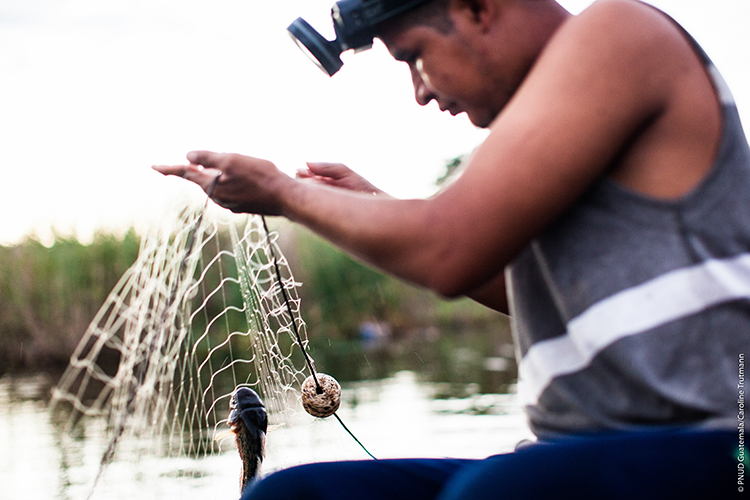 Fisheries and aquaculture alone account for about 3.1 percent of the country's GDP and generate about 36,870 jobs. Photo credit: Caroline Trutmann/UNDP Guatemala
Here, the fingerprints of climate change are evident: rising sea levels, changing weather patterns, and other impacts are directly affecting communities, ecosystems, and the economy.
The implications are considerable. These zones – which include over 120,000 km2 of marine space, greater than the land area of Guatemala – directly and indirectly support the livelihoods of 25 percent of the country's population.
They represent economic activities of great national significance – for example, tourism, fishing and aquaculture, subsistence and export crop farming, and ports.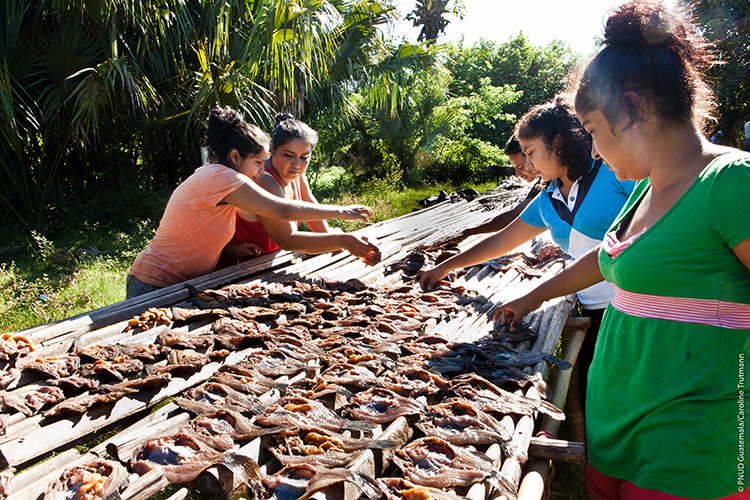 The Onofre family processing their catch in Las Quechas, Taxisco, Santa Rosa."Fishing is important to us because it is the source of life, it is the source of income for our families." Photo credit: UNDP Guatemala
Recognizing climate risks has led Guatemala to emphasize climate adaptation, including marine coastal zones, in its National Development Plan, National Climate Change Action Plan, National Adaptation Plan, and its climate pledge (Nationally Determined Contribution, or NDC) under the global Paris Agreement. 
Through theNDC Support Programme and Climate Promise, UNDP has been supporting Guatemala in its efforts.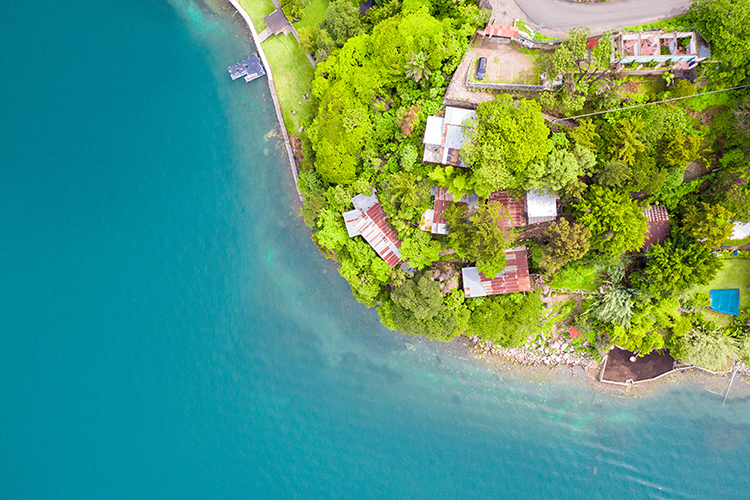 Coastal systems are acutely sensitive to three key drivers related to climate change: sea level, ocean temperature, and ocean acidity. Photo credit: Fernanda Zelada/UNDP Guatemala
INFORMATION, KEY TO DECISION-MAKING
In 2019, the Guatemalan Ministry of Environment and Natural Resources established the National Climate Change Information System (SNICC) to support evidence-based decision-making around climate change.
It is a digital platform that contains data and strategic information to inform planning, investment, and public policy processes, to help Guatemala both reduce its vulnerability and address greenhouse gas emissions.
In parallel, the country has been working on several fronts to improve its data and analyses on relevant sectors (for example, land-use and agriculture). 
One area in which information has been lacking is marine coastal zones.
To address the gap, UNDP and the Rainforest Alliance have been working with the Guatemalan government over the past year to develop its first fully-fledged monitoring, evaluation, and reporting (MER) system in this area. 
Its completion is a significant milestone. And one achieved through partnership, between the government, NGOs, academia, and the private sector.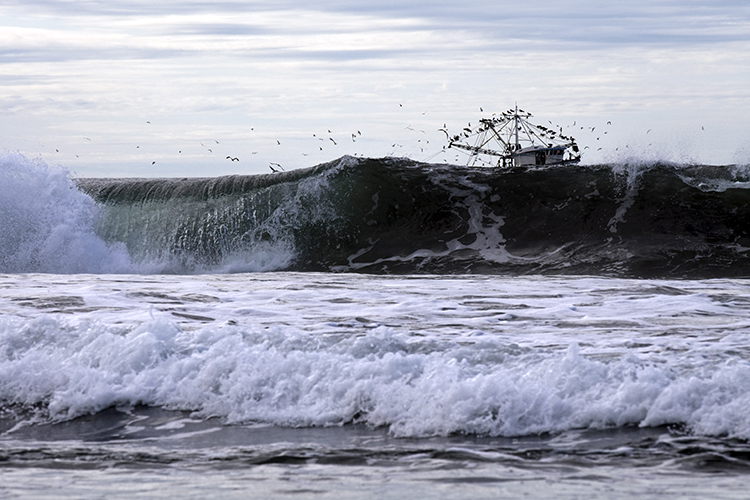 Photo credit: Giovanni Diffidenti/UNDP Guatemala
HOW THE SYSTEM WORKS
At the heart of the new MER system are 38 indicators, spanning climatic indicators – such as rainfall, sea level, water temperature, ocean acidification, and cyclones and storms – to indicators related to the economy and livelihoods – for example, water availability, floods, and crops – to indicators reflecting biodiversity and the health of ecosystems, and finally indicators around population and planning, including vector-borne diseases.
For each, the system lays out a precise description of what is being measured, the status of climate adaptation in these areas ('baseline'), and a protocol by which responsible parties – including government agencies and private entities – will collect data to measure changes. 
The system is designed to ensure input is robust and transparent. Information is aligned not only with the National Climate Change Information System but also with the standards of Guatemala's National Statistics Institute. Data generated by organizations outside the government will be validated to ensure the quality and transparency of sources and methodologies for collection.  
The results will be very valuable. As well as being used to inform government decisions and policies related to climate action, the system will contribute to the country's reporting processes, such as the country's upcoming Third National Communication on Climate Change to the UNFCCC. And be used as a model by other sectors.
Everyday citizens will also be able to view the data and analyses through the National Climate Change Information System.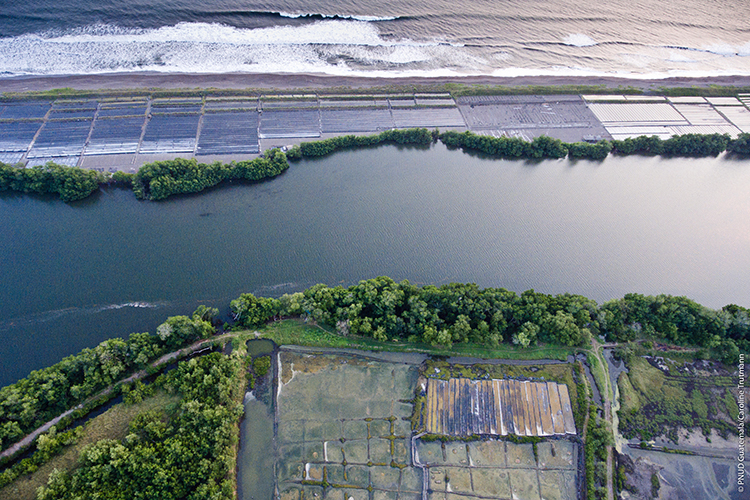 The system will be central to promoting and tracking improvements in the management of marine coastal zones through the inclusion of climate change adaptation in municipal development, land use, and protected-area planning.  Photo credit: Caroline Trutmann/UNDP Guatemala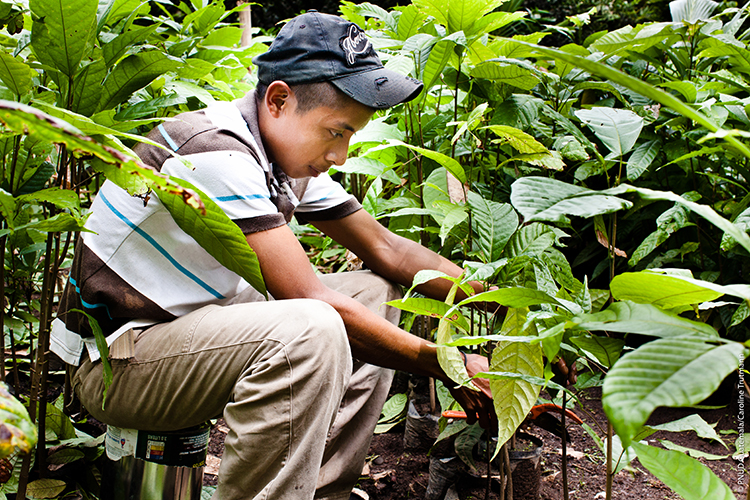 It will also facilitate innovations such as adaptive agriculture that respond to climate variations, systems to mitigate flood impacts, and marine spatial planning.  Photo credit: Caroline Trutmann/UNDP Guatemala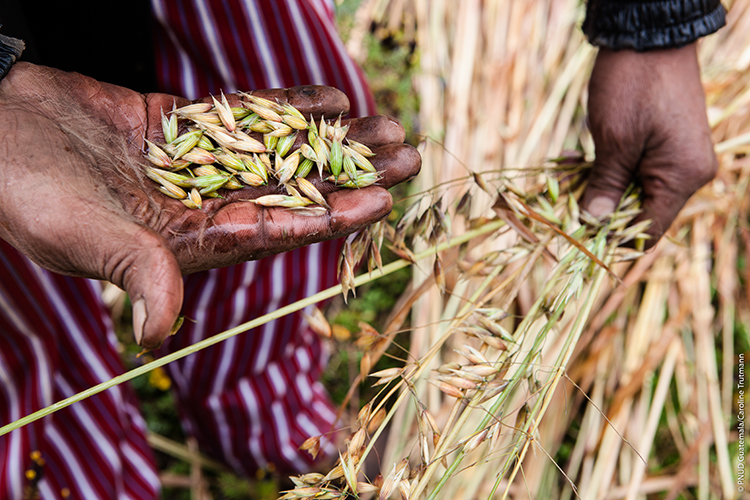 DRIVING ADAPTATION AND AMBITION
Monitoring is essential for informing the adaptation actions of different sectors and institutions – and to driving progress toward national climate commitments.  
The new system will serve as the basis for this, tracking marine coastal zone adaptation targets, intimately linked to national development priorities. 
Importantly, however, the system will also help inform the ambition of next-generation adaptation goals, to be developed in 2021.
With Guatemala now updating its climate commitments under the Paris Agreement, the new MER system is incredibly timely, helping the country to define clearer targets and propel action for resilience.

Last Updated: 4 Dec 2020