National Groundwater Strategy for Cambodia means more water for the future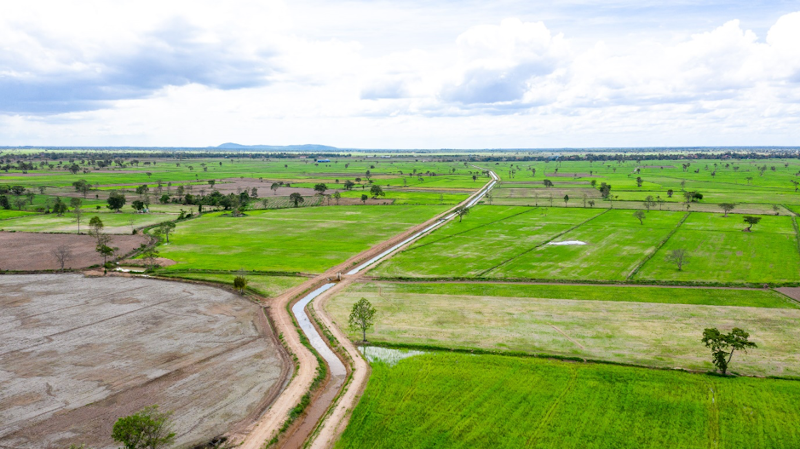 While surface water is easy to see in streams, lakes and ponds, groundwater also plays an important role in Cambodia. Photo credit: UNDP Cambodia
Phnom Penh, 22 November 2019 – Visitors to Cambodia might perceive the soil to be dry or wet based on the lakes, ponds, streams and rivers they encounter. They are, however, unlikely to consider one of the country's major water sources – that found underground. This water, known as groundwater, plays an important role in daily life for many Cambodians and now a new report, commissioned with the support of the United Nations Development Programme (UNDP), looks closely at its availability, use and management.
Used year-round, for both irrigation and drinking, groundwater is particularly important in rural areas and during the dry season. In fact, according to the report, approximately 50% of Cambodians are dependent on groundwater for drinking during these periods.  This is because it is considered cleaner than surface water.
Despite its importance, until now there has not been a comprehensive understanding of groundwater and its use. "The issue of groundwater in Cambodia is very important, but right now we don't have many baseline documents supported by scientific evidence. This is why UNDP has supported a situational analysis and the development of a management strategy. We are hoping that these documents could be used as a baseline for groundwater management work, including capacity development for technical staff of related departments from MOWRAM [Ministry of Water Resources and Meteorology] in charge of groundwater management," said Mr. Muhibuddin Usamah, UNDP Early Warning Systems Project Manager. 
Due to a changing climate, traditionally predictable water access is becoming more variable.  Similarly, conversion of land for agricultural and industrial purposes, and corresponding increasing water usage, are impacting Cambodia's water resources - with implications for disaster management.
According to the report, while groundwater is available almost everywhere in the plains area (except for the dry zone in the central and north-western regions), communities face challenges in accessing groundwater for domestic water use and related groundwater business purposes, as some of wells have dried out from overuse and increasing climate change impacts. At the same time, some groundwater sources have been polluted by human activities and contamination of mineral substances in the aquifer itself.
The report finds that only a very limited amount of water from rainfall/surface-water becomes groundwater (known as 'water recharge'), therefore contamination must be managed and guidelines for general usage  established. 

Sustainable use of groundwater, as well as surface water pictured here, is key for Cambodia's agriculture sector. Photo credit: UNDP Cambodia/Manuth Buth
The report found that there are currently limited regulatory infrastructures specifically for the management of groundwater and what does exist is found in an ad-hoc and often over-lapping format throughout a variety of Cambodia's laws and ministries. By having a national groundwater management strategy, stakeholders can collaborate at national level, as well as vertically from national to provincial level, to proactively address future opportunities and risks regarding the nation's groundwater access and usage. A risk-reduction approach is particularly important in Cambodia, in which large percentages of the country is dependent on agriculture as a primarily livelihood and climate change leads to prolonged dry seasons with limited rainfall and more intense rainy seasons over shorter periods.
The report supported development of the initial National Groundwater Strategy for Cambodia, to be executed by the Department of Water Supply and Sanitation in the Ministry of Water Resources and Meteorology in partnership with UNDP and other non-government organizations and private sector. The strategy hopes to bring a new future to the management of these important water sources. Dr. Oeurng Chantha, technical consultant on groundwater management in Cambodia, said "having a groundwater management strategy will help ministry departments to have direction and know what going to do at a strategic level. This means that when they need to take a strategic action, they know the direction they are going to take….as long as higher levels work, it will spread to microlevels. So, we are conducting a top-down process, and need to ensure that the top is working first."
Mr. Samnang SEM, Director of the Department of Water Supply and Sanitation, sees the importance of having a strategy for groundwater management and regulation of groundwater extraction, especially in the dry season. He acknowledged the importance of commissioning a technical study, initiated with the support of UNDP, and noted Cambodia is hoping to see more investment in this respect, including building the skills and knowledge of his department's staff.
The goal of the National Groundwater Strategy for Cambodia is to "fulfil all groundwater preservation and utilization activities through strengthening groundwater governance, technical capacity, cooperation, and resource mobilization to implement groundwater management and development for sustainable uses in Cambodia." Six major strategies were identified: strengthening institutional arrangement and law enforcement, human resource development, information and data management, enhancing coordination mechanisms and cooperation strategies, knowledge and awareness raising, and financial resource mobilization.
For updates on this project and UNDP Cambodia's broader work, follow @UNDPCambodia on Facebook, Twitter and LinkedIn
Related articles