New report provides foundation for better flood management in Cambodia's Prek Thnot River Basin

Phnom Penh, Cambodia, 2015. Credit: Rajeev Rajagopalan (Flickr Creative Commons)
Phnom Penh, June 17 2019. Report commissioned under UNDP-supported project strengthening climate information and early warning systems finds work to be done to improve flood management and early warning in Prek Thnot River Basin
'Cambodian PM calls for vigilance as floods hit parts of Cambodia' Xinhua, 19 July 2018
'Warning for week of heavy rain and floods' Khmer Times 28 September, 2017
'More than 30 people dead in Cambodia flooding' ABC Australia, 30 September 2013
'Cambodia suffers worst floods in a decade – in pictures' The Guardian, 2 October 2011
Cambodians are no strangers to seasonal flooding. Across low-lying parts of the country, monsoon-driven floods are an almost annual occurrence between July and October.
While rain is essential for irrigation, domestic use and biodiversity in the region, the impacts of excessive and uncontrolled flooding can be devastating for communities. In August 1991, floods affected over 150,000 people in Kompong Speu and Kandal, inundating over 15,000 hectares of crops and damaging thousands of homes and infrastructure including a major road connecting the provinces to the capital Phnom Penh.
Heavy monsoon rainfall again led to extensive flooding in August and September 2000, affecting 21 provinces and causing widespread damage to crops, disruption to food production, population displacement and disease. The Government said the floods were the worst in more than 70 years.
Severe floods struck again in 2001, 2002, 2008, 2011 and 2013. Climate change projections indicate a likely increase in frequent and intense extreme rainfall events which will result in more frequent flash floods and river flooding.
Addressing flood management in Prek Thnot River Basin
To address gaps in flood management in Prek Thnot River Basin, Cambodia's Department of Hydrology and River Works of the Ministry of Water Resources and Meteorology have commissioned a report to provide an up-to-date picture of Prek Thnot flooding and its management, with the view of developing a disaster risk management strategy.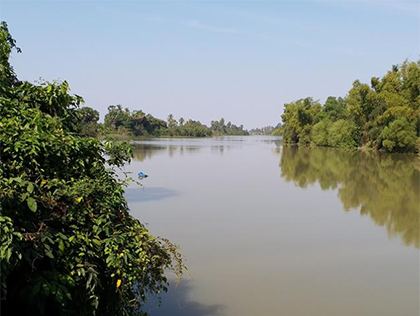 Flowing from the Cardamom Mountains in the southwest of Cambodia towards Bassac River (between latitudes 11°00' to 12°10' N and longitudes 103°80' to 105°00' E), Stung Prek Thnot River Basin is one of the major tributaries in the Mekong River Basin. Bordered by the provinces of Koh Kong, Kampong Speu, Kampot, Takeo and Kandal, the river runs around 232 kilometres in length, covering a basin area of approximately 6,605 square kilometres.© Dr. Oeurng Chantha
Combining analysis of existing studies and data with questionnaires, interviews and focus groups with communes and provincial authorities, the report looked at flood frequency and peaks; current flood management and water regulation infrastructure; predicted maximum water levels into the future; specific implications of climate change for Prek Thnot River Basin and early warning systems.
The report found that current capacity for drainage and flood management in the basin is insufficient (with water regulation capacity limited to only 800 m3/s, while the historical maximum discharge is up to 1200 m3/s). Annual maximum discharge is expected to increase significantly over the coming decades (with the annual maximum discharge expected to increase to 1400m3/s for a 50-year return period).
Among the report's findings:
Monitoring infrastructure (e.g. hydrological stations measuring water levels) exist but are patchy in coverage;
Early warning procedures are in place for most communes, however are manual and rely on efficient phone or face-to-face communication from provincial level to district chiefs to communes to villages. An SMS-based early warning system, EWS1294, now covers more than 200,000 households in fifteen provinces, with plans for further expansion;
Water management infrastructure (for example Prek Kampeus canal, Roleangchrey water diversion dam and Tasal dam) are playing an important role in regulating water flow;
Yet changes to land use (for example, expanding sugarcane and mango crops upstream) are resulting in reduced forest cover and erosion, exacerbating floods, while development challenges downstream, such as new roads and increasing residential areas, are also increasing risk;
Cooperation between different relevant stakeholders remains limited.
Recommendations
The report concludes with a number of recommendations for improved flood mitigation in the future, from infrastructure to strengthening early warning systems, to building the capacity of disaster committees and local authorities to prepare, to scaling up cooperation among different stakeholders. The report also recommends further modelling and hazard mapping.
"To date, studies on the impacts of climate change on the Prek Thnot River catchment have been limited to none. However, the climate in Prek Thnot River Basin is intimately connected to the national climate," said the report author, Dr. Oeurng Chantha. "In general, rising temperatures have a negative impact on the growing and flowering cycles of crops, leading to lower agricultural productivity – for example, rice yields may decrease 10% for every 1% increase in the minimum temperature during the growing season. Higher temperatures also lead to an increased incidence of pests and diseases which damage crops; in turn, an increased use of pesticides and chemicals (to eliminate those pests and diseases) further affects the health of the environment. This study could contribute to sectoral adaptation measures, supporting communities who rely on the catchment for their livelihoods." 
"Communities living in Prek Thnot River Basin are constantly having their lives and livelihoods upended by flooding," said UNDP Project Manager Muhibuddin Usamah. "Data shows us that the situation is likely to worsen with climate change. UNDP is pleased to support this new report – it is one piece of the puzzle that we are assembling under the Early Warning Systems project – along with improving Cambodia climate monitoring infrastructure – to reduce disaster risk and, at the same time, realise an adaptation strategy for the climate crisis."
To discuss the new report, titled 'Pre-Feasibility Study on Flood Management and Early Warning System of Prek Thnot River Basin ', please contact Mr. Muhibuddin Usamah, Strengthening Climate Information and Early Warning Systems Project Manager at UNDP Cambodia muhibuddin.usamah@undp.org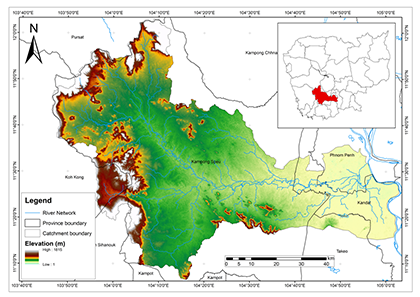 Prek Thnot River catchment (MoWRAM and MAFF 2012).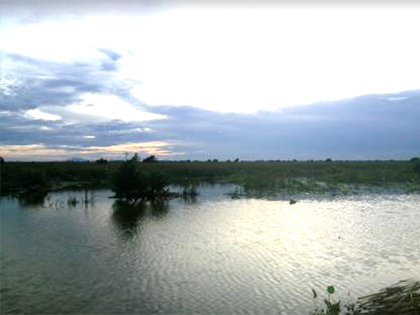 Inundated area, Boeung Choeung Loung in Prek Thnot catchment floodplain. Climate change is expected to bring more frequent and extended flooding events during August and October in the wet season. © Dr. Oeurng Chantha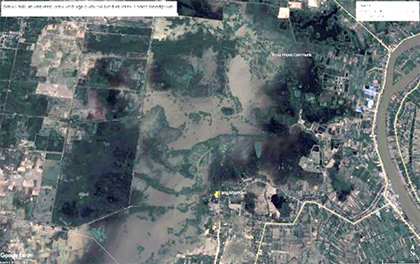 Small hill, inundated area and agricultural land in Prek Thnot catchment floodplain.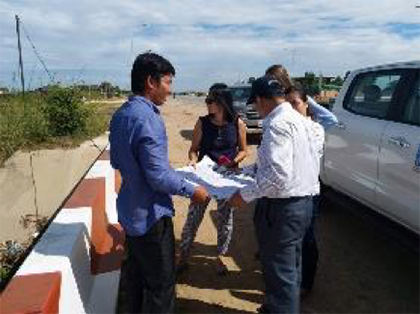 Field visit to upstream, midstream and downstream sites in September 2018 to interview local authorities, communities, Provincial Departments of Water Resources and Meteorology, and Departments of Agriculture. © Dr. Oeurng Chantha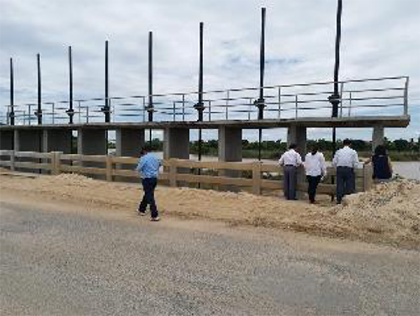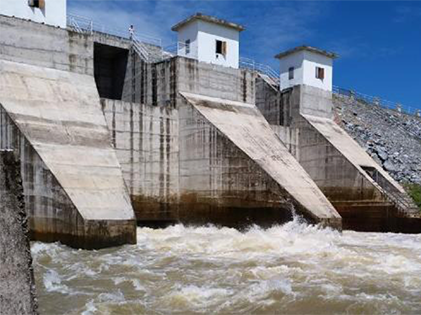 The report reviewed current water management infrastructure (including diversion dams, irrigation canals and flood dykes) and practices, as well as early warning systems © Dr. Oeurng Chantha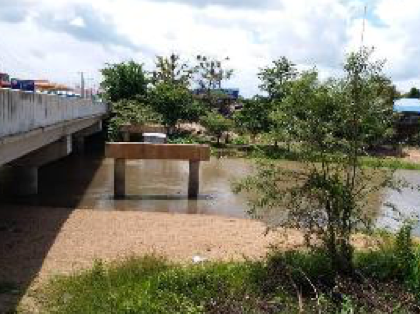 Water level station at Kantourt river, one of the tributaries of Prek Thnot © Dr. Oeurng Chantha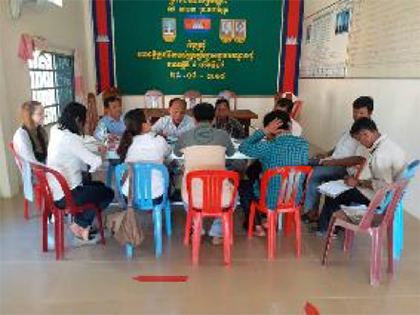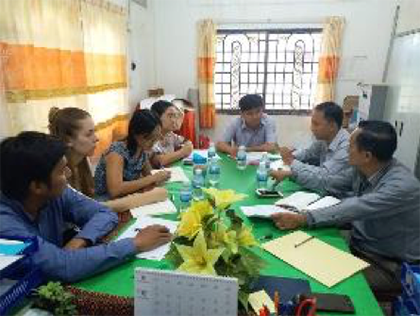 Meeting with provincial departments and communes in Prek Thnot Basin © Dr. Oeurng Chantha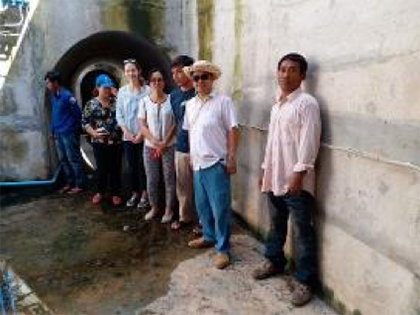 Members of the team from the Ministry of Water Resources and Meteorology and UN Development Programme and © Dr. Oeurng Chantha
***
About the project 'Strengthening Climate Information and Early Warning Systems in Cambodia'
With financing from the GEF-Least Developed Countries Fund, the UNDP-supported project 'Strengthening Climate Information and Early Warning Systems in Cambodia' aims to increase Cambodia's institutional capacity to assimilate and forecast weather, hydrological, and climate information for adaptation, disaster preparedness, and early warning. One of its focuses is to strengthen the capacity of the government, specifically the Ministry of Water Resources and Meteorology, in flood forecasting.
Related articles
'UNDP-supported project hands over 53 hydrological and meteorological stations to Cambodia, revolutionising climate and disaster preparedness', March 2019