Greening Viet Nam's Central Highlands: A story of hope from Bon Bu Dak village
Creation date: 9 Jul 2023


At the foot of the Nam Gleh R'luh volcano, in the UNESCO Global Geopark, lies the beautiful village of Bon Bu Dak. Nestled among vast rubber plantations, coffee forests and pepper trees, the village is enveloped by lush greenery that blankets the landscape, stretching as far as the eye can see.
But behind the beauty of the mountains are hidden challenges. In recent years, annual droughts have gripped the area beginning in February.
Mr. Dieu Sue and Ms. H'Nguyet are among those who have felt the effects, with significant impacts on their family's crop production. They live on one hectare of land, growing coffee interspersed with pepper and durian. Making ends meet is often a struggle.
"Lack of water for irrigation, as well as a lack of money to invest in fertilizer to use in the right season have resulted in our coffee yield decreasing from 2.5 to 2 tons of kernels/hectare – similarly, the productivity of our pepper and durian crops has also decreased a lot," laments Ms. H'Nguyet.
Things changed last year (2022), however, when they attended a local Farmer Field School organized by a Green Climate Fund-backed project strengthening the resilience of smallholder agriculture to climate change-induced water insecurity (locally referred to as the
SACCR project
).
"After attending the project's Farmer Field School, we were very happy."
Attending the Farmer Field School, the couple learned a lot – for example, how to intercrop pepper and durian in the coffee garden, techniques of care, and how to best use fertilizers on the garden. 
In addition to knowledge, though, they also needed assistance to buy fertilizers and pesticides. 
An allocation of fertilizer received through the project has been helping alleviate some of their financial burdens. "The average family has to invest about 30-40 million VND in fertilizer for each hectare annually. For us, receiving fertilizer equivalent to 5 million VND helps us greatly," said Ms. H'Nguyet. 
Up to now, 750 households have received support for fertilizers and plant varieties.
In an elated mood, they shared their plan: "We will use the fertilizer for the coffee trees immediately because it is the rainy season. This will help increase our yields. Without support, we would have to have bought the fertilizer, leaving us with a debt with interest rates from 10 to 20 percent." 
"We will apply what we've learned, such as intercropping with the correct technique, making pots, picking buds, cutting branches, and shaping coffee trees."
"Providing knowledge to smallholder farmers, especially poor households, is important but not sufficient to improve crop productivity. The joint investment in supporting households with fertilizer will help them reduce their debt burden while simultaneously applying what they have learned in the field. This has a knock-on effect on their livelihoods and the welfare of their families," said UNDP Resident Representative in Viet Nam, Ms. Ramla Khalidi.
Dieu Suê is happy. "Support from the project has given us new hope."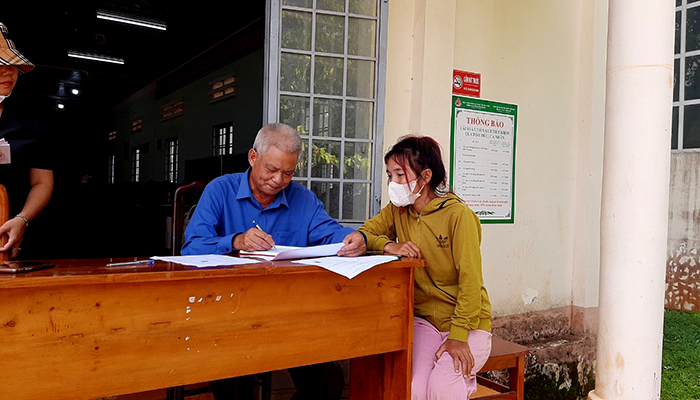 Ms. H'Nguyet waiting to receive fertilizers. Photo: SACCR Project/UNDP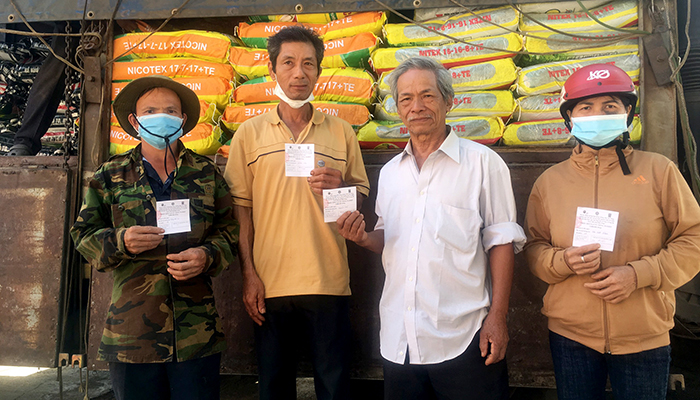 Local people bring vouchers to claim their fertilizer. Photo: SACCR Project/UNDP
Farmer Field School training underway. Photo: SACCR Project/UNDP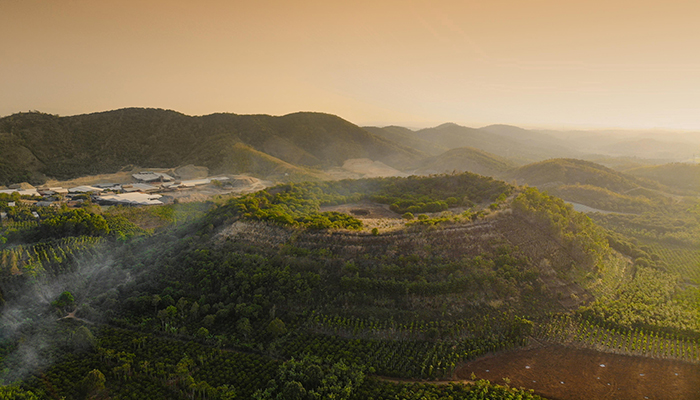 Aerial view of the Central Highlands. Photo: Mai Hung Thinh
The project "Strengthening the Resilience of Smallholder Agriculture to Climate Change-Induced Water Insecurity in the Central Highlands and South-Central Coast Regions of Viet Nam" (referred to as the SACCR project), is funded by the Green Climate Fund (GCF) and implemented by UNDP and the Ministry of Agriculture and Rural Development and the People's Committees of Dak Lak, Dak Nong, Khanh Hoa, Ninh Thuan, and Binh Thuan to strengthen the resilience of small-scale agriculture before water shortages caused by climate change. Learn more.