Canada-UNDP Climate Change Adaptation Facility
Introduction
The Climate Change Adaptation Facility (CCAF), established by Canada in partnership with UNDP, aims to strengthen climate-resilient approaches to agriculture and water management, with an emphasis on gender-sensitive approaches.  This facility incorporates national projects in Cambodia, Cabo Verde, Haiti, Mali, Niger, and Sudan, that scale up or extend projects previously supported by the Global Environment Facility's Least Developed Countries Fund (GEF/LDCF).  In addition, a global component of the CCAF promotes south-south cooperation and enhance understanding about initiatives that address adaptation, especially the gender dimensions. 
The global Facility collects and analyzes information, experiences, and lessons learned emanating from the six national projects to produce and disseminate knowledge that can be shared between the countries and usefully applied in other contexts.  The CCAF also helps to broadly inform climate and sustainable development policies at the local, national and global levels, while promoting global exchange of information, experiences, and lessons learned.
Click on the country name below to find out more about each national project.
Project details
As illustrated below, the Canada-UNDP Climate Change Adaptation Facility targets and supports three groups of stakeholders through its work:
1) Canada-funded adaptation projects Community of Practice which strengthens implementation of Canada-funded projects by facilitating communication, identifying lessons learned and sharing resources between project stakeholders'
2) Other CCA projects which strengthens and informs other adaptation projects supported by UNDP and other partners by documenting and sharing lessons learned from Canada-funded projects.  CCAF projects will also use lessons learned from this wider portfolio to inform implementation.
3) External Partners through communicating and sharing lessons learned from Canada-funded projects and UNDP's broader CCA portfolio with partners and donors.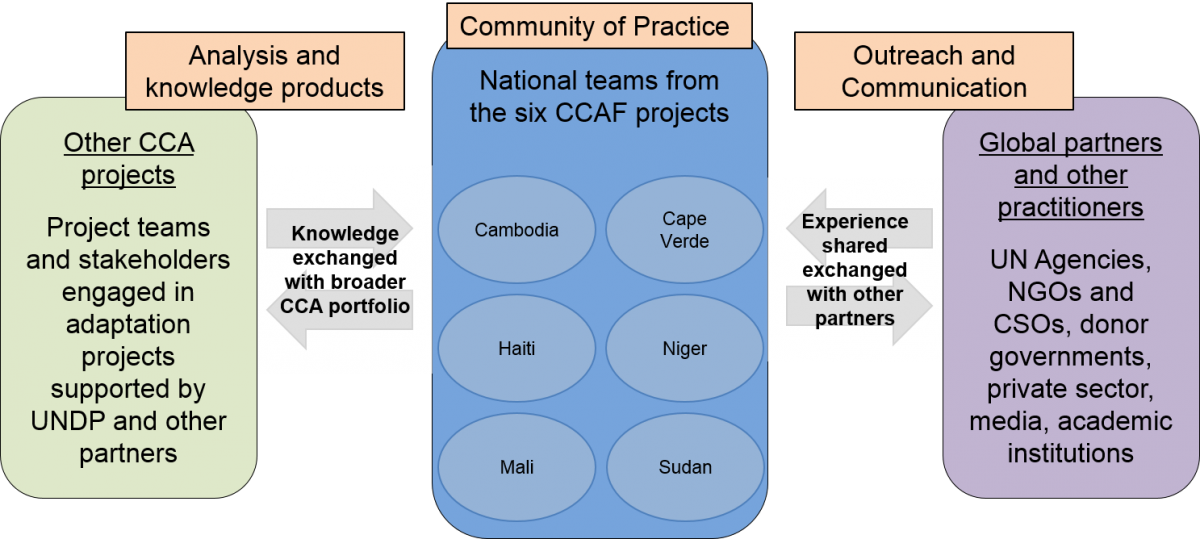 Implementing agencies and partnering organizations:
CCAF
United Nations Development Programme (UNDP)
Government of Canada
News
How to get gender-responsive adaptation right
Why is it so difficult to integrate gender into climate change responses? Even with increased emphasis from global policies, donors and funding streams, gender-responsive adaptation is still challenging. Observers mention a number of hurdles such as limited resources, lack of information or deficient expertise —it seems that many practitioners lack an understanding of how to do it. The underlying issue, though, is a refusal to accept that gender-responsive adaptation is better adaptation. We must therefore shift the way that we approach it. Typical solutions to addressing gender in climate change include scattering into proposals and other documents terms like "women" and "equality", or increasing the number of women beneficiaries in climate projects. In practice, this fails to fundamentally change any part of the underlying design or implementation of a strategy or programme, and therefore has limited impact on ensuring true gender equality. Climate change adaptation is inherently context-specific, and often based on changing behaviour. Climatic changes vary based on the location, as do the social, economic and cultural conditions which define resilience and sustainability. Therefore, when it comes to integrating gender into adaptation, there is no single solution. This is, again, why the challenge is so real.

Women. Work. Climate. by Climate Adaptation UNDP on Exposure

Adaptive Farms, Resilient Tables by Climate Adaptation UNDP on Exposure

Equal Access to Water by Climate Adaptation UNDP on Exposure

Women. Food. Climate. by Climate Adaptation UNDP on Exposure

Run the World by Climate Adaptation UNDP on Exposure
Key results and outputs
The global Canada-UNDP Climate Change Adaptation Facility has three key outcomes:
Outcome 1: Global coordination of Canada-UNDP portfolio of climate change adaptation projects is operational and visible
Outcome 2: Global knowledge management of climate change adaptation experience and lessons emerging from Canada-UNDP portfolio of projects is enhanced and effective
Outcome 3: Gender results from Canada-UNDP climate change adaptation project portfolio inform broader adaptation processes.
Programme meetings and workshops
Global Exchange Workshop - Niamey, 2-5 March 2015: Bringing together a diversity of knowledge and experience is the only way to tackle the challenge of climate change.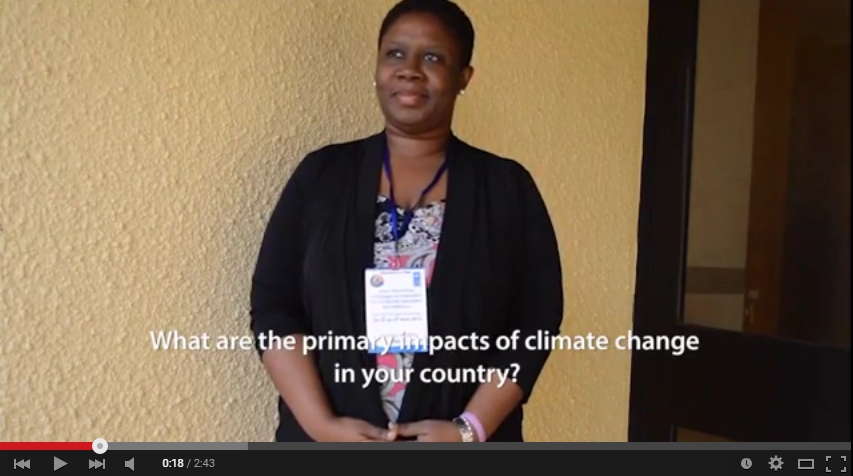 To see video interviews with workshop participants, visit the
CCAF YouTube Channel
.
Climate change adaptation is a new and evolving area of work that has bourgeoned in the last decade, with many different measures tried, and many successes, challenges and lessons emerging.  As such, it becomes increasingly important to ensure the information and knowledge arising from this vast experience is shared through exchange and interaction at all levels - within countries, across borders and between regions. This was the aim behind the Global Exchange Workshop on Adaptation for Food Security and Resilience.  This Workshop, co-hosted by the Canada-UNDP Climate Change Adaptation Facility (CCAF) and the Africa Climate Adaptation Food Security (ACA) regional programme, brought together experts from eleven countries to share their experiences and lessons learn on a variety of adaptation-related issues.
The CCAF was established in 2014 to promote south-south cooperation and enhance understanding about initiatives that address adaptation, with a focus on gender dimensions. This Facility focuses on six initiatives supported by Canada, all aiming to strengthen resilient approaches to agriculture and water management. It also provides broader exchange between these projects and other adaptation initiatives supported by UNDP and other partners.  Similarly, the ACA regional programme, supported by the Government of Japan, aims to 1) improve climate information systems for informed decision-making and integrated planning approaches; and 2) test and scale up climate risk management measures including weather index insurance and community based adaptation measures, while also enhancing the capacity to access and manage climate finance. These two initiatives jointly hosted the Exchange Workshop in Niamey, Niger from 2-5 March.
Representatives from countries in Africa, Asia, Latin America and the Arab States were brought together to share experiences and document critical lessons and successes emerging from their ongoing projects. The workshop was organized around six thematic issues:
Climate-related information and services,
Innovations in water, soil, energy and crop management technologies and approaches,
Strengthening policy and institutions to better integrate agriculture, food security and climate change,
Financing measures for resilience,
Gender-sensitive approaches, and
Measuring impact of adaptation on development outcomes. 
Every participating country shared at least one innovative experience from their project related to these themes, and participants discussed the various processes, challenges and success factors that would allow others to apply the same approach in their countries.
The participants also visited three project sites near Niamey, where adaptation activities are being undertaken with support of the GEF and the Government of Canada. Activities observed included the introduction of new irrigation techniques and supporting women's collectives engage with alternative income generating activities, such as gardening and livestock fattening. The participants had an opportunity to speak with the beneficiaries directly and understand their experiences and challenges.
This workshop stands as the first step in establishing a community of practice around the issues of adaptation and food security.  The information shared will be turned into technical briefings and comparative analyses, and the countries will continue their exchange.  A full workshop report is available on the CCAF ALM website here: in English: Proceedings of Global Exchange Workshop - Niamey, 2-5 March 2015, and en Francais: Rapport de l"Atelier International d'Echanges sur l'Adaptation pour la Securite Alimentaire et la Resilience and all of the presentations and workshop materials are available on the Global Exchange Workshop Teamworks Page.  
For further information, please contact Jennifer Baumwoll, CCAF project coordinator at Jennifer.baumwoll@undp.org. 
Reports and publications
Communications Products
Knowledge Products
Project Brief / Fact Sheet
Training & Tools
Case Study
Programme Related Events
Highlights