What is the weather next week? Weather forecasting allows Cambodian farmers to see the future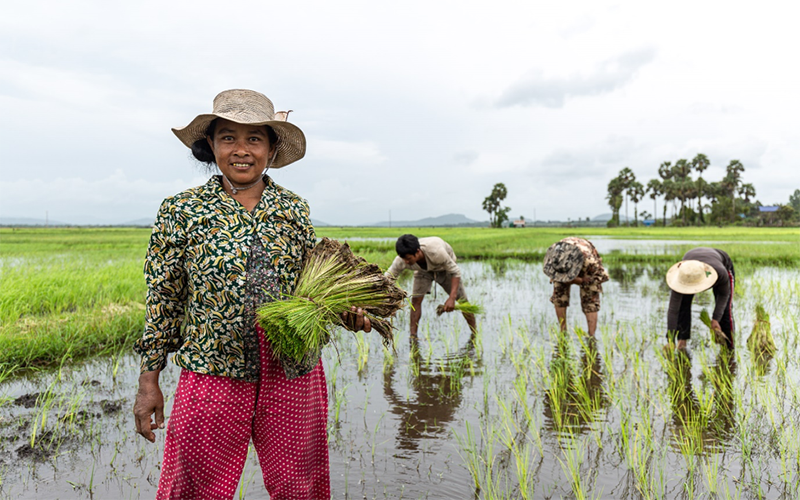 Weather forecasting will allow these farmers in the Chroy Svay commune to plan ahead. Photo credit: UNDP Cambodia/Manuth Buth
Cambodia, 24 August 2019. When was the last time that you looked at a weather forecast? Today? Last month? Never? In many countries around the globe access to daily, weekly and even seasonal forecasts are an easily available luxury. In Cambodia forecasting is a field that, despite the significant impact that such information can provide, is only beginning to advance.
Traditionally weather reporting in Cambodia has been conducted manually, with provincial officers of the Ministry of Water Resources and Meteorology (MoWRAM) recording and sending data to the Department of Meteorology in Phnom Penh. Meteorologists would then use this data to develop 3-day forecasts – while useful, such short advance times are challenging for critical decision making in a nation where agriculture accounts for 30% of the population livelihood.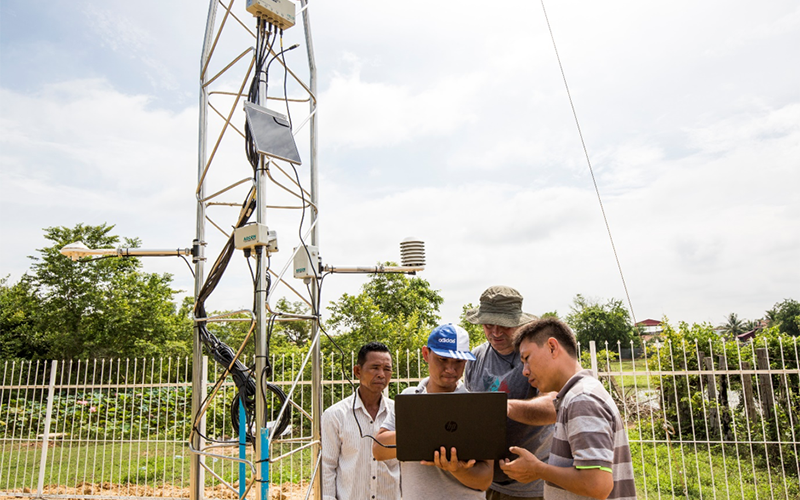 Automatic weather stations allow data to be transmitted faster and more accurately to the Department of Meteorology. Photo credit: UNDP Cambodia/Manuth Buth
Recent installation and handover of 53 hydrological and meteorological stations across the country, however, is one step in allowing meteorologists and hydrologists in Cambodia to being to move past these 3-day forecasts. These stations allow automatic data dissemination to MoWRAM, where meteorologists and hydrologists are simultaneously being trained in new models to use this data for more accurate forecasting. Inclusion of more stations provides increased spatial coverage to more accurately understand the climate regimes for providing better forecasts.
Despite availability of state-of-the-art models for forecast generation, use of such numerical models for generation of forecast is still limited in Cambodia's Department of Meteorology. A Numerical Weather Prediction (NWP) modelling training was conducted in August 2019 by Regional Integrated Multi-Hazard Early Warning System (RIMES) in partnership with United Nations Development Programme (UNDP). Under the 'Strengthening Climate Information and Early Warning Systems in Cambodia' project funded by GEF-Least Developed Countries Fund, 12 meteorologists took part in learning the NWP model, a mathematically-based modelling system allowing short-term meteorological forecasts of up to 10 days. Mr. Itesh Dash, RIMES Systems Research and Development team leader, stated, "Previously Cambodia has only had 24 to 48-hour forecasts. With the availability of the NWP model, they can now generate their own customized forecast up to 10 days in advance. While forecast up to the 5th day will be highly accurate, day 5 to 10 provides an indication of a probable average weather condition such as whether it will rain next week or not". The NWP model will be used alongside a series of models and systems within the Department of Meteorology, including the European Centre for Medium Range Weather Forecast (ECMWF) which allows monthly and seasonal forecasting.
Forecasts of up to 10 days, particularly when utilised alongside longer timeframe forecasts such as monthly and seasonal, will have significant impacts on sectors across the country. Director of the Department of Meteorology Mr. Oum Ryna acknowledges this: "For Cambodia, in relation to forecasting, we have extended our forecast from 3 to 7 to 10 days. We want to be able to provide information early. Sometimes the information was too slow, but now people will have time to prepare, evacuate. Seasonal forecasting is very important for issues related to climate change as we can see when looking from sector to sector. We need to provide climate information to the public, especially to the farmers."  
Once the forecasts have been developed, they must be accessible to people who need it most. Ms. Pone Nyet Khaing, Program Officer for the Climate Application Unit for RIMES, describes this using the analogy of sport. "Agriculture is like a football game. In a game of football, there are certain activities that need to be done, rules that need to be followed for the game to work. If you don't apply the rules, then you will lose the game. For climate information, if we do not apply it properly there may not be the benefit. By using the seasonal information, you can decide what crops in the upcoming season you are going to plant, and you can predict the upcoming risks and decide what to do to minimise them".  Mr. Dash supports this: "We need seasonal forecasting because of its utility. When we can see how the seasonal forecasting looks, we see how critical the seasonal forecasting is at a sectoral level e.g. for agriculture, or for water resource management".
Agriculture specialists in Cambodia are working with RIMES to develop contextually relevant crop advisories to minimise the impacts of climate change. Photo credit: UNDP Cambodia/Kelsea Clingeleffer
Using meteorological data and forecasts, development of a contextualised program and mobile app called Specialized Expert System for Agro-Meteorological Early Warning (known as 'SESAME') will allow various government departments to coordinate and create accessible crop advisories for farmers. Advisories are localised to each province and can be adapted for each crop and its growth stage. For example, an upcoming drought period may be predicted for Battambang by the Department of Meteorology, who will provide this information to the Department of Agriculture. Crop advisories will then be developed which give farmers in this area advice on appropriate actions to take such as water-saving activities or specific crops to plant or avoid.
Development of forecasting models for Cambodia's Department of Hydrology is also being advanced and is dependent on accurate and sufficient information being provided by the Department of Meteorology's models. It is hoped these will be used in the near future.
Written by Kelsea Clingeleffer (International Results Monitoring Consultant)
For more information contact Muhibuddin Usamah (Project Manager) at muhibuddin.usamah@undp.org
See 'Strengthening Climate Information and Early Warning Systems in Cambodia' project Twitter updates here. For updates on this project and UNDP Cambodia's broader work, follow @UNDPCambodia on Facebook, Twitter and LinkedIn
Related articles
'UNDP Cambodia announces partnership with global climate experts of RIMES, advancing forecasting for the future', February 2019
'UNDP-supported project hands over 53 hydrological and meteorological stations to Cambodia, revolutionising climate and disaster preparedness', March 2019