Project Overview
Climate stresses and low adaptive capacity are increasing Africa´s vulnerability to climate change. Climate related shocks to the economy, vulnerable populations, ecosystems and infrastructure threaten development goals and poverty alleviation strategies. The ability of decision-makers to understand and communicate the likely impacts of climate change is of critical importance in adapting development plans to new climate realities. However, the lack of access to reliable climate information and the lack of capacity of disseminating it prove to be significant obstacles in allowing governments and populations to develop the correct tools to address the changes that will be brought on as a result of climate change.
The Programme on Climate Information for Resilient Development in Africa (CIRDA) will enable vulnerable countries in Africa (Benin, Burkina Faso, Liberia, Sierra Leone, Sao Tome and Principe, Ethiopia, the Gambia, Uganda, Tanzania, Malawi and Zambia) to strengthen national climate information systems as well as to benefit from regional coordination and draw upon a platform of knowledge management.
The CIRDA Programme will coordinate among different stakeholders needs and capacities in collecting, generating, analysing and disseminating relevant climate information. It will also provide capacity building on: meteorological, climate and hydrological observing and forecasting systems, disaster risk management and viable communication systems/processes for disseminating alerts, and the use of alternative cost-effective technologies. The Programme will provide special consideration on reaching end user populations such as farmers as well as strategies to engage with the private sector as a service provider and as an end user of climate information.
The multi-country programme is being implemented by UNDP with funding from the Global Environment Facility (GEF) Least Developed Country Fund (LDCF) and is an example of the concrete actions that the UN is taking to reduce the impacts of climate change in all development sectors.
For the latest information on the Programme and to engage in an ongoing discussion on relevant topics, make sure to check out our blog.
Project Details
The Multi Country Programme will support the following countries in Africa use climate information as a key tool in long term planning fundamental for economic development.
The Programme will strengthen the capacity of these countries and the region to develop and operate modern climate information and early warning systems by making available technical assistance and provide access to new technologies. Countries will also benefit from regional coordination and a knowledge sharing platform.
For up to date information on the CIRDA Programme and to engage in our ongoing discussions, make sure to check out our blog: http://undp-cirda.blogspot.com/
For a brief snapshot of the Programme, download the CIRDA Fact Sheet.
Implementing Agencies & Partnering Organizations:
United Nations Development Programme (UNDP)
GEF
News
Livefeed - Climate Action Hackathon - Leveraging Weather and Climate Data to Create Solutions for Adaptation
May 24, 2016, 18:30 (CEST) Bonn, Germany | Post questions on Twitter @unfccc_ccstudio
With obsolete or malfunctioning technologies, dozens of local languages, high-levels of illiteracy, and limited electricity and access to media, many vulnerable communities in Africa do not receive reliable weather reports, and only a few nations possess the ability to issue early warning messages and reach the "last mile." In response to this challenge, this past March in Zambia the UNDP's CIRDA Programme launched a Climate Action Hackathon. The event engaged young African developers to create innovative software focused on communicating directly with end users. The livestream of the side event at the May Bonn Climate Change Conference will present a practical demonstration of the innovative solutions that were developed by the hackers to provide weather information for specific end users, including farmers, vulnerable communities and policymakers to inform adaptation actions. The side event will also introduce the results of a Market Study on revenue generating opportunities for weather services in Africa.
CIRDA and CI/EWS Projects In The News
Procurement Assistance
As part of the CIRDA Programme's objective to enhance national capacities in monitoring and forecasting extreme weather, hydrology and climate change, UNDP-GEF and UNDP's Procurement Support Office (PSO) have established a collaboration framework under the CIRDA Programme to support  partner countries in the procurement of weather, climate and hydrological monitoring infrastructure and new technologies.
Procurement support includes: a) reviewing technical specifications and Terms of Refrence (ToRs) developed by requisitioning units & projects; b) feedback and recommendations pertaining the suitability of technical specifications/requirements to conduct procurement processes; c) market research and sourcing activities to ensure awareness and interest of relevant supplier base; d) review of procurement documents submitted by requisitioning units/projects; e) assistance to Country Offices (COs) & projects with procurement related clarifications during tender processes; f) reviewing submissions to contract review committees and provide recommendations to COs and projects; g) assistance and backstopping support to ensure satisfactory completion of vendor's contractual obligations and; h) developing managing and maintaining, suitable procurement tools, systems, mechanisms, agreements and contracts to ensure reliable on-going supply chain mechanisms.
In collaboration with CIRDA experts on alternative technologies, the PSO Unit has developed a fact sheet to serve as a support guide to partner countries in their efforts to procure new technologies.
The PSO Unit has also created an online platform with various resources to help country offices and partners. This information is available at the following websites:
UNDP-GEF Procurement Tools & Knowledge Sharing
Long Term Agreements (LTAs) and their corresponding Standard Operation Procedures (SOP)
For any questions please feel free to contact Mettelena Herring at mettelena.herring@undp.org
Key Results and Outputs
UNDP's CIRDA Programme provides support to 11 vulnerable countries African countries in their efforts to enhance their capacity to collect, analyze and disseminate climate information as a tool in adaptation planning. It does so by providing expert technical advice, promoting regional cooperation efforts, and capacity building.The support provided by the CIRDA Programme is in addition to each countries efforts to implement individual national climate information/early warning projects.
Click below to learn about some recent on the ground achievements:
Programme Meetings and Workshops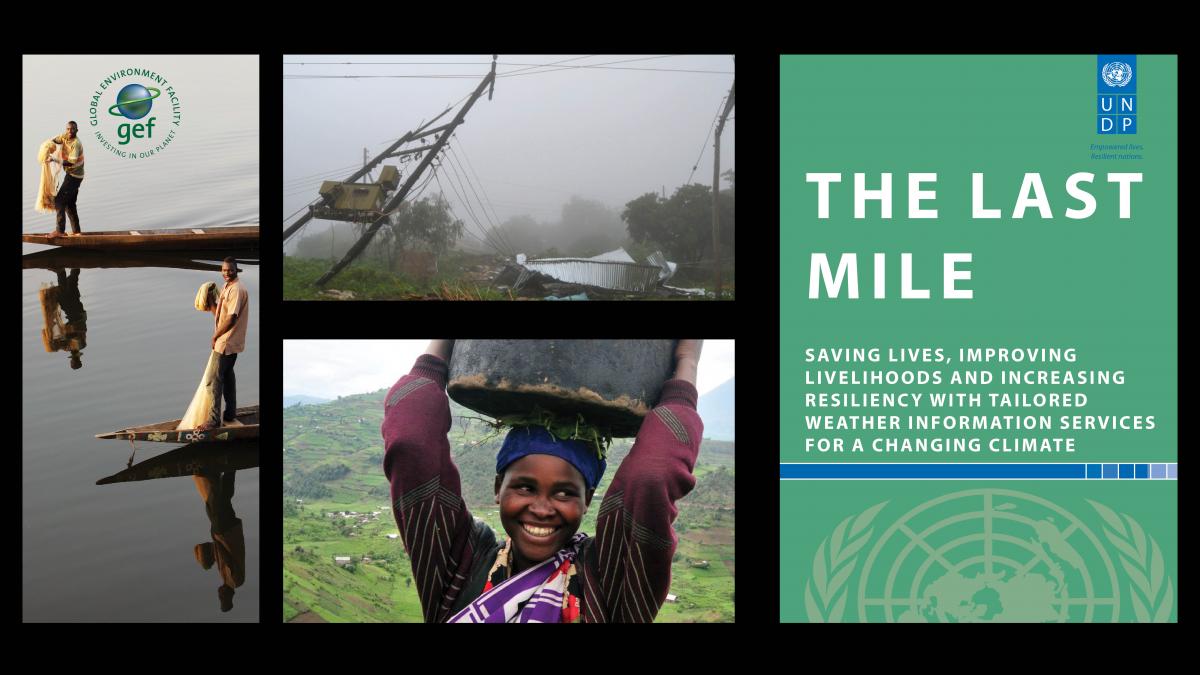 'The Last Mile'
Saving lives, improving livelihoods and increasing resiliency with tailored weather information services
for a changing climate
15-17 March, 2016, Livingstone, Zambia
Climate information and early warning systems can save lives, improve livelihoods and build resiliency across Africa. In order to seize this opportunity, timely, accurate and actionable weather and climate information must be delivered from data collection and creation sources across the "Last Mile" to uninformed and vulnerable end-users.
In this innovation-driven multi-country workshop, experts on cutting-edge technology, communications, public-private partnerships, meteorology and sustainable development will come together to explore new pathways to move from the collection of data to its application, with the end goal of creating actionable recommendations that UNDP-supported climate-information programmes can leverage to impact lives and build sustainability. For this to happen, national weather information services should not only have access to modern weather observation technologies and forecast information, but they must also be able to communicate and apply the content derived from these systems to those in need.
Interactive sessions will cover diverse topics beginning with the sharing of best practices on the application of weather data in the field, followed by sessions and panel discussions that explore important topics that will guide our journey toward the "Last Mile." These include defining roles and responsibilities of public and private information goods, establishing key partnerships required for the design, development and potential commercialization of "Last Mile" products and services, and developing integrated communications strategies. A notable side event, The Climate Action Hackathon, will also take place in parallel to generate ideas for Last Mile products and services from the application development community and local media.
Ample time will be provided for interactive discussion between project managers, implementing agency officials and the Last Mile application development community in order to more deeply explore the development of workshop ideas within each national project.
Main Goals
Understand challenges and opportunities for UNDP-supported Climate Information and Early Warning Systems projects as we journey toward the last mile
Share best practices, innovative technologies and cutting-edge methodologies
Define actionable recommendations to cover the "Last Mile"
Build relationships and partnerships
Ensure long-term sustainability
Embrace innovation
Connect, listen, explore
Resources
Presentations - Day 1
Presentations - Day 2
Country Presentations
Mobile APP
Climate Action Hackathon
Big Ideas, Visionaries, Amateur Forecasters and Computer Developers Welcome at UNDP Climate Information for a Resilient Africa Event. Learn More
---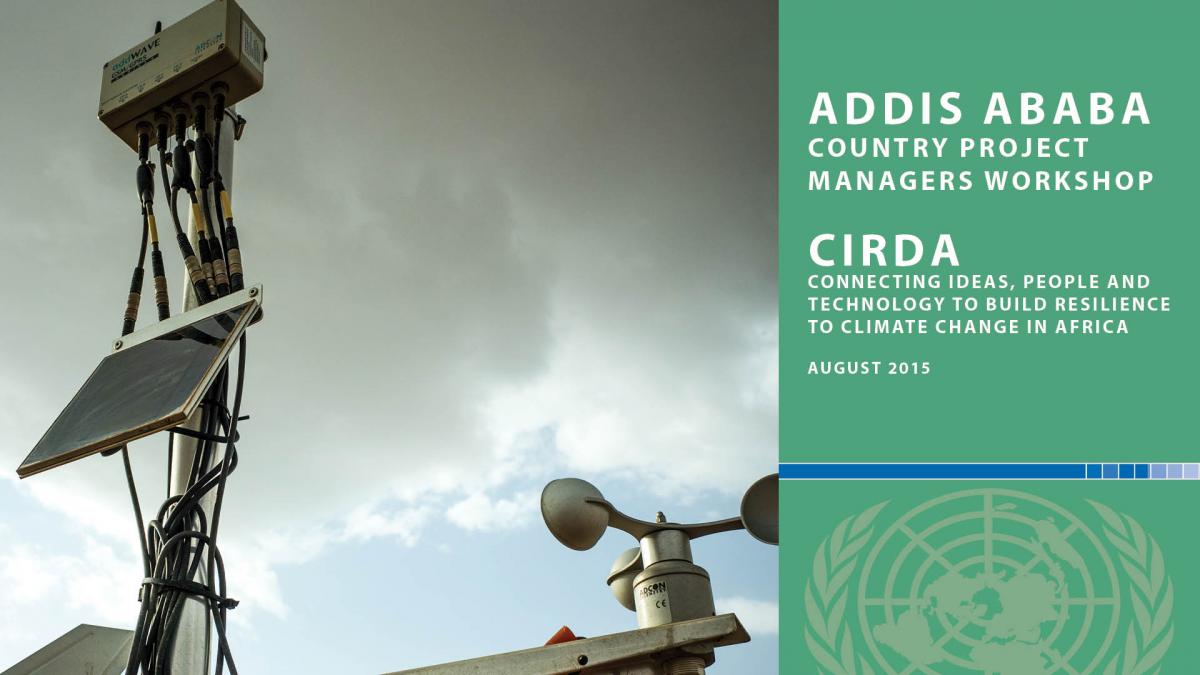 25-27 August, 2015, Addis Ababa, Ethiopia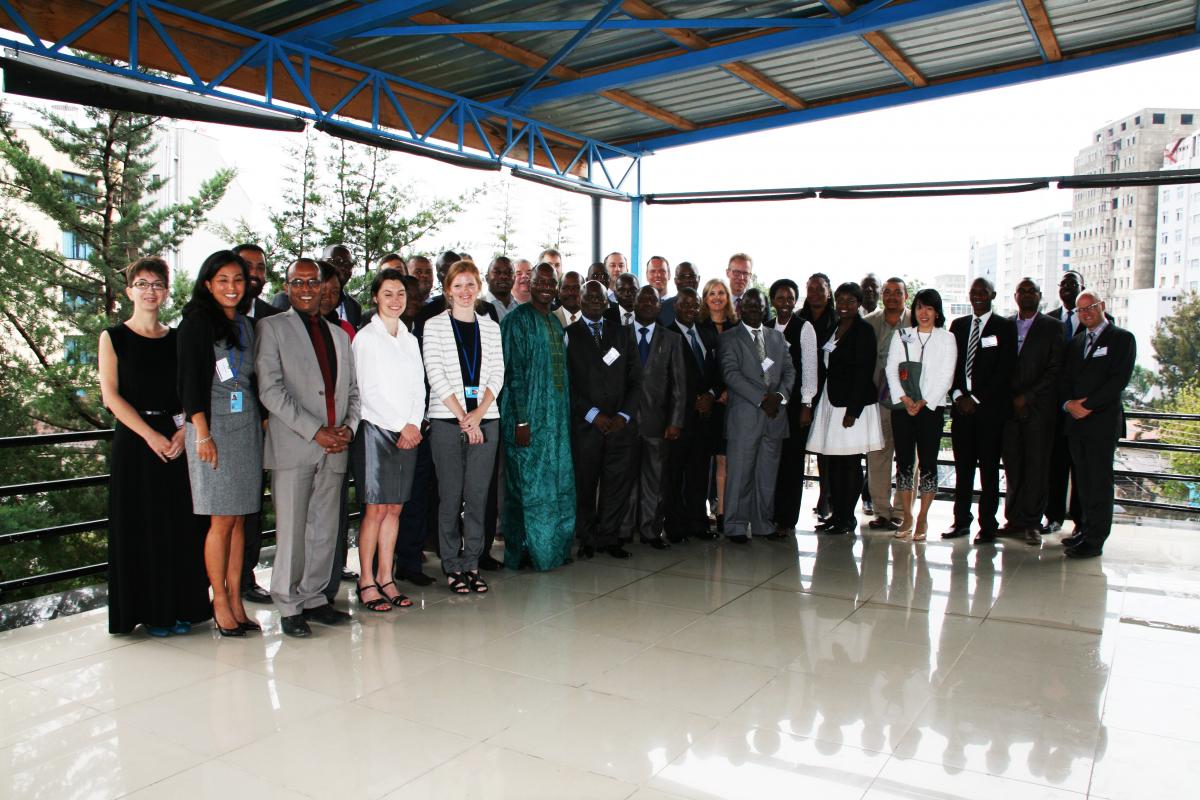 UNDP CIRDA Country Project Managers Workshop

This workshop hosted by the UNDP's Programme on Climate Information for Resilient Development in Africa (CIRDA) brings together country project managers, technical advisories, meteorologists and hydrologists, and experts on public-private partnerships, communications and development to explore innovative approaches and new technologies to strengthen and sustain climate information and early warning systems in Africa.

The meeting offers an opportunity for collaboration and knowledge sharing between in-country leadership teams from 11 African nations. Sessions focus on technical support mission planning, reports from the Strengthening National Climate Information/Early Warning System (CI/EWS) Projects, public-private partnership market studies, support for the procurement of Hydro-Meteorological technology, and covering the "Last Mile."

Unique country clinics bring country project managers together with experts from the CIRDA Programme to discuss innovative climate and weather information
technologies, new approaches and cutting-edge applications of climate data.

The meeting is hosted at the UNDP Regional Service Center for Africa (RSC). Powerpoint presentations and videos from the event will be shared on this page as they become available.
Links
Presentations
Introductions, Meeting Goals and Strategies
Reports from Strengthening National Climate Information/ Early Warning System (CI/EWS) Projects
Day 1
Day 2
Videos
---
3 March, 2015, Kampala, Uganda- Workshop on Creating Value Added Weather and Climate Services through Innovative Public Private Partnerships
The UNDP-CIRDA Programme and the Government of Uganda held a training workshop at the Golf Course Hotel in Kampala aimed at building sustainable climate change adaptation and economic development plans. The workshop will support National Hydrological and Meteorological Services (NHMS) in Africa create value added weather and climate services by engaging with the private sector and developing innovative public private partnerships. 
The workshop brought together government representatives, the private sector, international experts, representatives from the World Meteorological Organization (WMO) and UNDP.  Discussions were held with representatives from agriculture, financial, aviation and telecommunication sectors on how to  meet their needs and best engage them through the use of new technologies to communicate timely and reliable climate information to support national development. 
Long term financial sustainability of national weather and climate services was a key topic  addressed during this two day event.  As governments deal with budget constraints on many fronts, limited budget resources are a challenge for NHMS in their attempts meet the information needs of local populations. Conversations were centered on analyzing the potential for generating revenue to support the sustainability of weather and climate services, including opportunities for collaboration with mobile phone companies and establishing succesful public private partnerships. These discussions led to the development of country action plans to provide a pathway forward in CIRDA's 11 partner countries.
Action Plans
Presentations:
Day 1
Day 2
CIRDA Partner Country Presentations
---
14 October, 2014, Dar es Salaam, Tanzania- Workshop on a Systems Approach to Designing, Implementing, and Utilizing Observing Networks
UNDP's Multi Country Support Programme to Strengthen Climate Information and Resilience Development in Africa (CIRDA), in close collaboration with the UNDP Country Office in Tanzania, held a training workshop on a Systems Approach to Designing, Implementing, and Utilizing Observing Networks from 14 to16 October, 2014, at the Hotel White Sands in Dar es Salaam, Tanzania.
The workshop provided training to Directors of the National Meteorology and Hydrology Services (NHMS), Directors of the NHMS Observation Networks, CIRDA country managers, and other interested CIRDA partners, by introducing a systems approach to the design, implementation, and utilization of observing networks. Training sessions were led by international professionals in the fields of meteorology, surface observations, data quality, private sector engagement, and climate technologies. The event also provided an opportunity for country representatves to present their progress on implementing local and national early warning systems (EWS) with the support of the Programme. The workshop discussion resulted in the development of country posters that detailed national observing networks.
Click here for the agenda workshop
Links to Presentations:
Click here to see a video on the EWS in Benin and its success in alerting local populations on hazardous floodings.
Click here for a fact sheet on Sao Tome and Principe's EWS
Country posters detailing national observing networks
---
20 May, 2014, Nairobi, Kenya- Roundtable on Strengthening Development of Weather, Climate and Hydrology related Early Warning Systems in Africa
Development banks, intergovernmental agencies and meteorological services working in Africa to support the development of climate information and early warning systems across Africa met in Nairobi to communicate and raise awareness of ongoing and planned iniatives.  This event is an example of the ongoing  coordination between programmes and agencies to assure that all iniatives are in keeping with development and adaptation needs. Discussions served to highlight the complementary nature of regional activities directed at enhancing climate information systems. 
CIRDA Programme Manager, Bonizella Biagini, presented the aims, objectives, actions and scope of the CIRDA Programme.
Presentations were also made by representatives from UNESCO, WMO, AFDB, Kenya's Metorological Service, ICPAC, NDMA, UNEP and the UN's International System for Disaster Reduction.
For a full summary of the event, click here.
---
13 April, 2014, Addis Ababa, Ethiopia- Launch of the Multi Country Support Programme to Strengthen Climate Information Systems in Africa
Representatives from UNDP's GEF Unit met in Ethiopia on April 13-14 with high level representatives from Benin, Liberia, Malawi, Sierra Leone, Sao Tome and Principe, Tanzania, Uganda and Zambia to launch the Multi Country Support Programme to Strengthen Climate Information Systems in Africa. The Honorable Ministers of Environment from Uganda, Sao Tome and Principe as well as the Executive Chairperson of the Environment Protection Agency of Sierra Leone were present to celebrate the Programme's onset.
As a highlight to the workshop, an Expo with 13 meteorological companies and service providers was held to introduce government representatives to the cutting edge technologies available in the collection, processing and dissemination of climate information.
Links to Presentations
Monitoring and Evaluation
Implementation of the CIRDA Programme is carried out under the general guidance of a Project Board composed of senior-level representatives from UNDP-GEF, WMO, UN-SPIDER, and representatives from 3 UNDP Country Offices.
The Project Board is the strategic decision-making body of the project, providing overall guidance and direction to the CIRDA Programme Manager.
II Board Meeting- 2015
A CIRDA Project Board Meeting was held in Kampala, Uganda on March 5, 2015. The meeting was held to present the Programme's 2015 Annual Work Plan and Budget, both were approved by all board members.
Click here for Board Meeting Minutes
Click here for the Board Meeting Presentation
I Board Meeting- 2014
The first Project Board Meeting was held on July 8, 2014. The meeting's objective was the presentation of CIRDA's Annual Work Plan and Budget, both which were unanimously approved.
Click Here for the Board Meeting Minutes