COP24
| Sun | Mon | Tue | Wed | Thu | Fri | Sat |
| --- | --- | --- | --- | --- | --- | --- |
| | | | | | 1 | 2 |
| 3 | 4 | 5 | 6 | 7 | 8 | 9 |
| 10 | 11 | 12 | 13 | 14 | 15 | 16 |
| 17 | 18 | 19 | 20 | 21 | 22 | 23 |
| 24 | 25 | 26 | 27 | 28 | | |
03 December

to

14 December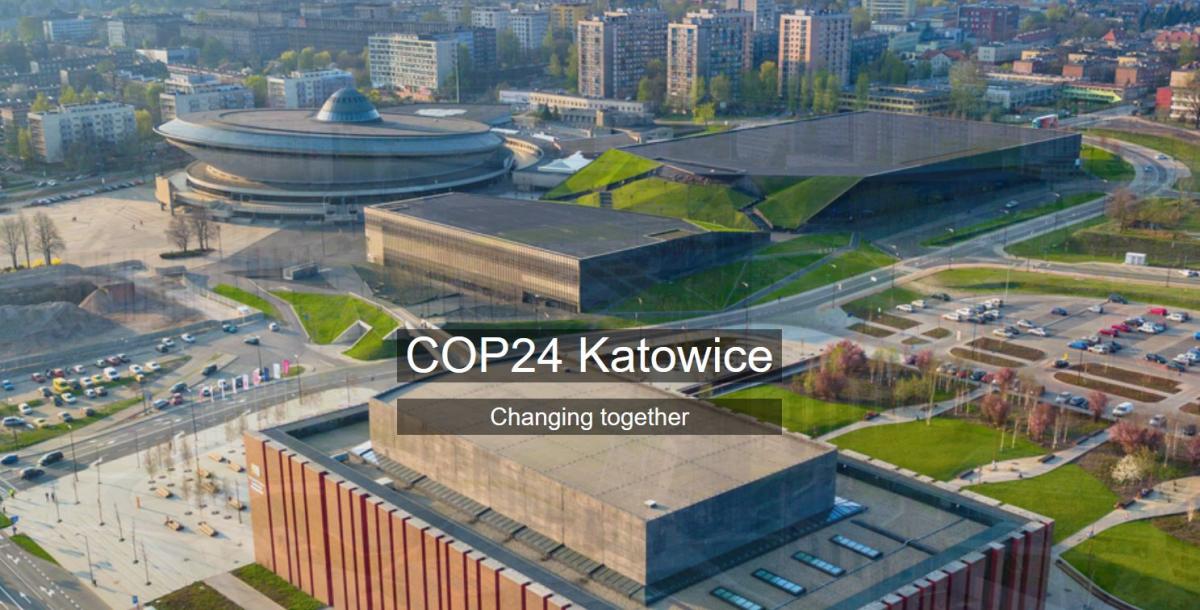 One of the most important tasks of the 24th Session of the Conference of the Parties to the United Nations Framework Convention on Climate Change (COP24) will be to work out and adopt a package of decisions ensuring the full implementation of the Paris Agreement, in accordance with the decisions adopted in Paris (COP21) and in Marrakesh (CMA1.1). Moreover, COP24 will include the so-called Facilitative Dialogue intended to support the implementation of national commitments. In the course of the 2018 Climate Summit Poland would like to demonstrate how neutrality in terms of greenhouse gas emissions, i.e. a balance between CO2 emissions and its sequestration by soils and forests, can be attained.
UNDP Climate 2020 Portal and COP events calendar.
UNDP-supported side events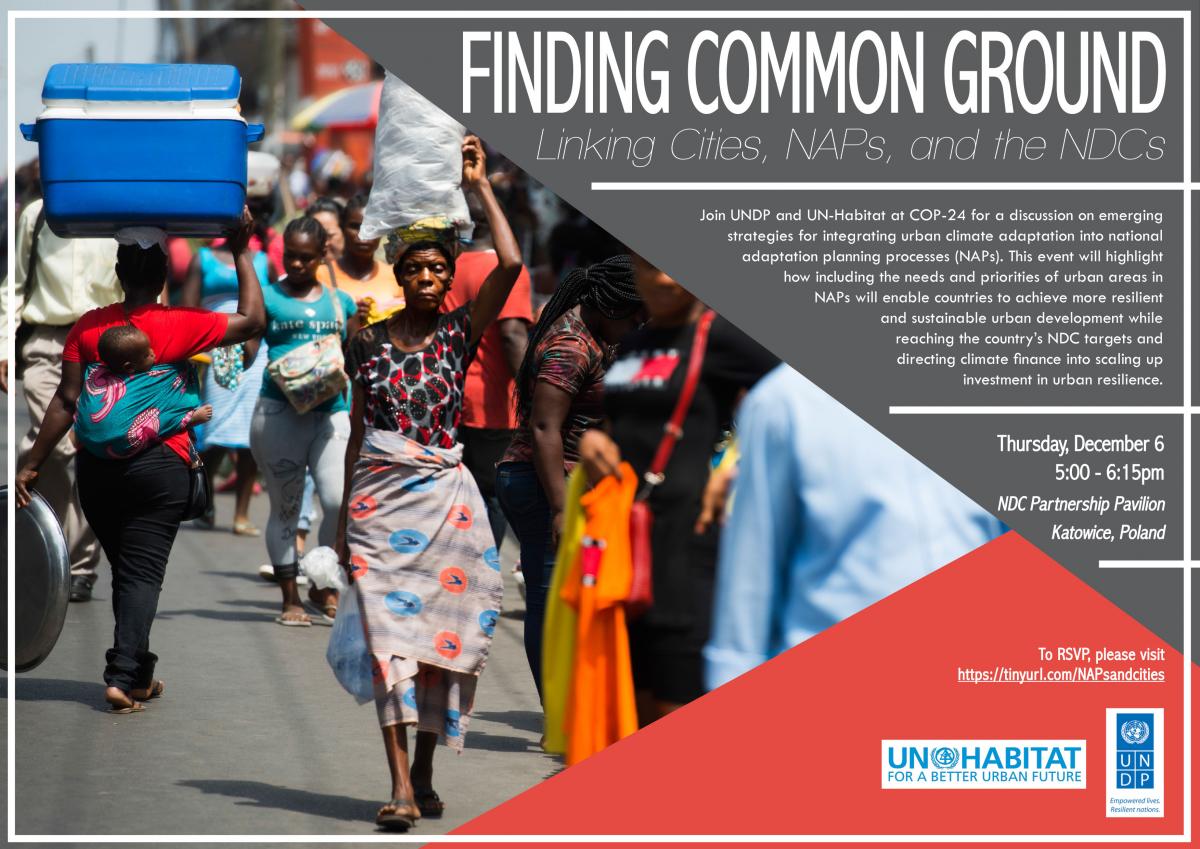 Finding Common ground Linking Cities, NAPs, and the NDCs
6th December 2018
17:00 - 18:15 
Join UNDP and UN-Habitat for a discussion on emerging strategies to integrate urban climate adaptation into national Adaptation planning processes (NAPs).
Location: NDC Partnership Pavilion
Register
Global Youth Video Competition on Climate Change
18:00 - 19:30
Showcasing the power of young people as key players in reaching innovative and ambitious solutions to combat climate change.
Location: The Action Hub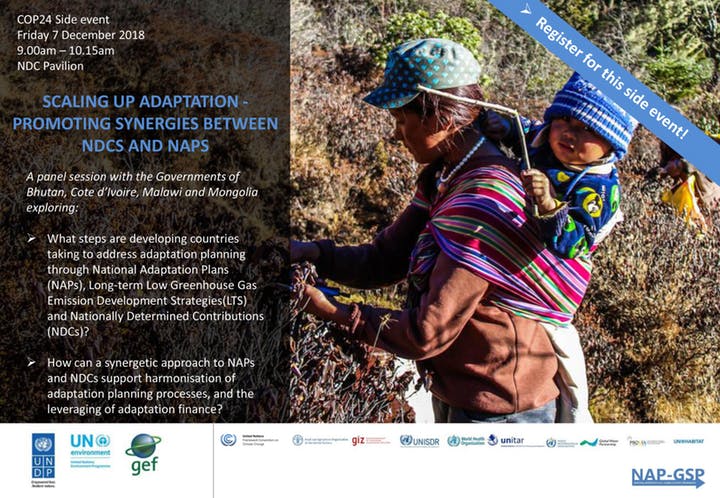 SCALING UP ADAPTATION - PROMOTING SYNERGIES BETWEEN NDCS AND NAPS

7 December
9am-10:15am
NDC Partnership Pavilion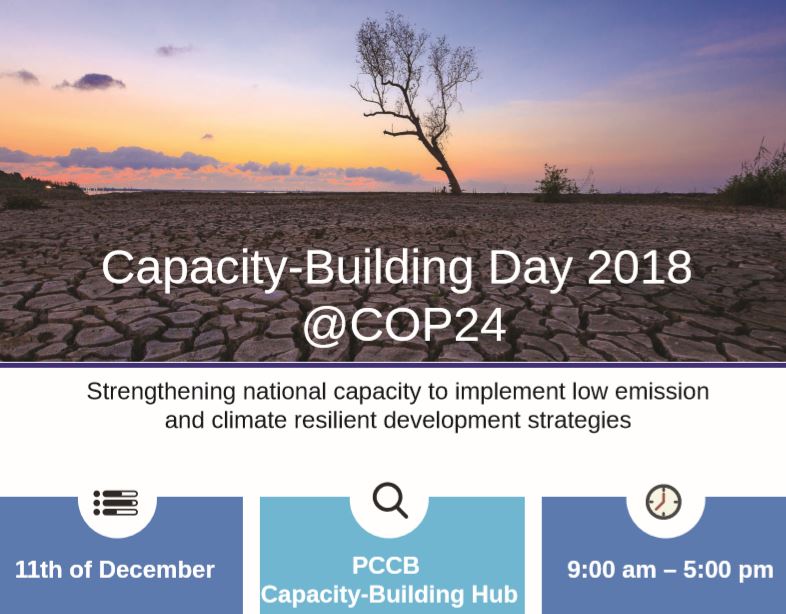 Capacity Building Day 2018
Agenda and Event Overview
11 December 2018
9am-5pm
PCCB Capacity-Building Hub
12th December 2018
09:00 - 17:30 
The inaugural Investment COP will be the first convening of countries, project developers, investors and other stakeholders to design and mobilise investment projects.
Location: Vienna House Easy Angelo / Katowice, Poland
One UN side event on SDG15: Forests first.
12th December 2018
11:30 - 13:00
From 10 years of REDD+ to the full scope of nature-based climate solutions.
Location: Wisla
12th December 2018
12:30 - 14:00
The event will feature speakers from Fiji, Guyana, Kenya, Tonga, and Uruguay providing insights based on national experiences in mainstreaming gender in adaptation for agricultural development.
Location: COP 24 Pavilion E Ground Floor - Pacific and Koronivia Pavilion
The Tipping Point
13th December 2018
17:00 - 18:30
Location: NDCP Pavilion