Combining the Power of the Sun and Water to Create Drought-Resilient Communes in Cambodia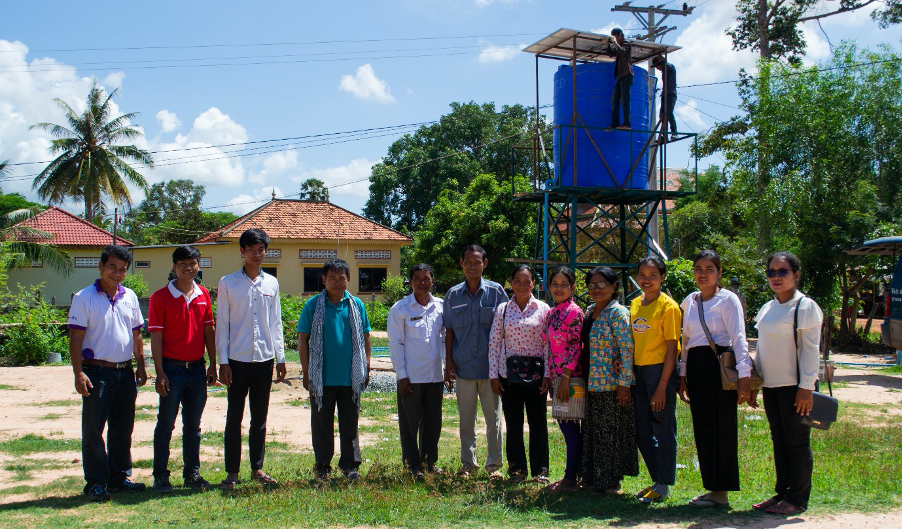 Beneficiaries and ActionAid Cambodia representatives with a new solar water pump under construction in Snar Ansar commune © Kelsea Clingeleffer/UNDP Cambodia
Phnom Penh, July 2020 - Water is a critical part of life. If a community cannot access water, it creates issues far beyond simply not having enough to drink. Livelihoods, particularly those dependent on agriculture, as well as health, sanitation and food supplies are all likely to be significantly impacted by water insufficiencies. As temperatures continue to increase due to climate change and droughts become more extended and severe, it is important to consider how Cambodia can adapt to these water shortages in vulnerable communities.
To reduce such impacts, a total of six solar water pumps are expected to be installed across three provinces (two in Pursat, one in Kampot and three in Koh Kong) in the coming months by ActionAid Cambodia in partnership under the United Nations Development Programme (UNDP)-supported 'Strengthening Climate Information and Early Warning Systems in Cambodia' project, funded by the GEF-Least Developed Countries Fund.
Cambodia is a country that is prone to water shortages, particularly if the dry season is extended or there is a mid-wet season dry spell. Pursat is not immune to these events; in 2001 and 2002, over 75,000 people living in the province were directly affected by drought conditions which destroyed over 1,000 hectares of crops. The area has many water-heavy crops such as rice paddies and between 2014 and 2016 alone (2016 was considered one of the worst droughts in the last 50 years and impacted around 2.5 million people in Cambodia), water shortages destroyed a further 8,289 hectares of crop in Pursat. As a result, it is critical to introduce new infrastructure to alleviate some of this burden at a personal level.
The new solar-powered system works by converting energy from the sun via a 720W solar panel setup, which drives a submersible pump in each borehole. These pumps then draw up to 15m3 of groundwater/day into a 5000L tank.
Use of groundwater is particularly critical in Cambodia, where up to 50% of the population rely on this as a drinking source during dry seasons. An initial National Groundwater Strategy has been drafted by the Ministry of Water Resources and Meteorology with UNDP support in 2019, which is hoped to ensure that the resource is available for generations to come.
Each solar water pump tank is positioned in a 3m high structure for storage and use. In some provinces, these structures will be contributed to by the community according to the materials they have available in order to promote community ownership. The height of the tank and a tap at the bottom mean that there is sufficient water pressure and accessibility to make retrieving the water easy for adults and children alike.
This is a stark contrast to the hand pumps which have dotted the landscape for years, which are often laborious to function, particularly for children, those with disability and/or large amounts of water. The hand pumps can typically only pump to depths of 7m and are prone to breaking.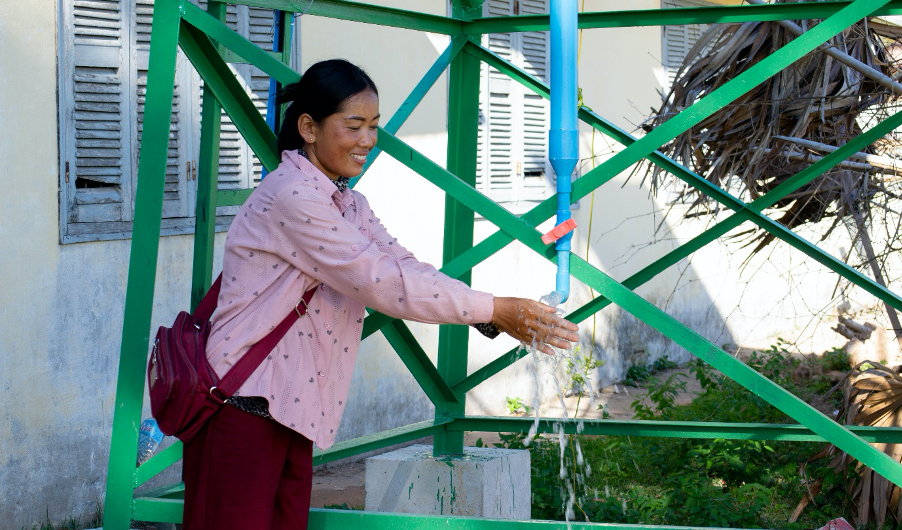 Ms. Hok Laykeang demonstrating the tap at the bottom of the solar water pump system © Kelsea Clingeleffer/UNDP Cambodia
The new solar systems are ideal for remote, dry and dusty environments and are equipped with a lightning protection system – all essentials in a landscape such as Cambodia, in which some areas experience arid conditions during dry season and regular storms across the country. Each setup is expected to last many years, particularly if well maintained, therefore providing communities with stability as to where their water will come from during dry seasons to come.
In Kampong Pou commune, the water pump will service approximately 100 households. Kampong Pou community members described having less water availability in recent years – however, this may not be due to climate change as has occurred in other areas. Mr. Keat Veasna, who is director of the school at which the pump is located, explained his observations: "During the rainy season, we can use surrounding water to water our vegetables. In the dry season, water usually gets released from a nearby reservoir, but now there is not enough water. The amount of water itself hasn't changed, but how people are managing the water has. People are now building water gates along the canal, which means that water doesn't get downstream to where we need it."
This sentiment has previously been echoed by Mr. Nyda Chhinh, a Cambodian drought expert, who stated that, "The traditional observations [of droughts and floods] are not really working anymore. I think there are at least three different factors contributing to this kind of change. Climate change is one of the global phenomena, but there is also land use and land cover change… [the third is] development [such as infrastructure] in the local community, which is different than in the past so people have changed their practices. For example, before they might start their crops in July, but now due to irrigation they can start in May. They don't expect rain in July but because of land use change there is a flood."
The solar water pump in Kampong Pou commune is located at the local primary school and uses a previously dug borehole. The borehole used to have an electric pump, which the costs of were covered by the school. Before the solar water pump installation, people would either collect water from the electric pump, or purchase water and have to pay to have the water transported to their home.
Ms. Hok Laykeang, a member of the commune, was the one to propose the location. Out of the three potential locations, the school was the most accessible – alternatively, the pump could have been at the pagoda but this can exacerbate gender inequalities as women cannot always access it, and the other was on private property.
Ms. Laykeang explained her reasoning, saying that, "It was my idea to request it to be here. I proposed it because I saw that there are many people around here who are poor. If there is a solar water pump, they can collect water for free, and there is no alternative water around here - surface water is not available."
Mr. Tith Nhim, ActionAid Cambodia Senior Project Officer, describes the positioning of Kampong Pou's solar water pump as having three-fold benefits. "The first benefit is that people can get the water for free. The second is that it saves money for the school as they will not need to pay for the electricity required for the electric pump – however, there will need to be a budget set aside for maintenance. The third is that the students can do WASH [Water, Sanitation and Hygiene] activities, raise vegetables and learn about renewable energy".
Mr. Veasna echoed this excitement. "The solar water pump is going to be very useful," said Mr. Veasna. "It makes me very happy. I am now confident that I can earn income for the school from selling vegetables now that we have water. I want to create a green school!"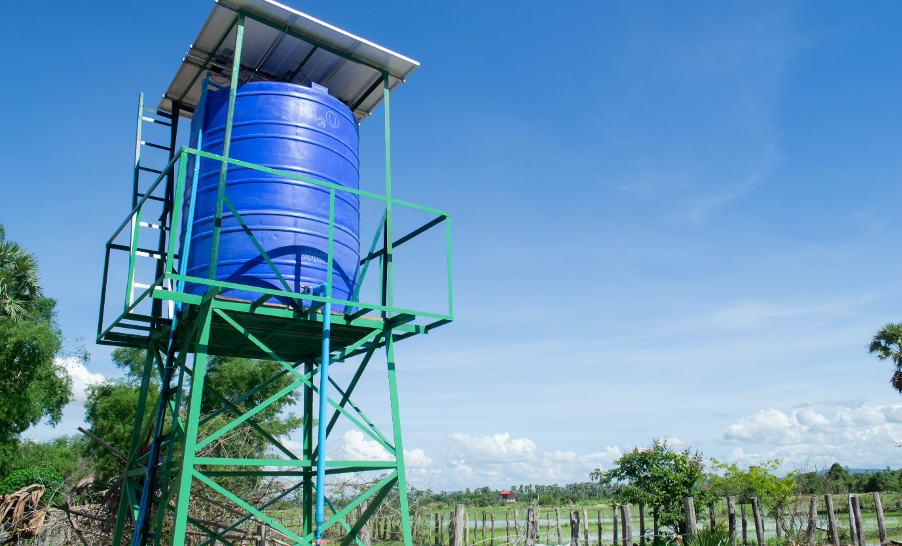 Solar water pump installed at the Kampong Pou commune primary school © Kelsea Clingeleffer/UNDP Cambodia
Installation of the solar water pumps will support the 2020 Agenda for Sustainable Development, in particular SDG 6: Clean Water and Sanitation and SDG 13: Climate Action. Similarly, Women Champions trained under ActionAid Cambodia were involved in the process of researching and selecting pump installation sites, therefore supporting women's empowerment and SDG 5: Gender Equality.
Written by Kelsea Clingeleffer, Results Monitoring, Evaluation and Reporting Consultant, UNDP Cambodia
_____
For more information, please contact Muhibuddin Usamah (Project Manager) at muhibuddin.usamah@undp.org
See the 'Strengthening Climate Information and Early Warning Systems in Cambodia' Twitter timeline here.
For updates on this project and UNDP Cambodia's broader work, follow @UNDPCambodia on Facebook, Twitter and LinkedIn
Related articles:
'Raising women up: UNDP and Action Aid Cambodia partner to empower women in climate action and disaster management', July 2019
"Women changing the world: What happens when you combine disaster risk management and gender equality", October 2019
'National Groundwater Strategy for Cambodia means more water for the future', November 2019