UNDP helps Vietnam's coastal communities adapt to climate change
Creation date: 4 Dec 2020


As published in VOV World and on UNDP Viet Nam
14 November 2020 - The United Nations Development Programme (UNDP), in collaboration with the Vietnamese government and the Green Climate Fund (GCF), has revived approximately 4,000 hectares of mangroves in vulnerable coastal areas in Quang Ngai, Thanh Hoa, Quang Nam, Ca Mau and Nam Dinh province. Mangrove forests are an important buffer between the sea and coastal communities. The project has helped coastal residents to stabilize their livelihoods and get involved in ecological and environmental protection.
Today, Pham Thi Ly, a resident of Cam Thanh commune, Hoi An city, in Quang Nam province, is rowing a basket boat, taking tourists to visit Cam Thanh coconut forest. For many years she has participated in a project to restore and conserve Cam Thanh nipa palm forest, funded by the Global Environment Fund's Small Projects Program in Vietnam (GEF SGP) and UNDP. Ms. Ly told us,"In the past, I worked very hard to support my family. Now that basket boat tourism is developing, my life is better."
A UNDP-GEF Small Grants Programme project protects the land of Thu Bon estuary from waves, wind, and erosion, conserves Cam Thanh nipa palm forest, and sustainably uses forest resources.  Communities play a key role in preserving ecotourism. Nguyen Thi Hoa Man, a local resident, said, "Previously, when tourism was not yet developed, people were mainly dependent on fishing. If the husband went to sea and caught some shrimp and some fish, the wife would sell them. When the sea was rough, especially in the winter, we needed help to escape hunger. Since the project came here, tourism has grown in the coconut forest. Fishermen have switched from fishing to tourism. Tourism provides the women a stable job – rowing a basket boat."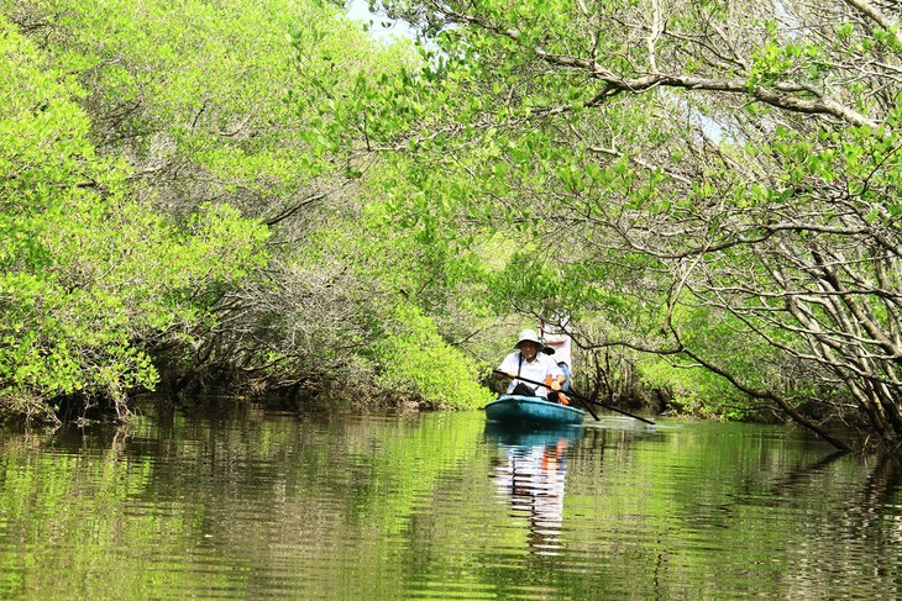 Providing basket boat rides in the mangrove forest is a good alternative job for residents of Binh Thuan commune, Quang Ngai province (Photo: Bui Thanh Trung)
The Cam Thanh nipa palm forest is located in the cluster of the Tam Hai and Nui Thanh coral reef conservation zones and the Cu Lao Cham marine protected area, forming a marine conservation network in Quang Nam. Le Nhuong, former Head of the Farmers' Association of Cam Thanh commune, said,"The project began with 75 ha of nipa palm forest. Later on, with the consent of the locals, we planted more trees and the forest has now expanded to 105 ha. The project has raised people's awareness of nipa palm forest protection and sustainable use. Before this project, there was improper exploitation. We are now allowed  to exploit the forest only twice a year – at the beginning and in the middle of the year – to protect the ecological environment."
Providing basket boat rides in the nipa palm forest is a good alternative job for residents of Cam Thanh. The number of households involving this service has increased and their income has also increased, from 160 USD per month to 195 USD per month.
In the neighboring province of Quang Ngai, UNDP, the Government of Vietnam, and the Green Climate Fund are implementing a mangrove project to provide jobs for people in Bau Ca Cai area, Binh Thuan commune, Binh Son district.
Since 2014, the project has planted 80 ha of forest and provided jobs to 50 local families. UNDP local coordinator Nguyen Thi Thuy Dung told VOV, "Households in Binh Thuan commune and Thuan Phuoc village now have this forest to shield them from storms. People can catch shrimp and fish manually instead of using electrical equipment in this area. The ecosystem here has improved remarkably. For example, in the afternoon or early morning flocks of storks or wild ducks gather here. This used to be an empty area filled with water. Now the locals offer community tourism services."
We arrived at Bau Ca Cai in the last days of October, when storm Molave had just swept through in Quang Ngai. Ms. Nguyen Thi Hai said that thanks to the protection of the mangrove forests, the storm's damage was significantly mitigated. Hai's house and trees were hardly affected. Since last year, her family has been transporting tourists to Bau Ca Cai lagoon by boat as a part-time job. Hai has 3 boats. Carrying  3 passengers, she earns 9 USD per trip.
Also benefiting directly from the mangrove project, Mr. Pham Duy Nghia said that, in addition to exploiting aquatic resources from the lagoon, his family intends to raise green crabs. For every 20,000 crab breeds, after 3 months, if things go well, he will make a profit of about 800 USD.
Mangrove forest projects carried out by UNDP, the Vietnamese Government, and GCF are helping to mitigate climate change, protect vulnerable coastal communities, and  making local's lives safer and more sustainable. Colorful boats waiting for passengers at Bau Ca Cai wharf and Ms. Pham Thi Ly's singing while rowing her customers to Cam Thanh coconut forest, are the visible result of these projects.
For more information on the UNDP-supported GCF-funded project, Improving resilience of vulnerable coastal communities to climate change in Viet Nam, please click here.