The Government of Viet Nam launches GCF-financed climate change adaptation planning support programme
Creation date: 26 Jan 2021


Prepared by Janto S. Hess, Phan Huong Giang, and Bui Thi Quynh Anh
Viet Nam has a long coastline of 3,260 km, making the country extremely vulnerable to rising sea levels, which have compounding effects to the country's coastal zones and its socio-economic systems. There are considerable risks to residential areas affected frequently by storm surges, floods, riverbank and shoreline erosion, as well as landslides. There is a great financial cost to the impacts of climate change. For example, the most recent series of storms that battered central Vietnam in October 2o2o, triggering floods and landslides, is estimated to caused an economic damage worth $734.67 million.
Extreme weather events have become more frequent and intensive severely affecting the socio-economic conditions of the country and threatening to undermine the country's economic development progress.  The government of Viet Nam has taken systematic steps to build the foundation for addressing climate change risks in socio-economic planning instruments as well as in targeted climate change related policies.
Ha Noi, 22 January 2021 – The Government of Viet Nam kick-started the new US$ 1.7 million Green Climate Finance (GCF)-financed and UNDP-supported programme, "Viet Nam National Adaptation Plan (NAP) Development and Operationalisation Support". This multi-stakeholder programme aims to strengthen the ministerial ability to identify risks, prioritize adaptation options, integrate climate change adaptation into the government planning process in priority sectors, and to strengthen inter-ministerial coordination.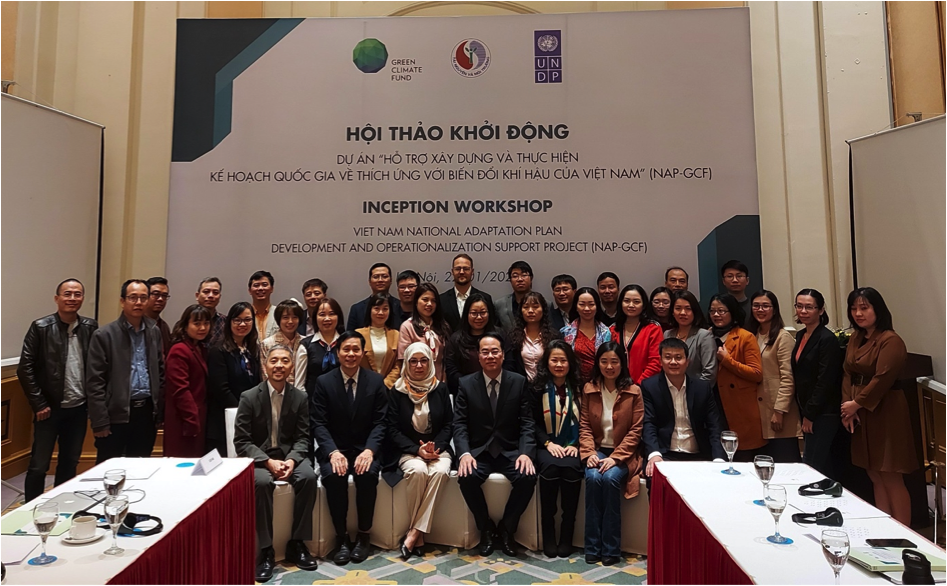 Thirty-three key stakeholders from public entities and international development organizations convened in Ha Noi for the progamme's inception workshop. The event was co-chaired by Dr. Tang The Cuong, Director of the Department of Climate Change (DCC), under the Ministry of Natural Resources and Environment (MONRE), and Ms. Sitara Syed, UNDP Deputy Resident Representative to Viet Nam.
With its extensive coastline and deltaic plains, Viet Nam is considered to be among the most vulnerable countries to climate change globally. Acknowledging the urgency to tackle climate change, Dr. Tang The Cuong stressed, in his opening remarks, that "the development and implementation of the National Adaptation Plan to climate change is very crucial to make efficient use of resources and promote community participation in the implementation of the goals identified in Viet Nam's updated Nationally Determined Contributions (NDCs)".
Ms. Sitara Syed echoed the importance of risk-informed adaptation planning, highlighting that "climate change can be turned into opportunities to transform the economy, to leverage cutting-edge technology for most vulnerable groups to adapt and thrive with greener and more sustainable livelihoods, business, and plans."
Over it's two-year duration of implementation; the programme will closely collaborate with five ministries, representing the priority sectors to strengthen the country's resilience against climate change. The DCC, under MONRE, is mandated to lead the country's NAP process. It will, therefore, have a leading role under the project to strengthen coordination and streamline programme activities among the participating partners.
The Ministry of Planning and Investment (MPI) is another key partner taking the lead on exploring pathways to strengthen private sector engagement for the NAP implementation. The remaining programme partners, namely the Ministry of Agriculture and Rural Development (MARD), the Ministry of Transport (MOT), and the Ministry of Health (MOH), will be supported to strengthen their sectoral adaptation planning processes.
The programme has three specific outcomes: (1) enhancement of capacity for data integration, preparation of National Adaptation Plan (NAP) and its alignment with NDC review; (2) integration of climate change adaptation into national, subnational, and sectoral development plans and budget of priority sectors with Private Sector Participation; and (3) operationalisation of participatory and results-based monitoring and evaluation (M&E) mechanism. These outcomes will facilitate Viet Nam to establish an effective system to integrate climate change adaptation into government administration processes in the priority sectors, while engaging the private sector in the NAP implementation.
Viet Nam was among the first group of countries globally, and the first country in Asia and the Pacific to submit a revised and more ambitious NDC through UNDP's Climate Promise in September 2020.  Viet Nam's updated NDC is much more detailed and concrete than the initial NDC. This is true not only in terms of the envisaged mitigation and enhanced adaptation actions, but also regarding synergies and co-benefits with socio-economic development and the Sustainable Development Goals.