Philippines improving climate forecasting for farmers and fisherfolk
Climate related disasters in the Philippines are becoming increasingly devastating for the agricultural sector. Between 2006 and 2013, a total of 78 natural hazards, in the form of extreme weather, damaged over six million hectares of crops, valued at USD 3.8 billion. The vulnerability of the agricultural sector means the country's food and economic security is facing growing risks as climate change impacts accelerate. It is therefore essential to harness new innovations and technologies to build resilience to these impacts. 
The Food and Agriculture Organization of the United Nations (FAO) has been working with the Government of the Philippines to strengthen the country's resilience to natural hazards through initiatives on climate change adaptation and disaster risk management. One of these initiatives is the Integrating Agriculture in National Adaptation Plans (NAP–Ag) programme, co-led by United Nations Development Programme (UNDP) and FAO, which aims to integrate climate adaptation measures taken in the agriculture sectors into relevant national planning and budgeting processes. The programme works in 11 countries and in the case of Philippines, the activities focus on developing a National Adaptation Plans (NAP), and updating the National Climate Change Action Plan(NCCAP). 
The NAP-Ag programme supports the long-term improvement of the Philippines' climate forecast products for the agriculture sectors. In particular, the activities target the upgrading and expansion of the country's climate and weather information systems handled by the Philippine Atmospheric, Geophysical, and Astronomical Services Administration (PAGASA).
Information on weather and seasonal forecasts are critical for shaping climate predictions, necessary to inform decision-making at all levels in the farm and fisheries sectors. FAO supported the development of an application program interface (API) to enhance the dissemination of climate risk information. Farm weather advisories, daily monitoring, and monthly forecasting are now available on PAGASA's webpage. Easier and wider access to these agrometeorology forecast products are now helping agricultural workers to assess local production and livelihood needs more efficiently and accurately. 
PAGASA and the Department of Agriculture (DA) conducted orientation and user training for DA regional technical staff on PAGASA's climate products and services, including at the Northern Mindanao Integrated Agricultural Research Center (NOMIARC) in Malaybalay City, Bukidnon Province. Staff were taught to understand and interpret sub-seasonal and seasonal climate forecasts, perform a tropical cyclone tracking exercise, and were briefed on how climate products and services may be used for municipal-level agriculture and fisheries advisories.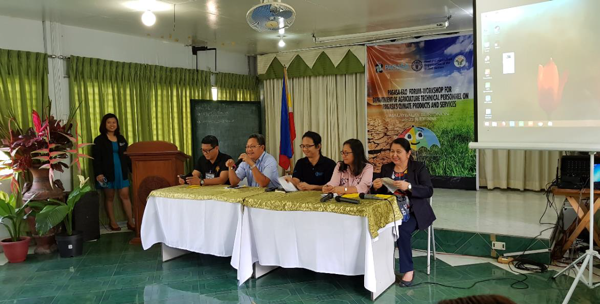 PAGASA also conducted an inventory of existing agrometeorological stations, synoptic stations and other surface-based sensors as part of the requirements for upgrading and expanding the agrometeorological forecast coverage for farming and aquaculture systems in vulnerable areas. The agency thus proposes the establishment/upgrading of at least fifteen surface stations under its Modernization Program. 
Existing climate information needs to be enhanced to provide more targeted forecasts for farm and fisheries operations. NAP-Ag funding has enabled the national meteorological authority, PAGASA, to develop 10-day municipal-level forecasts for solar radiation and is currently developing solar radiation and sea wave height variables to enable fisherfolk and farmers to improve forecasting of conditions for planting and fishing, respectively.
These 10-day forecasts delivered by the Philippines' Government are an essential first step towards safeguarding crops and other agricultural and fishery assets against extreme weather. Through supporting the implementation of this initiative, the NAP-Ag has uncovered a few lessons on how to make available information on climate relevant to specific needs and audiences. A common understanding of the capabilities of the different agencies involved is essential for more effective collaboration in the delivery of climate and disaster risk information to agricultural stakeholders.
With these insights the NAP-Ag will continue to support the government as well as share these best practices with other countries facing similar exposure to climate change impacts.
Last Updated: 16 Apr 2019