Introduction
Ethiopia is a landlocked country in Northeast Africa and has a population of over 112 million people. Its agriculture sector plays a major role in the national economy, contributing to 34.5 percent of GDP in 2020. Smallholder farming accounts for approximately 95 percent of agricultural production and 85 percent of total employment. In Ethiopia, agriculture and land-use are high GHG emitting sectors with around 80 percent of domestic emissions. Ethiopia's agriculture sector is extremely vulnerable to climate change due to its high dependence on natural resources, and relatively low adaptive capacity – especially in rural areas – to deal with frequently experienced extreme events and longer-term variability, including droughts and floods, rainfall variability and pest invasions.
Country climate plans
The Government of Ethiopia submitted its nationally determined contribution (NDC) to the United Nations Framework on Climate Change (UNFCCC) in 2016, and formally submitted an updated NDC in July 2021. The updated NDC builds on, and is in line with, the country's development goals as laid out in its Growth and Transformation Plan II, its Climate Resilient Green Economy (CRGE) Strategy, the emerging Long-Term Low Emission Development Strategy, the Green Legacy Initiative, and Ethiopia's 10-year Development Plan. The bulk of Ethiopia's NDC adaptation commitments are focused on the agriculture and land use sectors, with priority areas including livestock diversification, drought-resistant animal breeding, rangeland management, crop, and livestock insurance. Ethiopia formulated its National Adaptation Plan (NAP) in 2017, along with a NAP Implementation Roadmap that further categorized the short-term adaptation priorities (such as capacity building, strengthening the enabling environment and promoting research), as well as long-term sector-specific priorities.
In its final National Adaptation Plan (NAP-ETH, 2019), Ethiopia prioritized adaptation in the sectors considered most vulnerable to climate change, namely: agriculture, forestry, health, transport, energy, industry, water and urban. Within these sectors, 18 adaptation options are identified for implementation at all administrative levels, recognizing the considerable diversity in context and vulnerability across Ethiopia's regions and social groups. Ethiopia is working to integrate climate information into planning and decision-making for development interventions, and prioritizing climate resilience across policies to improve the adaptive capacity at national/federal, regional and Woreda levels. The plan is guided by the principles of participation, coherent interventions, stakeholder empowerment, gender sensitivity, equitable implementation, and partnership, especially with the private sector.
Barriers
Whilst Ethiopia has made strides in mainstreaming adaptation and mitigation priorities into its national agriculture development plans and projects, one of the main barriers to achieving adaptation and mitigation goals remains the limited understanding and technical capacity for implementing them at the local level.  It was identified in the CRGE Strategy progress report that there is limited capacity at the local level to carry out climate risk and vulnerability assessments, gender analysis and assessments, and cost benefit analyses for prioritising adaptation and mitigation options.
Given SCALA's programme objectives to achieve systems-level transformative change, the programme in consultation with Ethiopia's Ministry of Agriculture, the Ministry of Finance, and its Environment, Forest and Climate Change Commission (EFCCC), has identified livelihood-centred agro-ecological transitions as a priority. Preliminary work under SCALA has also identified entry points for catalysing transformative climate action in the agriculture and land use sector within selected agro-ecological zones (AEZ). For example, with the need for more gender-responsive climate risk analyses, the SCALA programme plans to carry out a gender analysis of selected value chains in vulnerable AEZs. This will include an appraisal of the cost and benefits of value chain-based interventions to spur inclusive climate action. Establishing a strong evidence base that is also rooted in local contexts would then set the foundation for designing a transformative climate action implementation plan at local levels, with a gender and social inclusion lens.
Project details
The Government of Ethiopia aims to proactively pursue further integration of climate change adaptation in its development policies and strategies, including macroeconomic and sectoral policies at regional and local levels. In support of this target, the SCALA programme will leverage participatory methods to address Ethiopia's institutional and financial barriers to mainstream climate change at all administrative levels, to allow for a transformative shift in their agriculture and land use sectors. Building on the capacity gaps identified in scoping exercises, the programme will seek to enhance institutional capacities of the country to support the management of climate budget tagging systems, to undertake climate finance and resource mobilization, and to engage and mobilize the private sector to increase its investments in climate action. It also intends to develop stronger knowledge and information sharing platforms for bridging the gap between national, regional and woreda level governance mechanisms. Additionally, the implementation of SCALA programme will support the establishment of enabling environment and de-risking instruments to engage and incentivize private sector investments in climate actions.
The expectation of undertaking such activities is that they will help the country accelerate its NDC and NAP implementation. With the SCALA programme supporting Ethiopia over the next five years, UNDP and FAO will strive to foster a more inclusive, multi-stakeholder process that meets the needs of smallholder farmers, rural communities, women, and youth, who are the most vulnerable to climate change.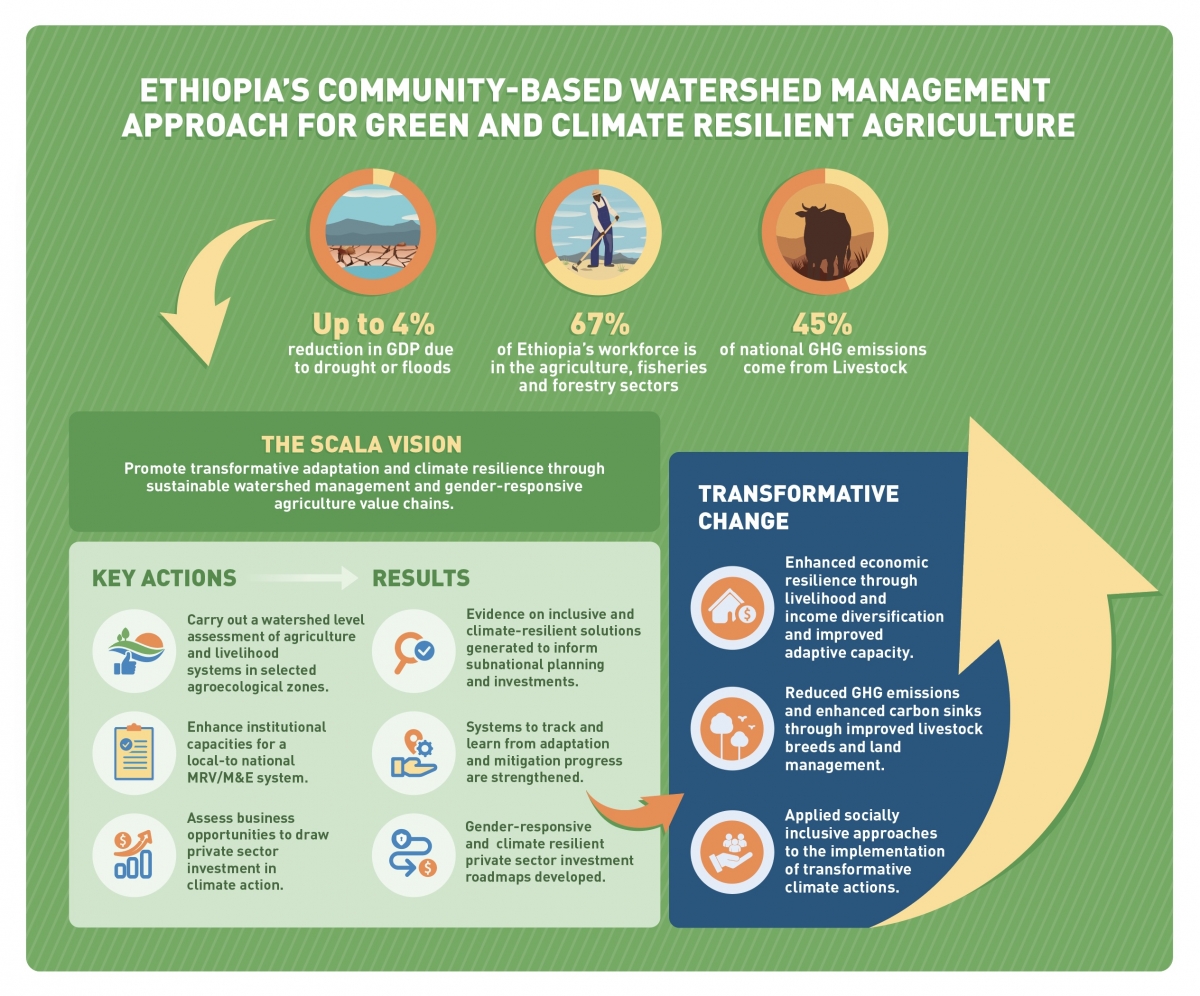 Implementing agencies and partnering organizations:
United Nations Development Programme (UNDP)
Food and Agriculture Organization of the United Nations (FAO)
BMUV/IKI
Reports and publications