Solving Phangyul's water woes: A pressurized piped irrigation scheme to provide much-needed steady supply of water to Phangyul community
Creation date: 13 Apr 2023


View the full photo essay by UNDP in Bhutan on Exposure here.
A FARMER'S WISH FOR WATER
Gyem from Phangyul Gewog (a cluster of villages) in Bhutan's Wangdue Phodrang district has only one wish and that is to see water arrive at her village.
"Acute water shortage has plagued Phangyul since my parents' time. It got worse with each passing day," she said.
In her 80s now, Gyem hopes the water crisis would be solved during her lifetime.
Gyem's desperation for water is shared by others in Phangyul. "At one point, I considered leaving my village as the extreme water stress made our lives hard," said 71-year-old Dorji Dem. 
The problem is grave, so much so that the community has become synonymous with water scarcity.
Let alone water for farming, there's barely enough drinking water. Large swathes of paddy fields lie fallow, hitting hard the livelihoods of the people in the community who rely on farming for living. 
Gyem alone has been forced to leave over eight acres of rice fields fallow, while Dorji Dem has not been able to cultivate 2.5 acres.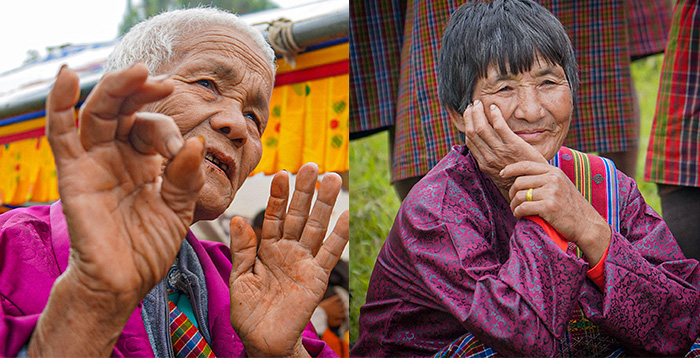 Gyem (left) and Dorji Dem (right) from Phangyul Gewog, Wangdue Phodrang. Photos: UNDP Bhutan
Paddy fields lie fallow due to the watwer crisis. Photo: UNDP Bhutan WATER CRISIS TO BECOME A THING OF THE PAST
Gyem, Dorji Dem and others in the community will soon see their wish fulfilled. A pressurized piped irrigation scheme is being installed to solve the age-old water crisis and provide the much-needed respite to the community that has grappled with water shortage for as long as they can remember.
The 38-kilometer irrigation scheme will benefit 24 villages in Phangyul and Kazhi Gewog and help irrigate over 1300 acres of agricultural land, boosting food production and uplifting lives and livelihoods. 
High Density Polyethylene (HDPE) pipes are being used for the scheme. The HDPE pipes, measuring 200 - 560 millimeter in diameter, are laid 0.5 - 1.2 metres below the ground to ensure durability and sustainability. Photo: UNDP Bhutan
The irrigation scheme is supported through a project titled, "Supporting Climate Resilience and Transformational Change in the Agriculture Sector of Bhutan', funded by the Green Climate Fund (GCF) and implemented by the Royal Government of Bhutan in partnership with UNDP Bhutan. 
The project is focused on enhancing the resilience of smallholder farmers to the impacts of climate change.
"I was so happy when I heard about the project," said Gyem. "A solution is in sight finally and my dream doesn't seem farfetched now."
WHY PRESSURIZED PIPED IRRIGATION SCHEMES?
UNDP has supported 26 such irrigation schemes so far— 21, including the one for Phangyul, through the GCF-funded "Supporting Climate Resilience and Transformational Change in the Agriculture Sector of Bhutan" project, and six through Global Environment Facility (GEF)-funded "Enhancing Sustainability and Climate Resilience of Forest and Agricultural Landscape and Community Livelihoods" project. 
These irrigation schemes are spread across 10 districts.
The pressurized piped irrigation technology is far better than the traditional concrete and earthen open canals on many fronts.
HDPE pipes for the irrigation scheme. Photo: UNDP Bhutan
IT IS CLIMATE RESILIENT
Retrofitted with new and climate-resilient technology - also known as climate-proofing - the irrigation system is designed to better withstand extreme weather conditions, as opposed to the conventional open-irrigation system.
In Bhutan where landslides, floods and erosions are common due to its hilly and mountainous landscape, the conventional open irrigation channels often get damaged and blocked by slides, falling tree branches and debris, which further trigger slides and soil erosions. Such blockages cause significant loss of water along the way. Water seepage also contributes to loss of water.
On the other hand, with zero loss of water from the source till distribution points, the piped irrigation schemes ensure uninterrupted water supply. 
The piped irrigation scheme is also environment friendly. For instance, only 70 percent of the water from the source is tapped to maintain 30 percent environmental flow in the lean period as mandated by the Water Regulation of Bhutan, 2014.
And the use of integrated technologies including nature-based solutions, such as bio engineering plantations for structural stability of infrastructure helps enhance resilience, ecological sustainability, and overall protection of water catchment areas.
Pressurized piped irrigation scheme in Punakha supported through the GEF-funded "Enhancing Sustainability and Climate Resilience of Forest and Agricultural Landscape and Community Livelihoods" project. Photo: UNDP Bhutan
HIGH RETURN ON INVESTMENT
The investment in pressurized piped irrigation schemes is a high-return investment. A Return on Investment (ROI) assessment carried out for 10 irrigation schemes supported through the GCF-funded project showed rice production could go up by 34 percent, with a yield increase of 299.09 kilograms per acre, which is a significant increase.
The ROI is 17.70 percent, a positive and significant return in just over one and a half years, calculated from estimated average revenue of US$3.390 million (for one and a half year) from paddy and other major crop production, and an investment of US$2.88 million. 
This analysis is based on the assumption that only 35% of the total fallow land have been brought under cultivation. If 70 or 100 percent of the fallow land is cultivated, the ROI could reach 25.88 percent and 32.89 percent respectively. 
A DREAM COME TRUE
"It won't be long before Gyem sees her long held dreams come true. The works to install Phangyul pressurized piped irrigation scheme is expected to be complete by 2024.
"I have longed to see this day all my life and couldn't be happier that this dream of mine will turn into a reality soon," said Gyem. "I am particularly happy for my niece. Her generation will not have to endure water shortages."
Gyem with her granddaughter, 2020. Photo: UNDP Bhutan 
Note: UNDP spoke to Gyem and Dorji Dem in July 2020. Their photos were also taken at the same time.